Blog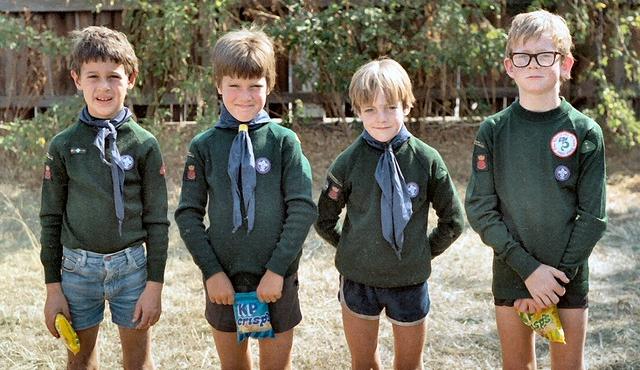 How They Got Away With It, rabble.ie
Scout's Honour, broadsheet.ie
There is more after the jump.
Read the rest of this entry »
Published: Irish Times, 23 May 2014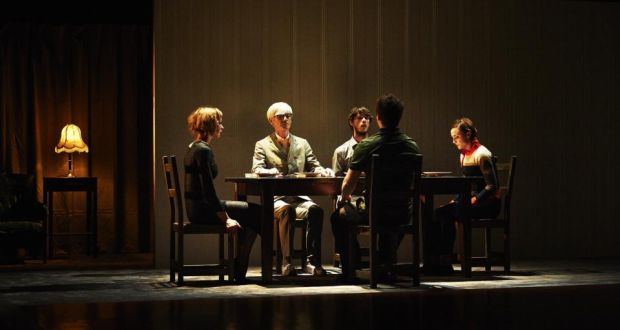 Its creators sometimes worry that modern dance will be lost on many people. So what does a first-timer make of Emma Martin's 'Tundra', the opening show at Dublin Dance Festival?
I've picked up the tickets at the kiosk. The match programme is tucked under my arm. And if there were a merchandise stall hereabouts, I'm sure I'd have bought the T-shirt. With show time at the Samuel Beckett Theatre rapidly approaching, only one minor detail remains unclear.
What is this spectacle that we are about to enjoy? What is Tundra, apart from the opening show of Dublin Dance Festival? Details are vague. Emma Martin, its choreographer, told The Irish Times last weekend that "Tundra is an in-between place, a metaphorical purgatory where you have to work through your difficulties to move on." Read the rest of this entry »
Published: Irish Independent, 26 April 2014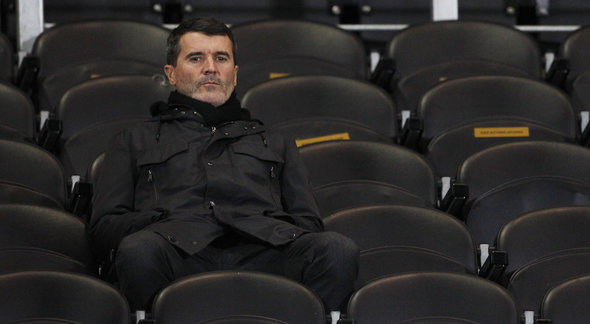 The international code is for the United Arab Emirates. I dial the thirteen-digit number I've been handed and wait for a response. In a hotel lobby, some 4,000 miles away, an English-speaking receptionist connects me to Roy Keane's room.
What is it, I ask him, about footballers and Dubai? Can't you guys take your holidays anyplace else? The former Manchester United captain sounds relaxed and in good humour. "I'm working here," he jokes. "Trying to find some new Irish lads, you know yourself." Read the rest of this entry »
Published: Irish Independent, 19 April 2014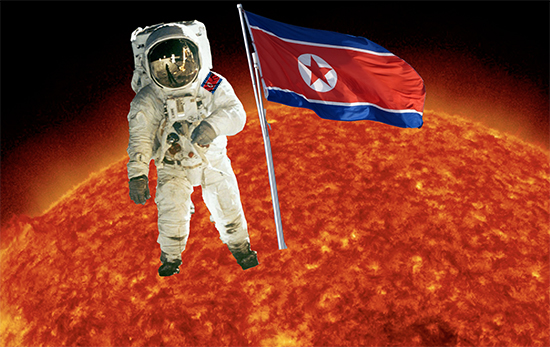 In January of this year, a little known Irish gossip website landed a major scoop that every other news outlet in the world had somehow contrived to miss. In Pyongyang, North Korea's official news agency just announced the hermit kingdom had landed an astronaut on the sun.
Now even by the standards of that crackpot regime, this was an unusually farfetched claim. And the wording of the story should have offered further grounds for scepticism. (The North Korean spacecraft, apparently, had "travelled at night to avoid being engulfed by the sun's rays.") Read the rest of this entry »
Published: Irish Independent, 22 February 2014

Almost six decades after fleeing her homeland as a refugee, in the wake of the 1956 anti-Soviet uprising, Maria Kelemen still speaks with a strong Hungarian accent. Diminutive yet formidable, the director of Dublin's Young European School of Music has the air of a stern, if slightly eccentric, headmistress from a Disney fairytale. Read the rest of this entry »
my most clicked stories of 2013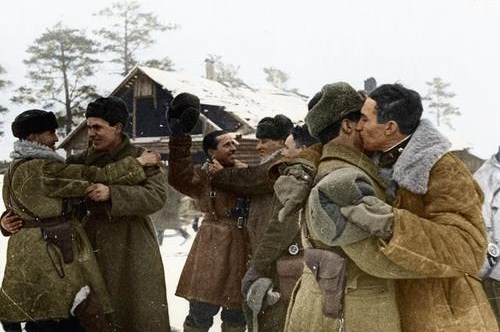 #5The Bald Truth (January 5th)
Baldness (specifically, my own) is a subject I get endless mileage out of. I'm not sure why. Maybe it's because baldness, like death, is final and irreversible. And hence rather amusing. Or maybe I just need stuff to write about. If I ever write a piece where I disingenuously pretend to be in the market for a wig, and get pictures of me trying a bunch of wigs, you'll know the wolf is truly at the door.
#4 Should We Trust Trip Adviser (May 4th)
I didn't know much about Ireland's libel laws before setting out to write this feature for the Indo. By the time it went to press, I could have passed the fucking bar exam.
#3 Down in Lisdoonvarna (June 24th)
Throwaway travel piece.
#2 12 Secrets Every Woman Should Know About Men (January 12th)
#1 The Toughest Journey (March 9th)
By far the most clicked story ever on this blog and also the one I'm proudest of having done. It was in Galway in October of last year (doing this story) that I heard about how cancer patients from the Inishowen peninsula have to undertake a gruelling 600km round trip to receive treatment in Galway. It took five months of intensive nagging to get on board. Eamon McDevitt is the man who provides this vital service and there is a link to donate to his Good and New charity in the comments.
Published: Irish Times, 26 November 2013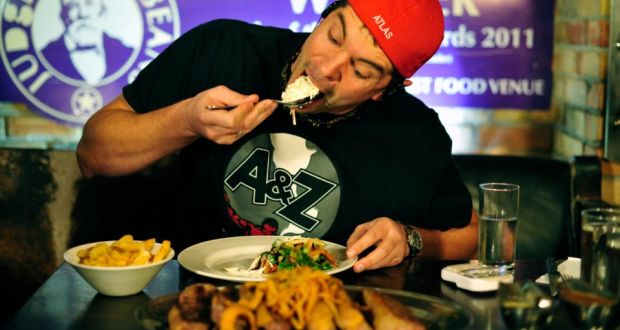 Like Clark Kent, Randy Santel has a superhero alter-ego. But rather than ducking through revolving doors, the 27-year-old's secret powers are activated via a rotating baseball cap. "Right before I do any food challenge," he explains in a video posted to his website. "I flip my hat around."
"I go from Randy Santel to Atlas, which is a food-eating machine. Once that happens, God have mercy on anything put in front of me."
Santel, a former college footballer turned "professional eater", is in Newbridge, Co Kildare to take part in the 64oz steak challenge at Judge Roy Beans Bar & Restaurant. His opponent, Dermot McDermott, is a 48-year-old former Irish international boxer and local man.
Each contestant tonight has one hour in which to consume a portion of chips, coleslaw, onion rings and side salad, as well as six enormous steaks weighing at 64oz in total. (The largest steaks most restaurants serve, by way of comparison, rarely exceed 20oz.) Read the rest of this entry »
Published: Irish Times, 28 October 2013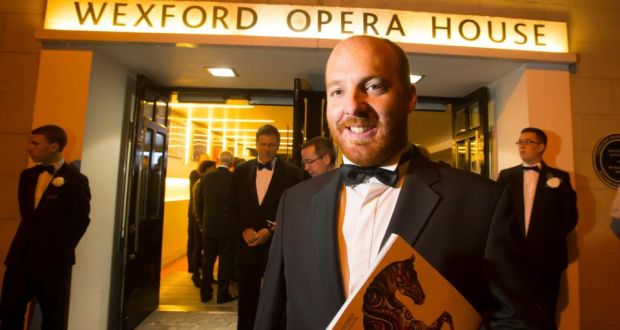 At the mouth of the river Slaney, about a third of a tonne of fireworks has just exploded in the night sky, marking the official opening of the 62nd Wexford Festival Opera. As the spectacle fades, tired children begin to slope homeward, clinging to their parents' arms, while grey-haired couples in their finery wander merrily through the streets.
Meanwhile, in the bowels of White's Hotel, the driver of Lyric FM's van and I are locked in a frenzied death match to see who can secure the final free space in a packed basement car park. Read the rest of this entry »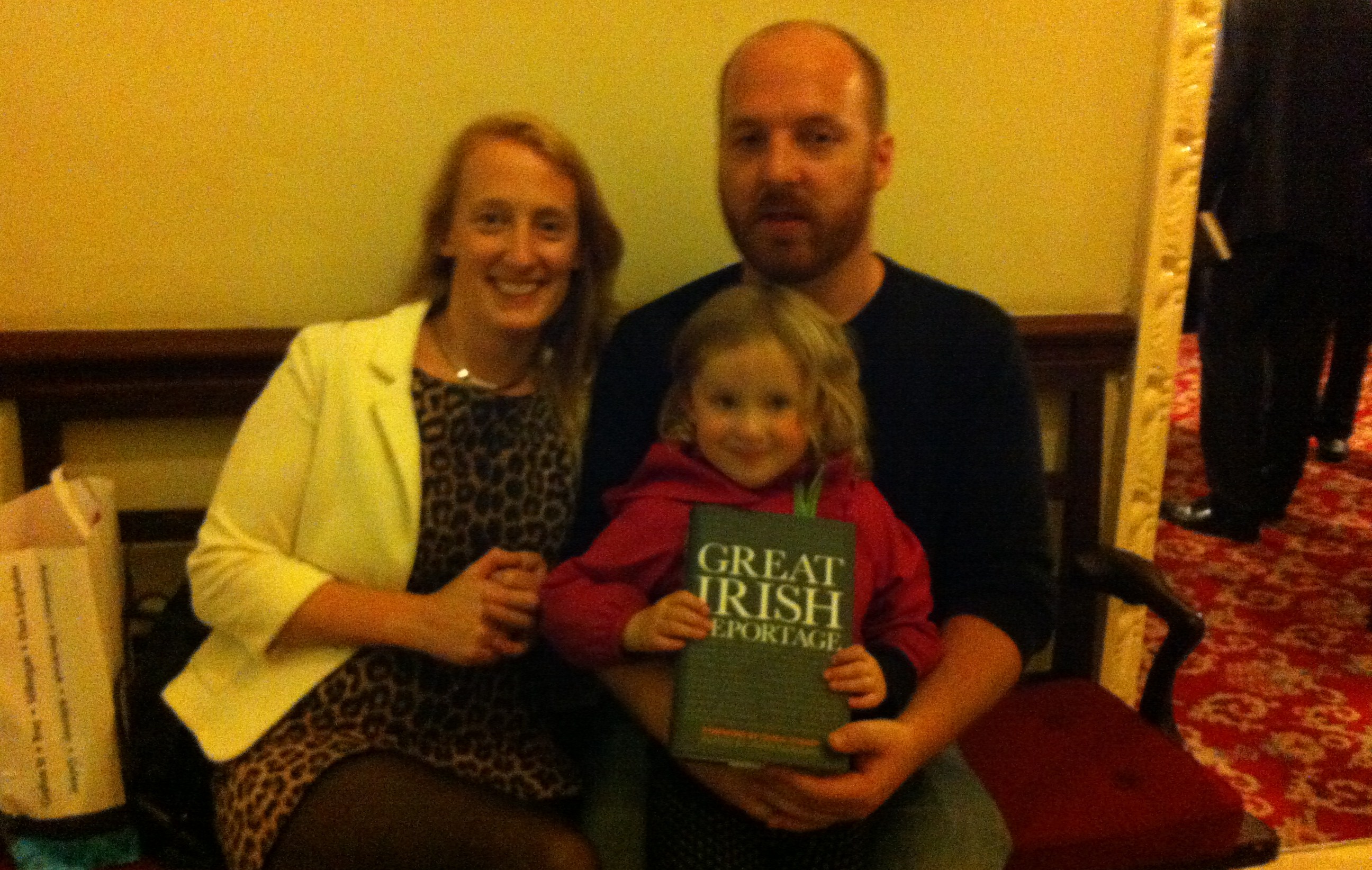 I was flattered to be included in Penguin's collection of Great Irish Reportage, published last week. Not that you'd guess so from the above picture.
I had been trying to appear casual at the launch. As though my writing gets included in anthologies alongside Flann O'Brien, Fintan O'Toole and Conor Cruise O'Brien all the time, and I wasn't particularly phased.
So one of my sisters taking flash photographs kinda risked botching that whole operation.
The piece selected, For God & St. Patrick, originally appeared in Mongrel magazine in September 2007. It's about religious observance in Co. Mayo. If you have a minute, I'd like to relate a little (EDIT: actually a long bit) about how that article came about. Read the rest of this entry »