Published: Irish Independent. 3 August 2013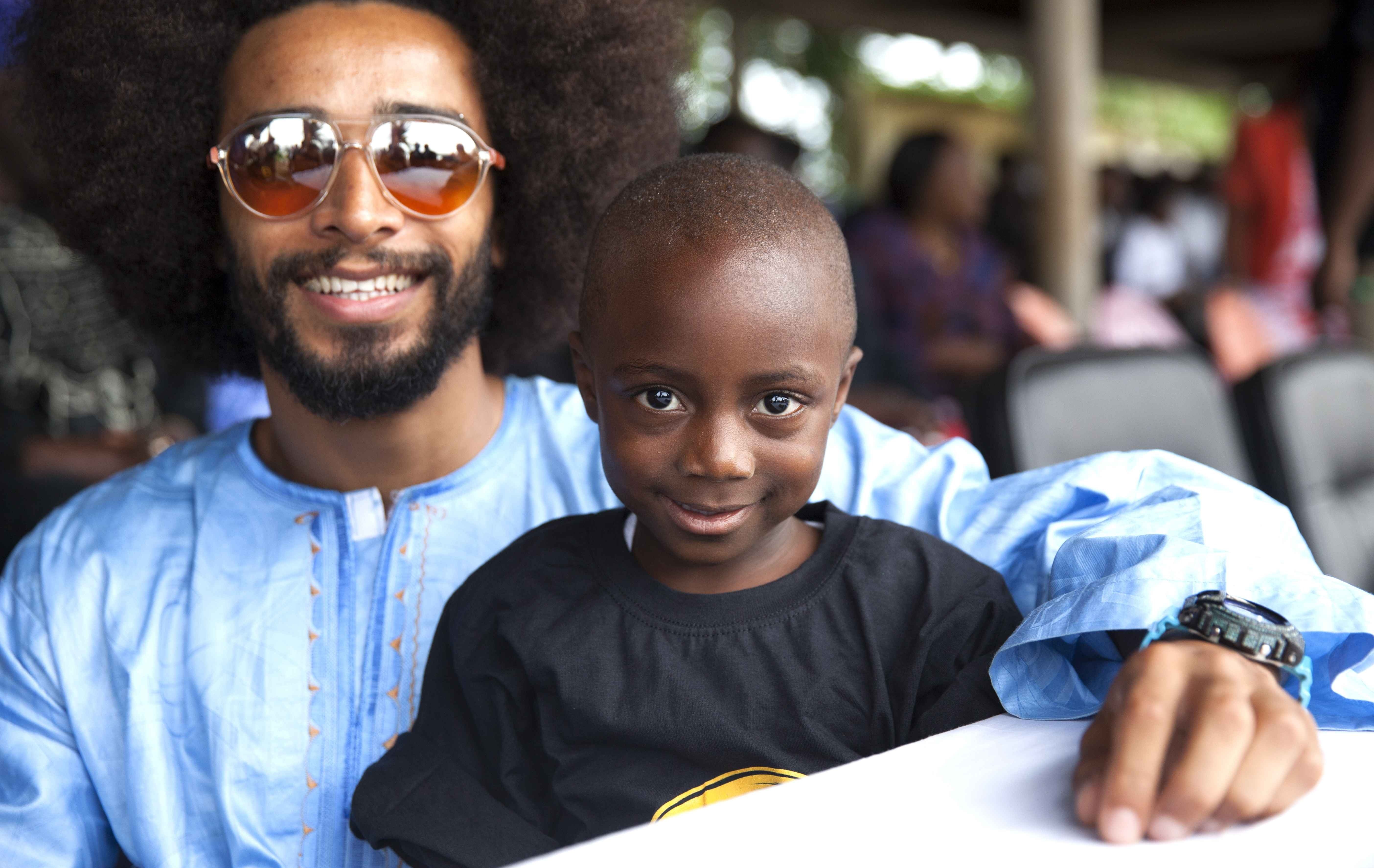 YAOUNDE, CAMEROON. On a swelteringly humid afternoon, a convoy of vehicles carrying a Premier League footballer and his entourage is tearing through the backstreets of this sprawling west African city. Unexpectedly, the lead vehicle arrives at an impasse: a crowded intersection, teeming with people and gridlocked in both directions.
It could be a traffic jam. It could be an impromptu street party. In this country, it's difficult to tell. I peer out through the passenger-side window, expecting the driver to slow down and negotiate a route through. Instead, he flicks on his hazard lights, pounds hard on the car horn and swerves headlong into oncoming traffic.
Oh, sweet holy mother of Jesus. Motorists, pedestrians and bystanders all scatter for their lives. In the ensuing chaos, a motorcycle is upended. We're barrelling around at 120kph in a heavily built-up area. I should be really, really terrified here. Instead, I close my eyes and fall asleep.
FOUR DAYS EARLIER, that dapper-looking footballer, Benoit Assou-Ekotto, is standing in the departures lounge at Heathrow Airport, tapping on his iPhone and posing for pictures with passing fans. The Tottenham defender is not quite a household name in Ireland, but his outlandish hair and equally outspoken personality have made him something of a cult hero among Premier League followers.
He is, perhaps most famously, the footballer who hates football. The Cameroonian international has earned millions playing the game. Yet he insists that football is just a job and admits he's only in it for the money.
He doesn't fraternise with his Tottenham teammates and makes a point of not following the game, beyond those matches in which he is involved. In an interview last April, he wasn't aware that Liverpool's Luis Suarez had bitten Chelsea's Branislav Ivanovic the previous weekend – at a time when even the British prime minister had weighed in on the controversy.
But the man 'The Guardian' newspaper called "arguably the most interesting player in the Premier League" does have a social conscience. During the London riots of summer 2011, he ventured out on to the streets of north London, spoke to local residents and told the media that elite clubs had lost touch with the communities they serve.
He suggested footballers donate some of their wages to charity and duly followed through, establishing his own BAE32 Foundation, which promotes education for young people around the world. In an era of image rights and lucrative brand endorsements, Assou-Ekotto is that rarest of species: a professional athlete with something to say, who's not afraid to say it.
So when I'm invited by Sightsavers Ireland to accompany the French-born footballer on a trip to northwest Cameroon, to raise awareness of the charity's fight against river blindness in Africa, I jump at the opportunity.
Sure, he might seem a little aloof right now, at 6.30am in the departures lounge in Terminal 1. But I have four flights, five airports and 6,000km in which to work my magic. With any luck, he'll be regaling me with Harry Redknapp anecdotes before we've even left the tarmac.
Actually, Benny – as he doesn't insist I call him – does eventually talk about his relationships with former Tottenham manager Harry Redknapp and current boss Andre Villas-Boas. But that's not until two days later, when I practically force him at gun point to sit down and have a conversation with me:
"HARRY IS SO COOL. Harry is a man who make me laugh, in a good way," he says. "The new manager is a different generation. We don't speak only about football. We speak about the things young men speak about, like cars and Air Jordan. Afterwards I think, wow, do I really speak with my manager about these things? But yes, he is only six years older than me."
However, my plans to bend his ear this morning are thwarted at the departure gate. Assou-Ekotto, his Moroccan girlfriend Selina and Cameroonian manager Francis Nkwain are all ushered into first class, where, presumably, a team of eunuchs will be feeding them canapes and Champagne for the next 13-14 hours.
Meanwhile, Sightsavers Ireland representative Roisin and I are squashed into economy seats about a football field's length behind them, watching 'We Bought a Zoo' on a TV screen the size of a KitKat bar.
Polite waves and smiles 'hello' are exchanged at the security line at Brussels airport and again on the tarmac at Douala – let's call it the scenic route. But for the most part, we're left to our own devices.
And despite my best intentions, Roisin does teach me a little bit about river blindness. It's a parasitic disease, she explains, transmitted by black flies that breed in the fast-flowing rivers of sub-Saharan Africa.
Losing one's eyesight would be calamitous regardless of where a person lived. But among subsistence farmers in the world's poorest countries, that person's entire family may be left destitute as a result. In areas where infection is endemic, entire villages are deserted, fertile lands abandoned and livelihoods destroyed.
The frustrating part, Roisin adds, is that the disease is totally preventable. A vaccination called Mectizan has been donated, free of charge, by the pharmaceutical giant Merck. So all it costs to inoculate people against river blindness is the cost of distributing the drug: 8c per person per annum.
The charity aims to eradicate the disease completely by 2020. But raising the funds to ensure that this target is met is no straightforward task. River blindness, Roisin laments, has a very low profile. That is, at least, compared to the big three. I raise an eyebrow. The big three? Malaria, tuberculosis and HIV/Aids, she explains.
I hadn't realised there were A, B and C-list infectious diseases. But it makes a kind of sense. After all, the world's greatest player Leo Messi is currently in Senegal fighting malaria. Whereas we're en route to Cameroon with an injury-prone left back who, for all his likeable eccentricities, may yet be offloaded to Fenerbahce before the current transfer window closes.
Days later, I ask Sightsavers' footballing ambassador about speculation that young Danny Rose will take his place as Spurs first choice left-back in the coming season. Assou-Ekotto dismisses the question with a smirk. Mischievously, he recalls a time when he was injured and another exciting young prospect, a Welshman, was tipped to usurp his position at Spurs.
"My teammates say to me, 'do you know who is this guy Gareth Bale? He is a left-back. He is very good'. I say to them, 'don't worry about me. If I want to play, I will play'. And that's what happens. Gareth Bale finds another position on the pitch."
YAOUNDE, DAYBREAK. This bustling metropolis of 2.5 million people is a hive of industry in the early morning. Joggers stream past our hotel while we're checking out. Women and girls heading to the markets, fruit baskets perched on their heads, crowd both sides of the road; down by the river, young motorcyclists wash and scrub their machines at the water's edge.
At 7.30am, after a short layover, our small convoy of journalists and aid workers is on the move again, making the 400km trek north to the village of Bali. Unusually for a Third World country, Cameroon's road network is in decent shape. Road-safety standards, however, do leave something to be desired.
To be fair, the homicidal recklessness we'll experience later in the trip is very much the exception. For the most part, mere criminal stupidity is the rule: overtaking on corners, assuming you can make oncoming objects disappear by beeping at them, carrying old ladies as passengers on the roof of your hatchback car… Minor infringements, to be sure.
On a Sunday morning, the radio dial is dominated by religious programming. As we chug along on the open road, I find myself listening in. One presenter is delivering a lecture about the history of Christianity in Cameroon. One hundred years ago in 1913, she says, a German Catholic missionary set out north from Yaounde into the interior of the country, bringing with him the good news.
My Leaving Cert French lets me down at this point, so I'm not entirely sure how that worked out for him. Let's just say he was eaten by lions. But what's interesting are the names of those Christian missionaries, she mentions, who followed in his wake: McDermott, Tolan, McHugh, O'Brien, Tohey. I wonder how these priests and nuns adapted to life in Cameroon.
Right now, the place is wet, cloudy and verdantly green. Who knows, perhaps they felt right at home.
Reaching Bali just after 3pm, we're greeted by local Sightsavers staff and are taken to visit villages affected by river blindness. There are talks and presentations. The charity's country director Joseph Oye tells us about the organisation's work in Cameroon. The biggest problem on the ground, he says, is convincing people to take Mectizan.
In those remote areas where the disease thrives, the populace are understandably wary of strangers bearing gifts. And since many of these areas also happen to be strongholds of opposition to Cameroon's corrupt president-for-life Paul Biya – my description, not Oye's – conspiracy theories abound. The most popular is that the drug causes infertility. And it is taking a massive public awareness campaign to convince people here otherwise.
That evening, over dinner, we're joined by more Sightsavers staff, as well as representatives of Helen Keller International, who also operate in the region. This is my first sit-down meal since I left Dublin, so I'm as happy as a dog with two tails.
But there is a cloud hanging over proceedings, even if no one quite wants to acknowledge it.
Our guest of honour isn't here. Assou-Ekotto was due to leave Yaounde with us this morning and spend the day learning about river blindness. Instead, he and his party announced that they would travel separately. The footballer's agent assured us they would be no more than an hour behind us on the road. That was 12 hours ago and they still haven't arrived. Neither are they contactable by phone.
Tomorrow, Assou-Ekotto is due to present Sightsavers' 250 millionth Mectizan treatment to a specially chosen recipient at a ceremony in Bali, at which the governor of Cameroon's North West Province is expected to be in attendance. No one has said so out loud yet, but I think we're all beginning to brace ourselves for a no-show.
The British TV journalist sitting next to me is witheringly unimpressed. She asks if this is my first time in Africa. No, I tell her. I was in Juba for South Sudan's independence celebrations in 2011. She nods absently. The last time she was in Africa, she says, she was in Uganda for Comic Relief. A cataracts piece with David Tennant.
David Tennant, I nod, between bites. The Pet Shop Boys guy?
"No," she says. "'Doctor Who'."
Oh right.
There's a pause.
Any crack?
"Oh yes," she says, pursing her lips. "He was very professional."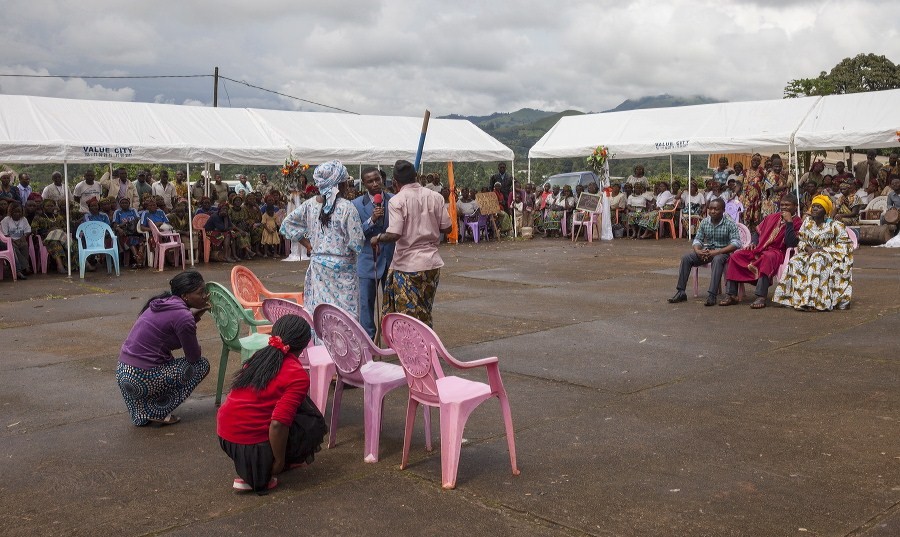 SMALL TOWNS ARE THE SAME all over the world. Certainly, the cast of characters that comes out to greet us in Bali are instantly recognisable to most of us. There are hyperactive children, too-cool-for-school teenagers, puffed-up local dignitaries and a bunch of crusty-looking trad musicians roped in to provide entertainment for the day.
It's like the west of Ireland. Everything is anarchic and freewheeling and fun.
There are old ladies smiling, dolled up to the nines, delighted to be out and about and chatting with their friends. And there's an officious man with a microphone who is more than a little fond of the sound of his own voice. At great length, he welcomes the various dignitaries, health and community groups and "members of all legalised political parties".
(I'm introduced to the crowd of 200 or so as "a very serious man from Ireland".)
To the immense relief of all concerned, Assou-Ekotto turned up at the hotel last night before we all turned in. He may not have immersed himself in the subject of river blindness to the extent that some would have liked. But he did sit through a presentation on the subject, in French, so he has some grounding in it.
This morning, however, tensions have arisen again. Assou-Ekotto and his agent both arrive for breakfast dressed in long flowing robes, resembling Arabic jalabiyas. The British TV journalist and her cameraman aren't exactly ecstatic with this development.
"He's a footballer," the former sniffs. "We're supposed to film him playing football. He can't play football dressed like that, can he?"
A message is transmitted to Assou-Ekotto via his agent. Would the Spurs defender possibly consider changing? The agent stands his ground.
"It's traditional dress," he says.
"Yes, but it's not traditional here," the TV journalist scoffs.
There's a brief stand-off. Assou-Ekotto sits alone in the back seat of his blue people carrier. He doesn't emerge until the Sightsavers representative who relayed the request comes over to apologise to him in person. Then he opens the door and steps out. He wasn't offended at all, he assures us. It was his agent who was offended.
It's not a promising start. But things soon pick up. Assou-Ekotto is introduced to little Nahbila, the six-year-old girl selected to be the recipient of Sightsavers' 250 millionth vaccination treatment. He is charm personified. And when what was supposed to be a half-hour photo opportunity turns into a seven-hour ordeal of singing, dancing and speeches, the guy never puts a foot wrong.
He may not care what the media think about him, but he couldn't be more patient with, and respectful towards, the ordinary people he meets here.
The highlight of the day for me are the "skits": morality plays performed in English and acted out at the top of the actors' voices. One concerns two families, the first of whom has a casual attitude toward the threat of river blindness, the second of whom takes the threat of river blindness very seriously.
The head of the family that takes river blindness very seriously takes a call on his mobile phone halfway through the performance. This may or may not have been in the original script.
Sure enough, the family who neglected to take their river-blindness vaccinations are soon scratching themselves and losing the use of their eyes. As they flail around sightlessly, they throw themselves at the mercy of the doctor whose advice they had previously ignored. But he is unable to help them.
What's notable is how the fate of these people is played for laughs, even in front of an audience that includes many people suffering from river blindness. When I mention this to the British TV journalist, she laughs.
"That's African theatre for you," she says. "I once saw 'Hamlet 'performed in Kenya. The audience was in stitches the whole way through."
'I HAVE ZERO FEELING WITH FRANCE. In that country, if you are 1pc of another country, you are not French. So I prefer to be in Cameroon and sing the Cameroon anthem. If I can afford to give £5 to help the country, I will give £5. If I can afford to use my notoriety to help, I use my notoriety. This is a country of 20 million people – and 20 million football supporters, I think."
It's very difficult to spend any amount of time around Assou-Ekotto without pondering all of his contradictions. He says he has zero feelings with France and plans to continue living in London when he retires. Yet he speaks very poor English and gets very prickly when he isn't addressed in French.
The next morning, when a non-francophone Specsavers representative greets him with a cheerful "Bonjour Benoit", he cuts across her very sarcastically. "Your French is very good," he says.
He collects vintage cars yet, in London, he travels by Tube.
He says he identifies with the struggles of ordinary people. Yet here we are the next day in the Beverly Hills-style Yaounde mansion of Francis Nkwain Sr, the father of Assou-Ekotto's agent and a former minster in the government of President Paul Biya, where servants in uniforms whip up a meal for us within minutes of our unannounced arrival.
(Biya is perhaps most famous as the dictator who spends "short stays" of up to three months at a time governing Cameroon from a suite at the Hotel InterContinental in Geneva.)
And he claims to hate football, yet a scroll through his Twitter feed in the time we've been here reveals he spent at least one evening trolling supporters of Arsenal, Tottenham's north London rivals, about their lack of recent silverware.
Well, I'm not going to get to the bottom of it now. We're catastrophically late for our flight and I'm so exhausted I can barely keep my eyes open. I know all about his girlfriend's future career plans. His agent Francis and I will probably still exchange Christmas cards in our dotage. But I don't feel I know Assou-Ekotto himself any better than I did when we shook hands in Heathrow Airport.
In fact, in all the time we've travelled together, I've only once seem him crack a proper smile, and that was when I asked about his former boss Redknapp. What, I ask him before we leave, was the basis for that unlikely friendship?
He smiles. Again.
"You see, other managers care about many things. What your attitude is. If you have a smile on your face, as you say," he explains. "Harry didn't care like that. He just ask me to give my best in the pitch and come to him if there is a problem. The rest of time, we don't have to say hello or make a conversation with each other.
"Personally, for me, that is the best way. That is the way I like it."
August 6th, 2013.