Published: Mongrel Magazine, September 2007
A summer of religious observance in Co. Mayo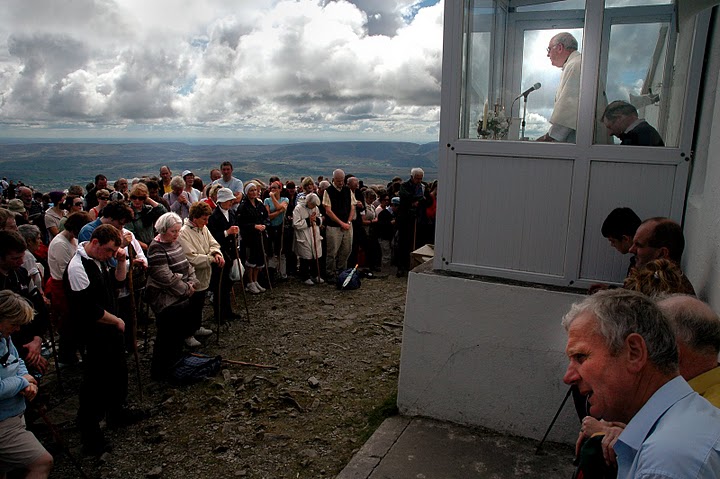 "Take my hand," croons the singer on Mid West Radio. "Lord Jesus, take my hand." Its 9am on the last Sunday in July, and the crowd outside Campbell's pub, at the foot of Croagh Patrick, are basking in the early morning sunshine. They wear county jerseys, and clutch pints of Guinness and bottles of Bulmers. An old man plays the box accordion, while the jukebox inside blasts 'Sean South from Garryowen'. Some appear weary from their morning's exertions. But the mood is one of festive celebration. We're at the bottom of a mountain, but at the very apex of a summer. 
Approach roads from Westport are clogged, with cars parked bumper to bumper on either side. Pathways leading up to the Reek are lined with traders selling religious souvenirs, walking sticks, sweets and chocolate. The resourcefulness of these men, most of them Travellers, has got to be admired. One is selling mirrors inscribed with the words of the poem Don't Quit – with a picture of St Patrick crudely superimposed in the top corner. Another man, in a three piece suit, is extolling, through a loud speaker, the benefits of the grapes his son is selling.  
On the car radio, Faith Alive presenter Fr Brendan Hoban dedicates a song to all of those making the annual pilgrimage up Mayo's holy mountain today. The hardiest of these set out at 4am for Mass on the summit at dawn. By lunchtime, 30,000 pilgrims will have completed the 2,510 foot ascent, some in their bare feet. The high turn-out comes despite dire safety warnings from the Gardai, from meteorologists and even the Catholic Church. Standing by on the mountainside this morning are 150 Mayo Mountain Rescue, 150 Order of Malta and 25 Civil Defense volunteers, supported by helicopters from the Air Corps.  
 
1.
The ascendancy of the US religious right, in the last decade, has fuelled a European fascination with the overt religiosity of the American heartland. From tub-thumping televangelists, to roadside billboards proclaiming the imminence of judgment day, the iconography of the Bible belt is instantly recognizable. But what can be overlooked is that Christian fervor is not unique to the red states of middle America. Religious devotion in my native Co. Mayo, for example, though less overt, is no less deeply ingrained. And it manifests itself in ways that, to outside eyes, could appear equally bizarre. 
For evangelicals, Christianity is defined in black and white terms like heaven or hell; sin or salvation; God or mammon. In Catholic Ireland, the picture is a little more complex. Religious beliefs and practices in Mayo are informed by ancient tradition, galvanized by history and shot through always with the strangest, and most profound, ambiguity. Nowhere is this better illustrated than on the stony slopes of Croagh Patrick.
The annual pilgrimage here nominally commemorates St Patrick, who is said to have built the first church at the summit. Setting out from Aghagower, Patrick prayed and fasted for 40 days and nights at what is now called Leabha Phadraig (or Patrick's Bed). There he was tormented by demons, in the form of great black birds that swooped about him. Finally, he rang his bell, and the demons fled, perishing in the sea beyond Achill Island. He descended from the mountain on Holy Saturday in the year 441.  
In truth, however, the mountain has been a pilgrimage site for over 5,000 years. It was originally the location for the harvest festival of Lunasa, held in honor of the Celtic sun god Lugh. And although it was given a cursory Christian make-over after Patrick's arrival in Mayo, those pagan overtones never fully disappeared. When William Makepeace Thackeray came by in 1842, he found fifty tents erected at the foot of the mountain, where, once the formalities were out of the way, a great orgy of 'drinking, dancing and lovemaking' commenced. Only the Great Famine of 1845-50 would usher in an era of more pious religious devotion.  
The famine hit few places harder than Mayo. In the space of a few short years, at least a third of its pre-famine population (of circa 400,000) vanished from the land. And the trauma of that loss was felt for generations. Those who survived turned to their Catholic faith for protection against a repeat of the catastrophe. But local famines continued to hit the county for decades after. My late father remembered, as a boy in the 1950s, being made by his grandmother to eat stale bread and drink sour milk. She was raised to believe that famines were a punishment from God against those who wasted food.  
One of the most horrific episodes of the Great Famine occurred not far from Croagh Patrick. In March of 1849, hundreds of starving people from the nearby parish of Louisburgh walked 15 miles to Delphi Lodge, where they were told relief aid would be distributed. When they arrived, the Board of Guardians refused to see them (according to local lore, because they had just sat down to eat dinner). On the return journey through the hauntingly beautiful valley of Doolough, dozens of these human skeletons were blown into Doolough lake. Others perished on the roadside, where their bodies were ravaged by dogs. A memorial, unveiled by Desmond Tutu in 1993, prompted renewed interest in Doolough nationally. Around here though, people had never forgotten. 
 
2.
Back on the mountainside, the sun is now higher in the sky, and hundreds of climbers have abandoned their jackets on fences along the way. A small, respectably dressed lady is asking passersby if they are Catholic. Most ignore her. The few who answer in the affirmative are advised to steer clear of the people handing out flyers up ahead. They're Protestants, she warns. What's most surreal is that the woman's manner is not that of a wild-eyed zealot. It's more like that of a thoughtful motorist flashing their headlights to warn others that there are, well, Protestants lurking in the vicinity. 
Fifteen to twenty Evangelical Christians from Northern Ireland have been making the annual trip to Croagh Patrick for a number of years now. As well as the (pretty innocuous) leaflets they hand out, they also distribute cold drinks to thirsty climbers. They don't, however, talk to journalists. "We just do this as a service for people" one of them tells me. "We just do it as a weekend away – we're not looking for any publicity." The reception from most climbers – crazy lady notwithstanding – is grateful. 
It reminds me of an expression an old teacher of mine once used. Ronnie Flanagan had just been made Chief-Constable of the RUC and our teacher told us Flanagan's people had obviously "taken the soup". She never explained what she meant by that, but we understood her well enough. She was implying that, as a Protestant with a Catholic-sounding name, Flanagan must be descended from apostates, who abandoned their religion in return for aid during the famine. I smile as I imagine what she would say if she were here today. The Protestants are back, baby. This time they've got MiWadi orange – and it's going down a treat! 
At the first station, Leacht Benain, pilgrims walk around a mound of rocks seven times, reciting seven Our Fathers, seven Hail Marys and one Creed. In stones on the hillside behind them, someone has written I (HEART) KATHLEEN in enormous letters. Two first time climbers regard the ritual a little dubiously. "Do we have to do that?" asks one. "Ach, I don't think so" replies the other. In truth, the vast majority of pilgrims don't bother with it. I meet my neighbour, Billy Phillips from Ballyhaunis, whose son Adrian is climbing for the first time. Billy isn't entirely happy about the good weather. "I don't think this fella is getting the real experience" he smirks. We admire the view for a moment.  
On the summit, a priest is saying mass from within a sort of Perspex glass box at the side of the chapel. The loudspeakers aren't working, so the congregation, standing only a few feet away outside, can decipher almost none of what he says. "If they just opened the fucking window," mutters one man. At the door to the left of the altar, pilgrims are queuing up to have their confessions heard inside. Inside the door on the right, the Archbishop of Tuam, in a fetching Adidas tracksuit, is handing out communion.  
Tucking into my sandwiches, I get chatting to a sprightly old lady in mountaineering gear. It's beautiful up here, I say. She agrees. The first time she was here was in 1960, when she was 18. "I had to decide whether to get married or enter the religious life," she remembers. "It's so tranquil here." I take it she opted for the latter then. The man next to us is being interviewed for Midlands Radio. Is it religious devotion, the interviewer wonders, that brings people from the midlands back to Croagh Patrick year after year? Or do they only come along for the crack? The man weights it up for a moment. "A bit of both," he answers. "I wouldn't say there's too many is all of one, and none of the other." 
 
3.
It's the night before my sister's wedding. Maureen, our neighbour, lifts the Child of Prague down from the mantelpiece in her kitchen. She tucks it under her arm, walks out into the garden and stashes it under a bush. The Child of Prague statue is commonly found in homes in rural Ireland. And tradition has it that leaving it outside overnight will guarantee fine weather the next day. When the rain holds off for Una's wedding (give or take the odd thundershower), Maureen is quick to remind us where the credit is due. Traditions like this one, though not taken hugely seriously, nonetheless persist.  
"There is a huge underbelly of localized religious customs here alright," agrees Liamy McNally, a journalist with Mid West Radio. "There are countless mass rocks, holy wells and pilgrimage routes across the county." He mentions two pilgrimage routes in particular, both of which I walked as a teenager. The first, Tochar Phadraig (Patrick's Way), starts at Ballintubber Abbey, where mass has been said for 800 years unbroken. ("Not even Cromwell and his boys could shut it down," says McNally.) It runs for 22 miles to the summit of Croagh Patrick and it predates Christianity. 
The second begins at various locations around east Mayo and Roscommon and finishes with mass at dawn at the Marian shrine in Knock. It takes place on August 15th, the Feast of the Assumption. I grew up only a few miles from Knock, and participation in the walk was popular among my friends when we in our early teens. To be honest, it was just an excuse to get up to all of the sorts of unholy things teenagers tend to get up to. And I felt a tiny bit guilty about that at the time. A few years later, my grandmother described to me the things that had gone on when she did the same pilgrimage in the early 1930s. Very little had changed. 
 
4.
"Forget about Oxegen," gloats Catholic newspaper Alive. "Knock is where it's at!" The headline refers to Knock's Catholic Youth Festival, a depressing jamboree of maladjusted teens and twentysomethings. Comparisons to Ireland's largest music festival would be much more aptly applied, however, to the annual Knock Novena, an enormous event, which kicks off on the eve of the Feast of the Assumption. For nine days, name speakers address near capacity crowds twice daily at the 10,000 seat Basilica. Each ceremony concludes with a statue of the Virgin Mary being wheeled around the car park. It is, by any standards, an utterly bizarre spectacle.  
Arriving late on the opening night, an usher in a green sash offers to help find me a seat. I decline, opting instead to observe proceedings from the ramp that runs around the building. A man I know quite well walks by me with scarcely a nod. He's saying the Rosary, and his rich baritone echoes after him as he disappears down the gangway: "Hail Holy Queen, mother of mercy. Hail our life, our sweetness and our hope. To you we cry, poor banished children of Eve. To you we send up our sighs, mourning and weeping in this valley of tears…"  
Groups of Traveller men congregate at the doorways, right the way around the Basilica, laughing and cursing. They're upholding that proud Irish male tradition of turning up to mass, but not actually going in. Inside, a sea of mostly grey heads listens to Fr Fintan Brennan-Whitmore deliver a sermon entitled 'Following Christ in Hospitality and Outreach'. It's not the most scintillating topic, whatever way you spin it. The row of pews directly opposite me is marked 'Priests Only'. I allow myself a small chuckle. The makers of Father Ted have a lot to answer for. 
The strip of souvenir shops outside is deserted. By day, the tackiness of this place is merely amusing. By night, the shop fronts become weirdly mesmerizing, the gaudy merchandise luminous in the fading light. I hunt about for my all-time favourite item of Knock tat: a photo-quality holographic image of a blow-dried, TV movie Jesus on the cross. When you move it, his eyes open and close: Alive. Dead. Alive. Dead. It isn't here, but there are hundreds of equally deranged gift options in its place. Behind a row of religious-themed snow shakers, a notice warns shoplifters that CCTV cameras are in operation. The mind boggles. What a wonderful world. 
Back at the Basilica, as the men in green sashes distribute communion, a priest announces the cancellation of the procession outside, due to inclement weather. The disappointment is palpable. Instead, the statue of the Virgin Mary is wheeled around the altar a couple of times. Five old men march behind it carrying the flags of Ireland's four provinces and the Holy See. They're followed by a group of nuns in white dresses, who are in turn followed by more old men carrying the flags of Ireland's seventeen dioceses and four archdioceses. I can imagine that, in the days before television and wireless broadband, this sort of spectacle could have been very impressive. Nowadays though, it looks just a little bit silly. 
The next day is the Feast of the Assumption, the date on which Travellers traditionally descend on Knock for a week of devotion and trade. There are almost 50 caravans in the immediate vicinity of the shrine alone when I arrive in the morning. By the following Sunday, after what the Western People describes as a "week of mayhem" in the village, tensions with the settled community will have boiled over into an ugly confrontation. For now though, things are more or less peaceful. Only the older Traveller women and children appear to attend services in the Basilica. They sit in the pews to the rear, some attracting reproachful glares for the commotion they tend to bring in their wake. 
The men remain outside admiring the talent. And what talent. The Feast of the Assumption is the Travellers traditional date for matchmaking, and there's high excitement among the girls parading outside. They sport short skirts, high heels, bare midriffs and lots of cleavage. It's quite a spectacle: many of these outfits would be deemed OTT for Eurovision. Aggie and her husband Cha, Travellers themselves, are not impressed. "A woman with her legs or shoulders showing has no right to be doing the Stations of the Cross" tuts Aggie. I ask for her surname. She cheerfully declines. "Get away from me" she cackles. "You won't incriminate me!" 
 
5.
The rugged landscape of Ireland's largest offshore island is spectacular. The girl in the tourist office is friendly and parking at the House of Prayer is ample. We prefer to say nice things when we can in Mayo. But that's as far as I can go with Christina Gallagher and the House of Prayer. Mrs Gallagher was an illiterate housewife when the Virgin Mary first appeared to her in a vision in January 1988. Five years later she founded the controversial House of Prayer on Achill Island. Since then, hundreds of thousands of pilgrims have visited here, providing a much-needed boost to the local economy. Despite a fractious relationship with local church authorities, she continues to draw vast crowds, and has been credited with several miracles.  
It's almost a shame to have to add that the woman is a transparently obvious fraud and a charlatan, who cruelly exploits the naivety of vulnerable people for her own financial gain. She has been exposed as such countless times, most often by conscientious Catholics, angry at seeing their faith besmirched. But it makes no difference. Still the people come. A strange man pounces the moment I arrive here. After checking that this is my first visit, he closes his eyes and launches into a lengthy monologue about the messages Christina Gallagher has received from Our Lady and (more pointedly) about the overpriced crap Our Lady strongly advises I purchase in the adjacent gift shop. I'm not joking. 
For over ten minutes he speaks, ploughing through long, memorised passages – such as a list of outlets in Scotland where Christina Gallagher's newsletter is available – that are plainly irrelevant to me. He speaks throughout in that camp, lobotomized drone that religious devotion often inspires, and he opens his eyes just once, to glare at some children whose squabbling momentarily distracts him. It's an extraordinary performance. In response to my only question, he confirms that Mrs Gallagher is not present. (She isn't due to recover from her latest 'illness' for six weeks). I hit the gift shop. 
The Matrix medal is the cornerstone of the House of Prayer's merchandising operation. Our Lady recommends that it "always be on your person. Those who die with this medal on their body I will save through the merciful Heart of My Son. Jesus will not refuse Me His mercy for the souls who will be wearing this medal". A bargain then, at only 65c. The image of the Virgin Mary weeping tears of blood, also exclusive to this gift shop, is pricier at €8. Of it Our Lady has generously promised: "Those who venerate Me by means of this image, I will intercede for their every need and grace."  
Much more brazen though are the contents of the supposed messages from Our Lady to Christina. I purchase a collection of these for €3. For the most part they contain vague apocalyptic prophecies of what will happen if people don't listen to Mrs Gallagher, thinly veiled threats against those who condemn her, and lavish expressions of sympathy for the suffering Mrs Gallagher endures on behalf of those she supposedly cures. There are also extremely crude solicitations for money. The following quotes are representative of the overall content of the book and are in no way taken out of context. 
This message was received in March 2003: "My daughter, endure people's lack of compassion. I asked the people of Ireland and the world to help you. I want people to take care of you and your every need… If they do not respond they will come under the justice and witness of My Son Jesus." The next message came in July 2006, after Mrs Gallagher's abortive attempt to establish herself in the US. This time, Jesus himself says "Tell the people that if the House of Prayer in Texas is not free of debt by the ninth month of the year it is to be dissolved and… the greater part of that State will be leveled and torn to shreds. Those in a position to bring the House to fruition have persevered in mocking Me and withholding the means of completing it. " 
It should be emphasized that the House of Prayer remains well outside of the mainstream of religious worship in Co. Mayo. The people of Achill are grateful for the tourist revenue Christina Gallagher brings in to the island but are privately dismissive of her credentials as a mystic. It's still possible that, when she's safely dead, the Catholic Church may yet decide it wants in on Christina, particularly if she remains a big draw. It's unlikely perhaps, but its not inconceivable. If this journey has taught me anything, it's that people believe what they want to believe. They can't be coerced. But they can be exploited. 
Photo Credit: Johnny Savage