Published: Irish Independent, 26 April 2014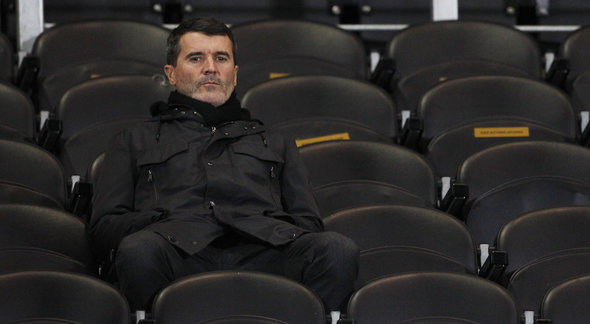 The international code is for the United Arab Emirates. I dial the thirteen-digit number I've been handed and wait for a response. In a hotel lobby, some 4,000 miles away, an English-speaking receptionist connects me to Roy Keane's room.
What is it, I ask him, about footballers and Dubai? Can't you guys take your holidays anyplace else? The former Manchester United captain sounds relaxed and in good humour. "I'm working here," he jokes. "Trying to find some new Irish lads, you know yourself." The Republic of Ireland assistant manager has assumed his post at time when morale amongst supporters of the national team is at an all time low. The biggest names in the Irish side that performed so abjectly at Euro 2012 were all veterans of Keane's own playing days.
And the new talent coming through to replace them has, so far, mostly failed to make an impact. Is Keano like the rest of us, I wonder? Whenever a player named Jon Flanagan, say, or Connor Wickham impresses in the Premier League, does he immediately rush to Wikipedia to check on their eligibility?
"No, I wouldn't go that far," he replies. "But yes, you are constantly looking at players' names, making discreet inquiries. You mention Connor Wickham. Obviously, I was aware of Connor when I was manager at Ipswich. So you are always on the lookout. But football is a very small world."
(At this point, I imagine, Ireland's most iconic living sportsman peers out the window of his luxury Dubai hotel room and is chagrined to spot Niall Quinn, Andy D'Urso and Alf-Ingle Haland among those arrayed on barcaloungers below. Hmm, he thinks, perhaps best avoid the pool today.)
So how many young prospects are there already in the pipeline? "Look, me and Martin are everyday hearing about different players. But I'd be wary of mentioning any names just yet. Even players already involved in the U-21 squad, I'd be wary of putting that kind of pressure on them."
"But it isn't all doom and gloom. There are some good Irish players out there. Fingers crossed a few of them will come through for us in the next few years."
REWIND THREE YEARS to January 2011. Roy Keane had just been sacked as manager at Ipswich Town. For the first time in his adult life, the Corkman found himself out of a job in football for a prolonged period. How did a man so immersed in the claustrophobic world of professional sport readjust to civilian life?
"It was fine," he insists. "Normal stuff happened. Day to day stuff. There was nothing hanging over me. Nobody I had to answer to. No place I had to be. In that respect, I enjoyed the freedom of it."
Sir Alex Ferguson's recent autobiography included a chapter titled Outside Interests. It was mostly about wine, horses and bloodthirsty historical tyrants he has striven to emulate. (Keane laughs, but refuses to take the bait.) What might a similarly titled chapter of his own memoir document?
"Watching sports, I suppose. Spending time with family, walking my dogs. Years ago, when I was playing, people said that I had to have a hobby. So I play a bit of snooker to relax. Things like that."
He says he enjoyed taking a break from the game. Yet clearly, hanging around the house was never destined to sit well with him – or his family – for very long. He recalls a trip to Nigeria with former Chelsea centre-half Marcel Desailly. "We were asked to do a gig for Guinness. It was only three days, so I figured why not?"
"Of course, when the wife and kids heard there was a danger I might get kidnapped (he pauses)… they were doubly keen for me to go."
It's a joke, obviously. But he isn't laughing.
Even in an industry as volatile as football, Keane's appointment to the Ireland set-up last November confounded most observers. The Corkman's antipathy toward the FAI had been public knowledge for most of two decades. Indeed he and the association's chief executive had traded media barbs as recently as last summer.
Was it wishful thinking, some wondered, to expect that a man once accused of stepping on the toes of Sir Alex Ferguson as manager of Manchester United, would not also soon exceed his brief as number two to Martin O'Neill?
Wasn't his appointment, I put it to him, simply a tawdry marriage of convenience between a wounded hero, desperate for a route back into the game, and a profit-hungry FAI keen to reap the commercial benefits to be gained from plastering his face all over their match day merchandise?
Keane's response is remarkably frank. "D'you know what?" he says. "I don't know. I'm really not sure. All I know is that Martin gave me the call, said are you up for it? And I said yes. Do I realise there's another side to it? Do I appreciate there are commercial considerations? Of course, I do. I'm not daft."
"You'd have to ask Martin about his decision. But I'd like to think those reasons weren't top of the list when he invited me to work with him."
OF ALL THE UNLIKELY TWISTS AND TURNS Keane's post-playing career has taken, his current sideline as big match analyst for ITV sport has perhaps proven most fascinating to observe. For years Keane had derided football punditry, saying he would consider a TV job only "if I fall on hard times." But since performing a volte face on the issue, he has proven a revelation in the role.
Of course, the public never expected Keane to spout banalities, like Jamie Redknapp or Michael Owen. Keano the pundit was always going to be a controversial proposition.
But what surprised many was the quality of his analysis. Keane never courts controversy for its own sake, as Joe Brolly often seems to do. Nor does he ceaselessly contradict himself, from commercial break to commercial break, as is Eamon Dunphy's wont. As a big match analyst he is thoughtful, dispassionate and brutally on-the-money.
"There'd always been offers and I'd always said no. But I was offered the Champions League final between United and Barcelona. It was at Wembley. I really wanted to see the match and I didn't want to be bothering anyone for tickets.
"ITV got in touch through my lawyer on the Wednesday. They called at a quarter to twelve, said they needed an answer by twelve. In that fifteen minutes, I looked at my horoscope for that day and it said something like, you can't keep saying no to things. So I said yes."
Because of his horoscope? "Yes, absolutely."
Is he yanking my chain here? Is this a joke? Honestly, I have no idea. But sufficed to say, a considerable portion of that afternoon is spent frantically cross referencing major decision points in Keane's career against the relevant day's astrological charts. ('May 23rd 2002: Don't let longstanding grievances eat you up inside. Get them out in the open. It'll be cathartic!')
Television work, he emphasises though, is not a long term deal. "I have a timescale. I don't intend to be doing it for years to come. Of course, I'm sure lot of people say they'll do it for a year and end up doing it fifteen or twenty years. But I'll take stock at the end of the season. My first priority is working with Martin and the team. There's no getting away from that."
THE IRISH PUBLIC HAVE A SET image of Roy Keane as an intense, highly strung individual. But once every spring, at his annual photocall for Irish Guide Dogs for the Blind's SHADES campaign, they have gotten to see a softer side to his personality: intense, highly strung and standing next to a puppy.
Given his love for dogs, it's no surprise that the Cork-based charity is close to his heart. "The public might be fed up of looking at me asking for money every year. But having seen the work this charity does over many years, I'm so impressed by them. They really do change people's lives – provided they get the support."
I can't help mulling over whether the public's own vision is impaired, at least when it comes to evaluating their own greatest living sportsman. Ever close to his Mayfield roots, Keane has always remained grounded, even as books and musicals were being written in his honour.
But chatting to him today, I've heard much to suggest that, in middle age, Roy Keane is a funny, self self-aware and – dare I say – pretty likeable human being. Would he change the public's one dimensional image if he could, I ask? Or is he happy enough to leave them with the caricature?
For a moment, I fear the line has dropped. "That's not a bad question," he finally admits. He considers his answer. "I always had a certain public image. The media played a part in that, but I'm sure I did too".
"The sending-offs, the skinhead haircuts, one or two off-field incidents. People automatically assume you're like that away from the game. But as you get older, you get more mature. You act differently. I don't know. Truthfully though, I don't think I was ever that person away from the park."
We talk about other things. His favourite recent movie was Dallas Buyers Club, a film which was – coincidentally – also singled out for praise by his former boss Alex Ferguson at last month's Oscars ceremony. (Even in their estrangement, the similarities between the two men are difficult not to remark upon. Both are also unlikely admirers of Canadian pop guru Malcolm Gladwell.)
When I ask if the forthcoming memoir he's working on with Roddy Doyle (due later this year) was written in response to criticisms Ferguson made of Keane in his book last year, he finally loses his temper. "You've asked me some good questions today, Eoin," he snarls. "But that is a ridiculous one. You obviously don't know me. That is a ridiculous, ridiculous question."
(Being snarled at by Roy Keane, I should add, is not the worst thing in the world. It's like being insulted by Don Rickles. I'm so in awe of the guy it actually feel like a great honour.)
I mention Keane & Viera: Best of Enemies, a recent, excellent ITV4 documentary that made a generation of men sigh with nostalgia for an era that has scarcely passed. In a vintage display of petulance on the programme, less than a month after Ferguson's book was published, Keane selected Brian Clough as the greatest manager he ever played for.
He also chose a greatest XI from among his former Utd teammates that included several players (Jaap Stam, Paul Ince, David Beckham and Ruud van Nistelrooy) who had fallen out with Ferguson, but pointedly excluded others (Gary Neville, Ryan Giggs and, most astoundingly, Paul Scholes) who remain close to the former boss.
Alas, he has a confession to make. "That programme is not something I'm entirely happy that I've done."
But it was brilliant, I exclaim!
"Whether people have liked it or not, I felt very uncomfortable about having to pick my best XI. I felt very embarrassed leaving certain players out. I feel like I disrespected a lot of my teammates. And if you asked me to name my best XI now – well I wouldn't do it, first of all. But if I did, there'd probably be three or four changes to the one I picked that day."
I had intended to ask Keane if there is really any point continuing to pursue a feud with a 72-year-old man with whom he had shared so much success. As an admirer of both men, I really hope I have just received my answer.
What about his claim, I ask finally, that he was tougher than Patrick Vieira? His reply contains at least three statement it would have been inconceivable to hear him making even five years ago. "A lot of that stuff would have been very tongue in cheek," he admits. "Patrick is six foot four. If he wanted to get a hold of me, I'm sure he could have."
"It's all just a big game we're playing, at the end of the day. People really shouldn't take these things so seriously."
Support SHADES 26th April – 2nd May. Buy a puppy pin, volunteer or text Woof to 57500 to donate €2.50*. T&c apply www.guidedogs.ie .
ANOTHER SIDE OF ROY KEANE
ON MUSIC…
My music, no more than my moods, can be a little bit all over the place. Everything from Bob Dylan to Lionel Richie. I've seen the Rolling Stones in concert four or five times.
ON TELEVISION…
Other than sport? I can't get into those box sets, no. Not a million years. People had been brainwashing me for ages, saying I had to watch 24. So I went out and bought all these DVDs. I don't think I opened one of them. I don't have the discipline for it.
ON FILM…
I like putting my feet up and watching a movie on the big screen. What have I seen lately? The Dallas Club, that one. Based on a true story, that wasn't a bad one. What else? The one with the other lad in it. [Gravity..? 12 Years a Slave..? Muppets Most Wanted..?] No, the one with the other lad in it. [???]
ON HAUTE CUISINE…
Ah sure listen, I'm from Cork. I'd eat anything.
ON OTHER SPORTS…
I watch a lot of rugby league. Also rugby, boxing, even the odd bit of golf – although I don't play golf. I always get back to watch a bit of hurling in the summer. Then there's American football, baseball. The only one I don't have any time for is horse racing. Which, I suppose, may not be such a bad thing.
Article inspired this Gift Grub sketch by Mario Rosenstock 01/05/2014.
May 1st, 2014.