Published: Irish Independent, June 22 2013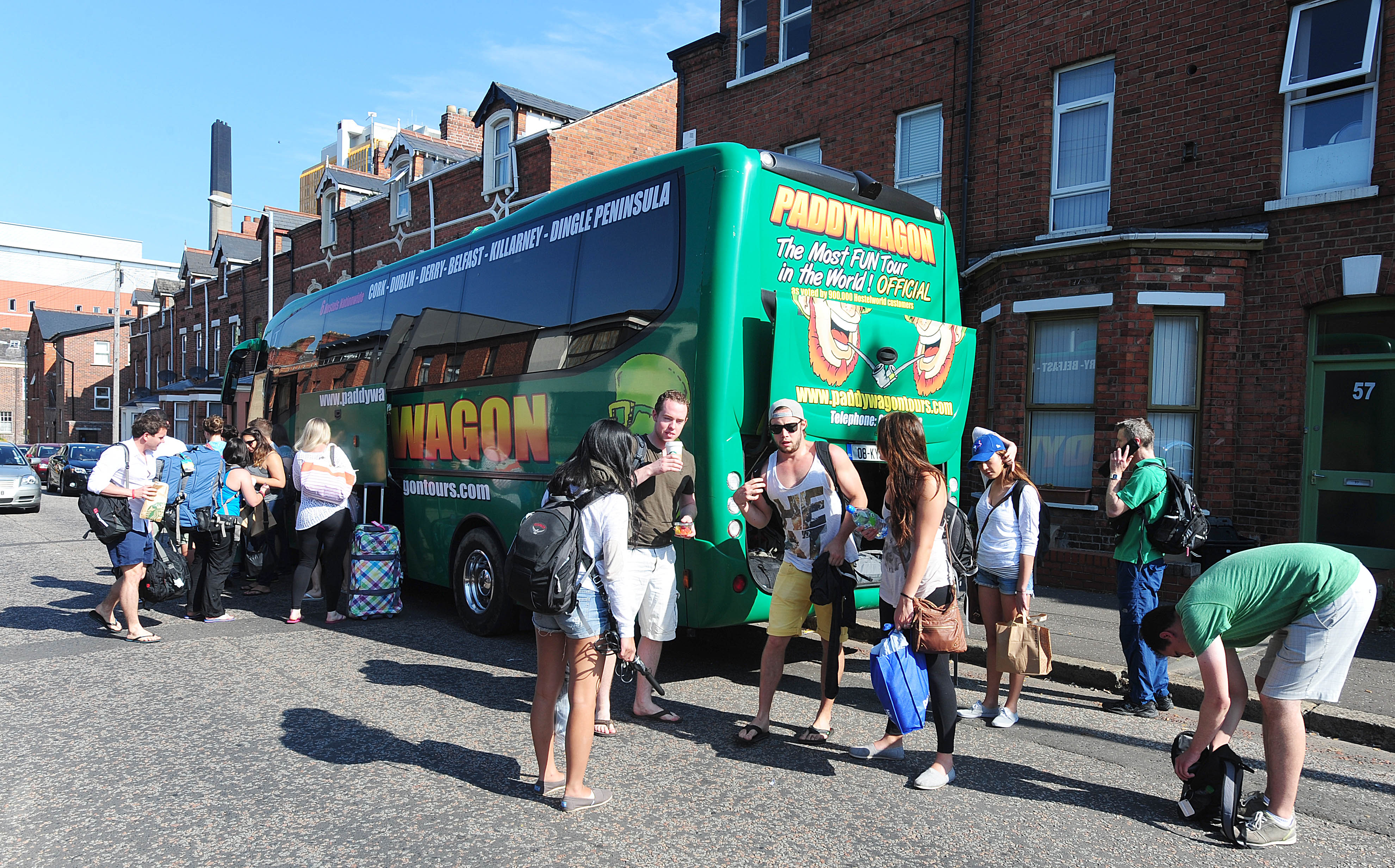 'My cousin had a pen pal from Ireland." "We saw the musical 'Once' on Broadway." "My friends were coming over so I decided to tag along."
It's funny. The marketeers at Failte Ireland probably work long and hard devising strategies to lure visitors to this country: Calibrating the pitch. Honing their message. Carefully positioning our brand in a global marketplace.
Yet 22-year-old Tom Curry, from Junee, New South Wales, chose to holiday here because "you get the Shamrock Shakes all year round here, right?" Backpackers are the fickle floating voters of the travel industry. But one Irish company, above all others, has proven itself adept at raking in their first preferences.
It's 7.55am on a Friday and a bright green Paddywagon coach – one of 32 touring the country, 365 days a year – has just departed Dublin's Gardiner Street.
Thirty seven passengers are onboard. Kiel Egging, a 25-year-old Melbourne blogger, is broadly typical of their number. He has no Irish ancestry that he's aware of, he tells me. "But we have Irish pubs in Australia. And I've always had a good time in them. Irish people like to have fun and that's what I'm here for."
The country, so far, has measured up to his expectations in all respects but one. "How come there's no U2 museum?" he demands. "Why hasn't that been created? This is the land of U2, isn't it?"
I don't know what to tell him. I'm sure Bono is working on it, I joke. But Kiel is unconvinced. "He's probably hanging out with kids with Aids and stuff, eh?"
After looping south across Talbot Bridge, the coach now glides up O'Connell Street. We pass The Spire, and Mark, our affable bus driver and tour guide, cracks what proves to be the first of many, many terrible jokes today. "What do you call a Northsider in a suit?" he asks. "The accused."
The patter is boilerplate. But no one could accuse the Irish weather of following the usual script. All week long, the island has been basking in Mediterranean heat. And as we strike out north on the M1, the country has rarely looked so well. Heck, even the City North Hotel shimmers like the Taj Mahal in the morning sunlight.
Mark is a native Dubliner. But for professional purposes, his terminology and sense of scale are tailored predominantly for North American ears.
Our first stop is Drogheda. "It's a tiny town of about 30,000 people," is how he describes it, "but it has some real nice coffeehouses."
In the seat opposite, two Canadians named Candice and Desiree are craning their necks to hear. If anyone had hitherto failed to appreciate quite how violent and disturbing the history of this island can seem to casual outsiders, then watching it play out on the faces of these Canadian undergraduates corrects that in a jiffy.
Mark tells them about the Siege of Drogheda in 1649. "Apologies if this sounds a little heavy," he warns them in advance. "But I'm afraid it just is."
He describes how thousands of local civilians surrendered to Cromwell's army, only to be massacred by him in cold blood. Not even the town's mayor, Sir Arthur Aston, was spared. But Cromwell, knowing he had a bloody campaign still ahead of him in Ireland, was anxious not to waste ammunition. So Sir Arthur was bludgeoned to death with his own wooden leg.
"Ah jeez," groans Candice. "Man," winces Desiree. They're beginning to look a little green around the gills. I glance at the group's itinerary. Belfast is next, followed by Derry and Galway. Things, I suspect, are about to get worse before they get better.
In a car park close to St Peter's Church, Mark invites us to form a circle and take turns introducing ourselves to the group. We'll be departing here on the dot of 10am, he tells us, when we're done. That leaves just 25 minutes to find a toilet, stare at the severed head of St Oliver Plunkett and grab a cup of joe in one of Drogheda's famed coffeehouses.
The severed head is on display in a glass case in St Peter's Church. While we queue to take a quick peek at it, I sidle up to 28-year-old Drew Gibson, a newly minted med-school graduate at the University of Texas in San Antonio. I ask if he would care to diagnose a cause of death.
"Well, I'll need to take a closer look," he drawls. "But decapitation may have had something to do with it."
Drew is travelling with his wife, Kellie, her best friend, Crystal, and Kellie's sister… whose name I don't catch when we're introduced – and I am too embarrassed, subsequently, to inquire after. This is Drew's first visit to Europe, Kellie's second. She didn't get to Ireland last time, Kellie says, which is why she was determined to make it this time around.
None of them have Irish ancestry. In fact, despite all being educated professionals, they seem dimly aware, at best, of Ireland's present economic difficulties.
"I think I read something about that," reckons Crystal. "But it's not like Greece or anything, right?" The others just shrug and offer blank looks.
Our next stop is the 5th-century monastery at Monasterboice. The surrounding countryside is picturesque and rapeseed yellow. Indeed, were it not for the ornate Celtic crosses here, you might assume we were in Provence rather than rural Co Louth.
According to the local monks, we're told, the monastery's founder, St Boice, never died. Instead, a golden ladder dropped from the sky in 521AD and he scarpered up after it to his eternal reward.
I can't help having a little smirk at this. Earlier, on the way out of Dublin, I told the group that Declan Ganley – whose face adorned posters on lampposts the length of the Drumcondra Road – was a heartthrob crooner and Ireland's answer to Tom Jones. On the tall-tales front, it seems, the monks of Monasterboice have left me in the ha'penny place.
Alas, the monastery is but a brief, bucolic interlude on our morning odyssey of pain and human suffering. On the outskirts of Belfast, the slopes of Milltown Cemetery loom into view on our left. Mark recounts the grisly events of March 1988, when the SAS gunned down three IRA members on active service in Gibraltar.
The subsequent funerals at Milltown, he explains, were attacked by a lone loyalist gunman named Michael Stone, who killed three mourners and injured 70. At one of the ensuing funerals, two British army corporals drove into the funeral procession and were pulled from their cars, stripped, beaten and shot to death on the side of the road.
Candice and Desiree look as though they're about to be ill.
Incredibly, some on board the bus this morning were not even aware of Belfast's recent violent past and continuing sectarian divisions. Mark is happy to fill in the gaps. He tells them that the city's main cemetery is divided by a nine-foot underground wall, to keep Protestant worms from eating Catholic bodies, and vice versa. There is silence on the bus. Morale seems to have bottomed out.
Mark decides it's time to lighten the mood. "Hey you guys," he announces. "Did you hear Will.i.am has bought his own tombstone?" The group was not aware of this development. "Yeah," Mark assures us. "He's even had it inscribed and all. It says: WILL.I.WAS!"
On cue, he presses play on his iPod and the Black Eyed Peas's 'Where Is The Love?' comes bursting through on the speakers.
Welcome to Belfast!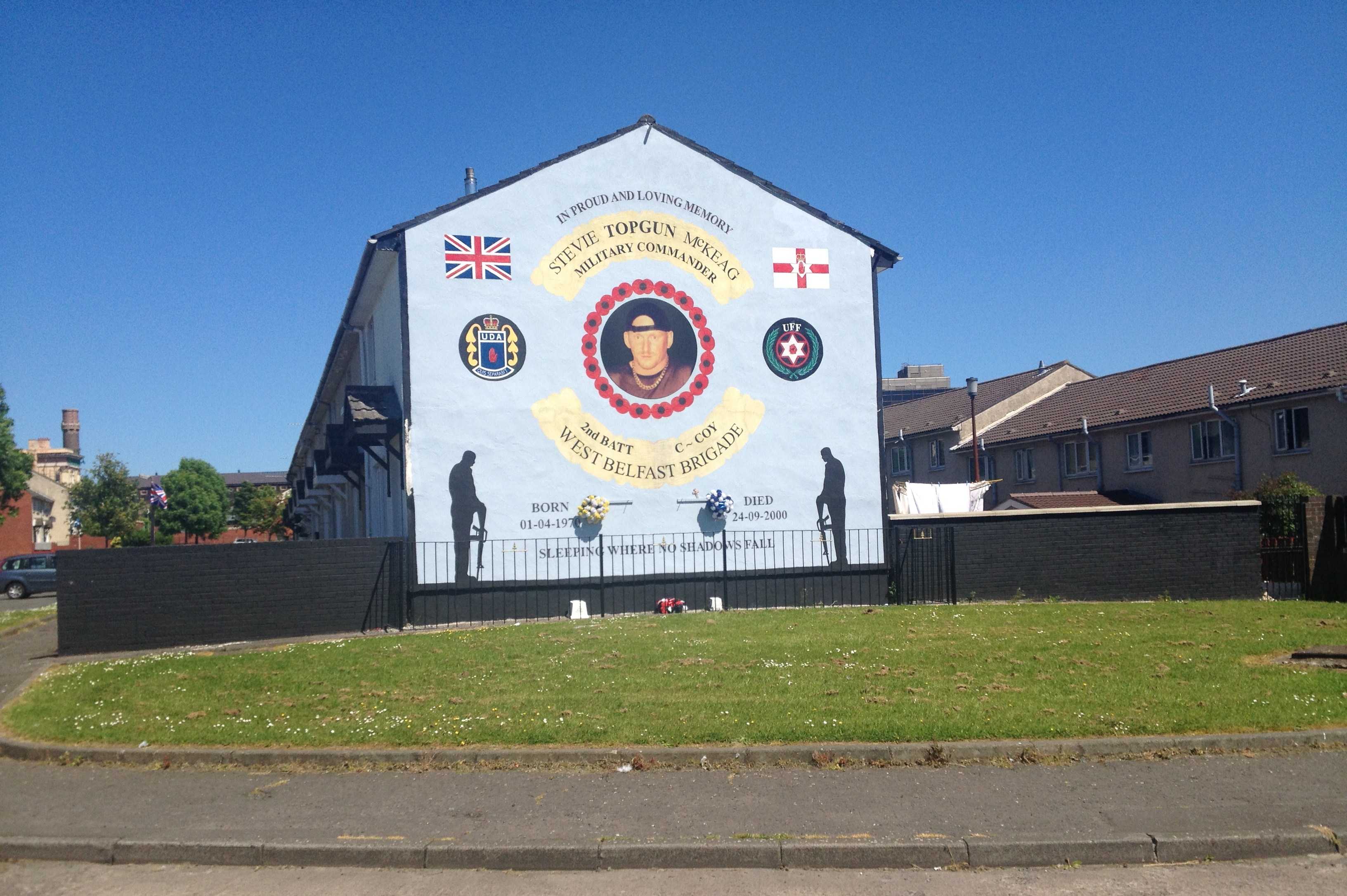 At City Hall, office workers are stretched out sunbathing on the grass. We say goodbye to Mark, temporarily, and are whisked away in a fleet of black cabs for a walking tour of Belfast's sectarian hotspots. We're shown sites of assassinations, gun battles, pogroms and counterprograms. We stare at murals, slogans and painted kerbstones. We're shown memorials where paramilitary flags and insignia are flown on legally designated dates each year.
Even on a glorious summer's day, it all seems mind-bogglingly depressing and hopeless.
That the Texans are beginning to wilt in the Ulster sun. I decide to treat them to a local delicacy. Ducking into a corner shop just off the Shankill Road, I scoop a handful of Loop the Loop ice creams from the freezer. It's only as I'm queuing to pay for them that I become self-conscious about my southern accent and begin to have doubt about the wisdom of my foray in here.
When I get to the register, I dump the ice pops on the counter and smile. The teller scans the items and announces the amount due. I hand her a note. She hands me my change and I smile again.
"Would you like a bag, love?" she inquires. I shake my head politely, still beaming from ear to ear like a well-mannered simpleton.
Behind me, Kellie is inspecting a large floor display of discounted items. She cocks a thumb at a pile of McVitie's Digestive Biscuits as I pass.
"What are they?" she asks. Hmm, I've never really had to explain what digestive biscuits are before. You serve them with tea, I explain. She stifles a giggle.
"Are they… you know?"
I have no idea what she's getting at here. Are they what, I ask?
"Laxatives?" she whispers.
An incriminating, Papist belly laugh comes bursting out of me. No, I assure her. They're not laxatives.
At the peace line, we're shown the reinforced metal gates, steel cages and CCTV cameras that divide this segregated city. The taxi driver hands around a felt tip marker and invites us to leave our own messages on the wall.
Desiree writes: 'The power of love must overcome the love of power.'
Candice writes: 'Imagine all the people living life in peace.'
For a moment, I'm struck by whatever the vandals' equivalent of writers' block is called. Then I daub 'Mayo 4 Sam' in small letters and hand the marker to someone else. In retrospect, it's hard to know which of our sentiments is the most pie in the sky.
After lunch in Belfast's bustling, multicultural city centre, we're reunited with Mark and taken by bus to the Titanic Quarter. We see the famous Harland and Wolff cranes, the world's largest dry dock and pose for photograph outside the swanky new Titanic visitors' centre.
Only in Belfast could a tragedy in which 1,500 souls were lost feel like light relief compared with what came before.
That night, over dinner, the group tell me their impressions of Ireland so far are overwhelmingly positive. The murals and the peace line seemed a bit strange, to be sure. "There's nothing like that in America," says Drew. "There is no friction between Catholics and Protestants."
But beyond those fault lines, Belfast's underlying sectarian tensions, much like Dublin's economic woes, are something to which they are largely oblivious.
What's much more striking to them is how friendly the people here are compared with Continental Europe. It helps, they admit, that the locals speak English. Even if one of our group thought her black cab driver, who spoke in a thick Belfast accent, was "talking Gaelic or something".
They're also very impressed by Ireland's low prices. Not just in Belfast, but Dublin, too. I tell them that Dublin long had a reputation for being expensive. Not anymore, they say. Compared with Australia, Scandinavia, London, Paris or New York, Dublin is not an expensive city.
Our tour guide Mark invites me to stay on the tour a little longer. Much as I'd love to, I have to return to Dublin in the morning.
I ask about the challenges of his job. He tells me people often have too much to drink.
On one hideously embarrassing occasion, a guest evacuated their bowels in their hostel bedroom. I scrunch my forehead in disbelief. No!
"I'm not joking," he smirks. "And the guy had no memory of doing it the next day."
That must have been quite awkward.
"Well, I had to say to him, either you pay for the damage or get off the bus."
For the most part though, he assures me, guests are very well behaved and enjoy their time in Ireland immensely.
"Scenery-wise," he says, "the Cliffs of Moher are always a jaw-dropper for them. The nightlife in Killarney is always a big hit, too. The Troubles, I'm afraid, just comes out of leftfield for them. They really haven't a clue about it. But once they get out and about around Belfast, it doesn't bother them at all."
He's not wrong about that. After dinner, we catch some live music at Robinson's on Great Victoria Street. Football jerseys are mostly unwelcome in the city centre and our tour guides have been scrupulously neutral in their presentation of the conflict.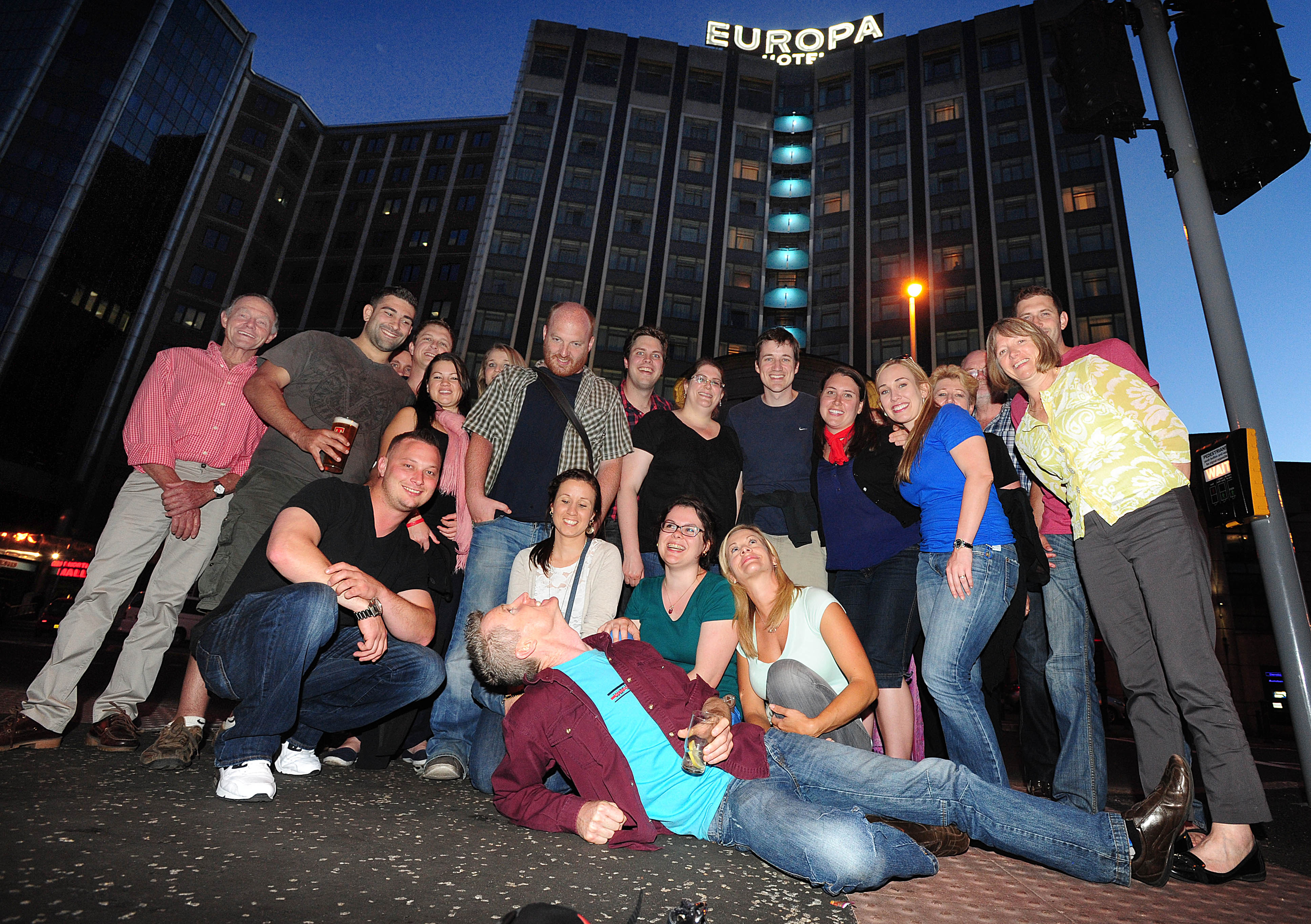 But as far a sing-song goes, the music undoubtedly skews toward the nationalist side. There are rousing renditions of 'The Galway Girl', 'Irish Rover', 'Lakes of Pontchartrain', 'The Hills of Donegal', 'Raglan Road' and 'The Town I Loved So Well'.
It's not politics. Like the devil, we Catholics simply have the best tunes.
Before I leave, Patrick Guthrie from Junee, New South Wales, asks if he can have a final word. He tells me he envies the pride that Irish people have for their culture and their heritage.
"You don't go into a pub in Australia and see your heritage up there. You don't see people drinking their own beer, playing their own music. You just don't see that."
"Don't dismiss what I'm saying here," he insists. "I know I've had a few beers. Not every country has this. But the Irish do. You should be proud of this. You really should."
June 29th, 2013.