Published: Irish Times, May 1 2009
* I didn't choose this headline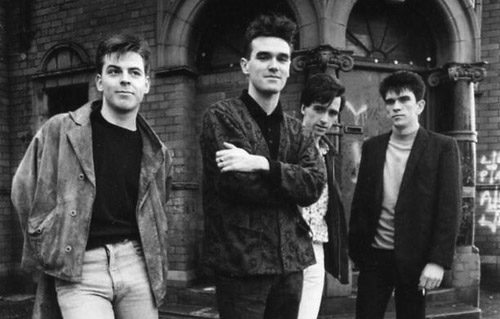 "It's like a cross between going back to university and joining a religious cult" reckons Steve Berry from Hertfordshire, as he surveys the scene. I'd have said 'rockabilly Star Trek convention' myself, but we won't split hairs. We're in the atrium of the Foundation Building at the University of Limerick, where The Songs That Saved Your Life – A Two Day Symposium on Morrissey is about to get under way. Steve got up at 6am to fly in from Stansted. Others have travelled from Europe, America and even Australia to be here.
The Englishman is researching a book about his own Morrissey fandom. "I suppose I'm as bemused as anyone" he says, "Firstly, that he should be taken so seriously in an academic context, but also, that the symposium would be held in Limerick of all places." As it happens, there's a straightforward explanation on both counts. And he's standing right beside us. Dr. Eoin Devereux is Head of Sociology at UL and the organiser of this event. A Morrissey devotee since his first Smiths concert in 1984, he cuts a distinctive figure in jeans, a baggy t-shirt and cherry red Doc Martins. Hell, that quiff itself is probably symposium-worthy in its own right. "This is the second year we've been doing this," he tells me. "Last year we ran a half day seminar with two papers and a brief discussion. This year we decided to something on a much more ambitious scale – with performances, screenings and a lot more papers. It has really taken off." He isn't lying.
1.42pm: In the queue for registration, I get chatting to Erik Askeroi from Norway, who is a PhD student in Popular Musicology. He tells me he finds an "intense ideological struggle" between the vocals and guitar on Morrissey's latest album. I can't say that I had noticed. Registration complete, I'm handed a laminated MOZ POSSE pass, which I'm told I'll have to wear all day. We'll see about that.
2.03pm: Approximately 120 people are in attendance – mostly male, aged between about 30 and 45. There are a smattering of quiffs, but not too many gold lamé shirts. The P.A. is playing Will Never Marry, a b-side from Morrissey's 1988 Everyday is Like Sunday single. The track segues smoothly into Let Me Kiss You, from his 2004 comeback album You Are the Quarry. Yip, when it comes to being a Morrissey nerd, I've still got it.
2.20pm: "My name is Eoin Devereux and I'm a Morrissey fan." Our host's opening remarks set the tone for the day. This may be an academic setting, but no pretence of objectivity will be attempted. This is a gathering of fans. Devereux refers to the subject of the symposium, as he will throughout the day, simply as 'Moz'. (An article in yesterday's Limerick Leader made repeated reference to 'The Moz'.) After a short speech, Devereux introduces Kerri Koch, the American film maker behind Passions Just Like Mine.
2.26pm: Koch's film documents the fervent following Morrissey enjoys among Hispanics in California. It opens with a five year old Mexican boy singing and preening along to Morrissey's The First of the Gang to Die, and gets progressively weirder. A barrel-chested teenager talks of how, upon hearing his first Morrissey album, he immediately went out and bought every album, read every interview and took up every cause the singer has ever espoused – including passivism and vegetarianism. (That gets a big laugh – the kid is about seventeen stone.)
It seems incredible that songs inspired by the red bricked streets of Manchester should resonate so strongly in the dusty barrios of Los Angeles. But they do. This really is a fascinating story and a wonderful film.
3.27pm: Make that a fascinating story… but an incredibly overlong film. Having established that Morrissey enjoys a fervent following among Hispanics in California, the film essentially threads water from there on in. Further insights are thin on the ground. Some interviewees draw parallels between Morrissey being raised Irish and Catholic in England and their own experience of raised Mexican and Catholic in the U.S. Most adore the singer with an intensity that seems to say more about the deficiencies in their own lives than it does about his work. No one mentions the singer's outspoken anti-immigration stance in the UK.
3.29pm: This film synopsized in fifteen words or less: Disaffected Hispanic youth (HEART) Morrissey. No one knows why. But there are several theories.
3.31pm: In photographs with ecstatic Latino fans, who religiously copy his hairstyle, dress and mannerisms, Morrissey appears utterly bemused. I suppose the whole phenomenon must be pretty weird for him…
3.38pm: Dream sequence: I'm descending onto the tarmac at Benito Juárez International Airport, greeted by the ecstatic screams of 500 unshaven Mexicans. "Eoin, Eoin… we love you" they scream. They are scruffily dressed and brandishing breakfast rolls…
3.53pm: At the official reception, beverages are served in cups emblazoned with the legend "Share some grease tea with me." I try to chat up an American girl, but she prefers to make eyes at a nerdy looking guy in a Meat is Murder t-shirt. Great, I'm the social outcast at a Morrissey convention. A new low.
4.21pm: On my way back into the lecture hall, I'm asked to display my pass. It's in my pocket. "Just the place for it", the lady sarcastically replies. In the next lecture, Erin Hazard of the University of Chicago recounts a "pilgrimage" she undertook to Fairmount, Indiana, the setting for Morrissey's Suedehead video. It's riveting stuff.
4.46pm: Martin Power of the University of Limerick talks about Representations of the Working / Underclass in the Works of Morrissey. Mr Power does not formally announce where his own allegiances in the class struggle lie. But that bright red t-shirt, with the letters CCCP emblazened in bright yellow, does offer a tantalising hint.
The global hegemony of neo-liberalism is his great bugbear, with references to Morrissey's lyrics seeming somewhat tacked-on in places.
4.51pm: Mr Power cites Morrissey's anti-Thatcherite diatribe Margaret on the Guillotine as evidence of the singer's laudable solidarity with the working classes. This is a bit much. The song is not one of Morrissey's better efforts. A far more interesting discussion might centre on why unpopular female politicians, such as Thatcher or Hillary Clinton, are so often characterised as demons to be slain; whereas unpopular male leaders, like John Major or George W. Bush, are written off as idiots or buffoons.
4.59pm: Someone really should explain to this guy that Morrissey's fascination with working class 'hard men' is not necessarily, ahem, politically motivated. Still no mention is made of his anti-immigration stance.
5.01pm: More waffle about neo-liberal hegemony. After some creative biro-work, my laminate pass now reads, MOZ POSSE: DO NO RESUSCITATE.
5.07pm: In the Q. & A., an audience member suggests that Morrissey's is an outdated vision of working class culture, repackaged for middle class consumption. The speaker does not contest the charge. "After all," he says, "Morrissey's most powerful statement against neo-liberal hegemony, The Slum Mums, was only made a B-Side. What does that tell you?" Erm, perhaps that Morrissey chooses his singles based on other criteria?
5.31pm: As a teenager, Peter Finan of the Morrissey-Solo.com website found that the Smiths song Back to the Old House perfectly captured the unrequited love he felt for the girl who worked in his local snooker hall. It's an utterly pathetic story – something all Morrissey fans can relate to.
5.45pm: Meetings With Morrissey author Len Brown has known the singer for 25 years. He provides some valuable insights into the singer's personality but, at times, I suspect he's just taunting the assembled hardcore devotees with casual references to their friendship. ("So Morrissey rang me up the other day…")
6.30pm: Someone finally brings up Morrissey's controversial views on immigration. The panel squirm. Most express discomfort about his views, but admire his willingness to take unpopular stances. Kerri Koch admits she's just too adoring a fan to offer a critical view.
7.11pm: The Moz Bus leaves for Dolan's Warehouse, where Smiths/Morrissey tribute act These Charming Men will be performing. Since I have no idea of the way, I follow in my car. At the very first set of traffic lights, I lose the bus and have to weave in and out of traffic at speed to catch up. This is by far the most exciting part of my symposium experience.
8.35pm: In Dolans, I get chatting to a cute lesbian couple in matching pompadours and NHS specs.
8.36pm: On closer inspection, they are a heterosexual couple. Oh dear Lord…
10.31pm: It's getting late, so I decide to make tracks. Before I do, Peter Finan relates how things wound up between him and the snooker hall girl he had a crush on. It turns out, he eventually did workup the courage to ask the girl out. He took her Sylvia Plath's grave, where they got drunk on cider. One of his friends – "a complete bastard" he recalls – insisted upon tagging along. On the train home, the friend ended up getting off with the girl and Finan never spoke to either of them again.
As Morrissey symposium anecdotes go, this one is almost too perfect.