Published: Foreign Policy, 21 May 2015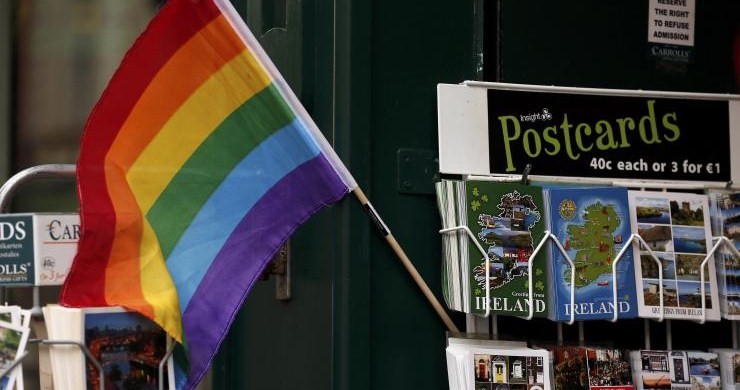 COUNTY MAYO, Ireland — On doorsteps where I live in the west of Ireland this week, voter response to the question of whether or not our country should legalize gay marriage is generally easy to predict. If the person answering the door is under age 40, an immediate "yes" is virtually guaranteed.
If the couple inside are over 60, cups of tea are offered. There is a willingness to engage in friendly debate. But "No" is ultimately the more likely response.
And if there is a statue of the Virgin Mary mounted on the garden wall outside, as one fellow Yes campaigner and I encountered just outside the town of Ballyhaunis on Tuesday night, well — the best you can hope for is that the householder doesn't set his dog on you. (He didn't.)On Friday, Ireland will become the first country in the world to hold a referendum on marriage equality. From the outset, opinion polls here have indicated a sizable majority are in favor of legalizing gay marriage. But in the run up to polling day, that margin has tightened considerably. In places like County Mayo, old ghosts are rattling anew.
It is easy to forget, in modern, cosmopolitan Ireland, that, until relatively recently, this country was once rabidly Catholic. Homosexual acts here were only decriminalized in 1993. Divorce was introduced in 1995. Abortion remains prohibited in all but the most extreme cases. The influence of the Catholic church may have dwindled in the wake of endless child sex abuse scandals. But the church still retains some clout, especially in the minds of older voters. The result has been an intense, if somewhat lopsided, public argument.
Why lopsided? Because every single Irish political party, every newspaper and civic group, as well as virtually every well known Irish actor, writer, sports star and musician who has made his or her opinion known has publically voiced support for the Yes campaign. The Yes side's message is a straightforward and positive one about ending discrimination, and accepting gay people as equal members of our society.
And yet in the conservative rural heartland of Prime Minister Enda Kenny, the same questions can be heard over and over again on the doorstep from wavering voters. "What about gay adoption?" people ask. "What about surrogacy?" "Don't all children deserve a mother and a father?" "What about gay adoption?" people ask. "What about surrogacy?" "Don't all children deserve a mother and a father?"
The No campaign, for its part, has made child welfare the central plank of its case against gay marriage. They argue that gay marriage will inevitably lead to gay couples adopting or having children through surrogacy. (Actually, this already happens and won't change regardless how the vote goes.) These children, the No side argues, are consequently deprived of either a father or a mother.
In truth, none of those nagging questions will be affected in any way by the outcome of Friday's vote. The Referendum Commission, the independent body that presides over this plebiscite, has repeatedly confirmed as much. The text of the proposed amendment to Ireland's constitution simply states "Marriage may be contracted in accordance with law by two persons without distinction as to their sex." But a clever campaign by the mostly religious conservative No side has succeeded in sowing doubt.
Given the checkered, to say the least, history of the Catholic church on matters relating to child welfare, church leaders have mostly avoided lifting their heads above the parapet in the debate. In their absence, the heavy lifting on the No side has been done by lay Catholic organizations like Mothers and Father Matter and (much more so) by the more hardline Iona Institute.
These tiny special interest groups may not enjoy much in the way of obvious public support. But under Ireland's strict referendum laws, for the duration of the campaign, they are entitled to 50 percent of broadcast airtime when any issue related to Friday's vote is being discussed. And boy, have they made hay while the sun has shone.
One now notorious No poster, displayed on lampposts around the country, shows a young couple, male and female, kissing a baby on each cheek. "Children Deserve a Father and a Mother," the caption reads in block capital letters. The couple depicted in that stock photo have since come out to publically denounce the poster. They fully support gay marriage and are disgusted that this image was used without their approval. But, elsewhere, signs point to the No campaign's message having some effect.
The Yes side, however, has a secret weapon. Ultimately, it has been the intervention of a string of unlikely gay marriage advocates that have impacted the public consciousness, far more than endorsements from Bono, Colin Farrell, or other celebrities. The past few months have marked a sort of coming out party in Ireland, as a series of public figures have spoken movingly about their sexuality for the first time. And the impact of their personal testimonies has been profound.
Justin McAleese is a 30-year-old airline executive. His mother, Mary McAleese, is a devout conservative Catholic and a respected former president of Ireland. In April, he came out publically as a gay man in an article in the Irish Independent. Both his parents are now vocal advocates for a Yes vote. "I probably knew [Justin was gay] from the time he asked Santa Claus for a vacuum cleaner when he was 7," his mother, the former president, joked at a campaign event this week.
Leo Varadkar is Ireland's 36-year-old Minister for Health. He is a member of the conservative Fine Gael party and a man widely tipped as a likely future Prime Minister. In February he came out in a radio interview. He admitted he had only recently told his parents. The reaction from his Indian-born father was a "little bit difficult," he said. But last weekend Ashok Varadkar was photographed holding a Yes Equality banner outside Dublin's GPO, the symbolic site of Ireland's pro-independence 1916 Rising, alongside Martin McAleese, Justin McAleese's father.
Pat Carey is a 67-year-old former government minister and a member of the conservative Fianna Fail party. He admitted to being in denial about his sexual orientation for the entirety of his political career and was now in a relationship with another man after a lifetime of solitude.
But perhaps the biggest impact of all on the debate was made by Ursula Halligan, the usually dour chief political correspondent of Ireland's main independent TV station. In a moving piece published by the Irish Times last Friday, the broadcaster shared a secret she had kept from friends and family her entire life.
"For me, there was no first kiss; no engagement party; no wedding," she wrote. "And up until a short time ago no hope of any of these things. Now, at the age of 54, in a (hopefully) different Ireland, I wish I had broken out of my prison cell a long time ago. I feel a sense of loss and sadness for precious time spent wasted in fear and isolation."
Halligan shared harrowing diary extracts she had written when she was 17 years old. A Catholic schoolgirl at the time, she contemplated suicide when she realized she was in love with a female classmate. "There have been times when I have thought about death," she wrote back then. "Of escaping from this world, of sleeping untouched by no-one forever… There seems to be no one I can turn to, not even God."
At a local level too, up and down the country, ordinary people have been speaking out. A fellow Yes campaigner reports that one of the young checkout girls in our local supermarket, in County Mayo, came out to her fellow co-workers this week. Besides lots of good wishes, the net result is that the store's entire staff reportedly now are all confirmed Yes voters.
Not every one of these, necessarily, is a momentous development. But the cumulative effect of tens of thousands of these shared stories around the country has been to create feels like a Rubicon moment for the country.
In Ireland, we are regularly required to vote in referendums on complicated European Union treaties far too complex and tedious for the vast majority of us even to have read let alone begun to comprehend. In conversations with wavering voters, I've been repeating the same mantra: If you live to vote in another fifty referendums, you will never face an easier choice than the one you have to make this coming Friday.
In a speech earlier this week, former President Mary McAleese hammered home the case for equality for her son and thousands of others like him. "A yes vote," she warned, "costs the rest of us nothing. A no vote costs our gay children everything." Here's hoping the rest of the electorate feels the same.
May 25th, 2015.