Published: The Global Mail, October 2012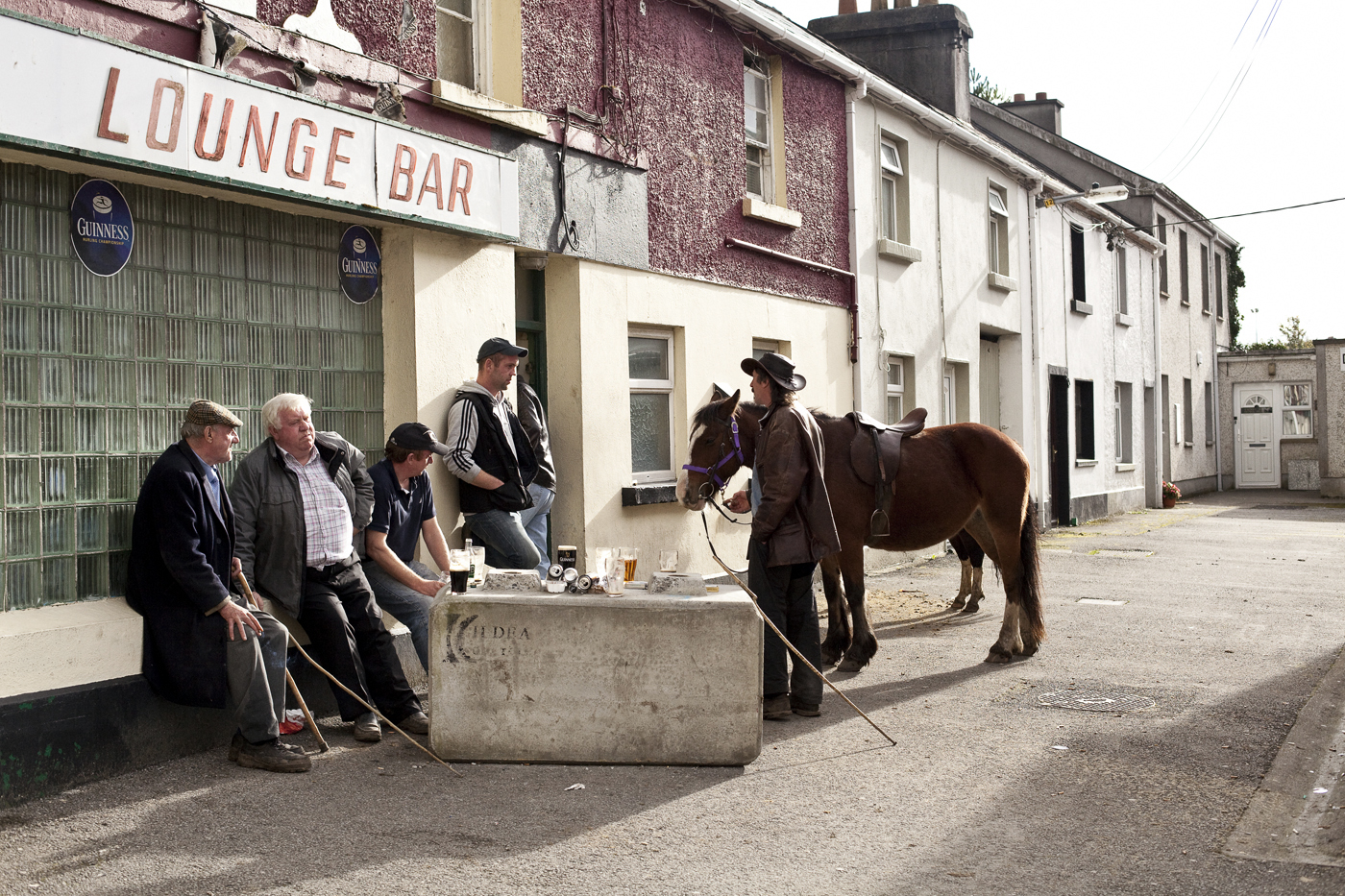 One positive legacy of Ireland's late, ill-fated economic boom is a dramatically expanded motorway network. Spilling out from Dublin, to a half dozen towns and cities on the southern and western seaboard, these pristine highways have slashed journey times to and from the capital, effectively shrinking the island.
Take a detour cross-country, though, and the pace of life remains less than hectic. It's 10am in the sleepy Co. Galway village of Dunmore and I've run into a brick wall. Or to be precise, a horse's arse. A horse trailer, towed by an elderly farmer, has reduced southbound traffic on the R328 to a leisurely 45kph.
In another setting, one might honk the horn and demand that the driver give way. But this is the west of Ireland, where just about anyone could turn out to be your cousin, long lost uncle or grandmother's yoga instructor. So it pays not to be too demonstrative. I turn on the radio. The nation has woken up today to news that one of Gaelic football's best known, and least liked, television pundits is recuperating in hospital after donating a kidney to a casual acquaintance. If that news item rather blindsides the morning radio discussion panel, it is as nothing compared to the next bombshell.
A new edition of Time magazine has just landed on the shelves. It features Irish prime minister Enda Kenny on the cover, with a bold headline announcing 'The Celtic Comeback.' Inside a glowing profile piece credits Kenny with saving Ireland's economy and masterminding a financial recovery from which our European neighbours could learn.
The reaction to the cover story, in Ireland at least, is one of sheer hilarity. Unemployment here is at 14%. Emigration is at its highest in a generation. In the Irish media, Kenny is routinely depicted as an obsequious stooge of the EU/IMF and their draconian bailout programme.
The consensus is that Time is dead wrong about Kenny's leadership and wrong about this supposed reversal in Ireland's economic fortunes. But the RTE radio panel are at pains not to sound too negative. "Perception is important," concedes entrepreneur John Teeling. Security analyst Sadhbh McCarthy is equally diplomatic. "We're not as good as they say we are," she suggests. "But maybe we're not as bad as we think we are?"
The reaction from the general public, as expressed in texts and tweets, isn't nearly so carefully crafted.
After 25km playing cat and mouse with that horse's arse, a clear-cut overtaking opportunity finally presents itself. Just outside the town of Mountbellew, I indicate, slam on the accelerator and – like the Israelites crossing the Red Sea – charge into the breach. At the critical moment, however, a battered Massey Ferguson tractor comes chugging over the brow of the hill in the opposite direction and I'm forced to retreat. Not to worry. Another opportunity should be along in another town or two.
Travelling at this speed does, at least, allow for a closer examination of one's surroundings. In the tiny village of Ahascragh, 15km south of Mountbellew, a sizable number of the buildings on Main Street appear to be boarded up. Four years after the financial crisis of September 2008, Ireland remains in the throes not only of a catastrophic recession but also of an identity crisis.
The once trumpeted 'new Ireland' – of foie gras, designer handbags and net immigration – is now a faint, ludicrous memory. But what of the 'old Ireland' it was supposed to supplant? That lawless, raggle-taggle land of flat caps, whiskey and song? Sure, PG13 versions of that place have been recreated for tourists in places like Dublin's Temple Bar. It is also preserved in the bric-a-brac that hangs from the walls of a thousand tacky Irish theme pubs worldwide.
But what of the real thing? As that unexpected wave of Irish economic prosperity breaks, and the tide recedes, just how much of her old traditional agrarian society remains intact beneath? To find out, I'm headed to one of Europe's longest established horse fairs and one rural Ireland's largest annual shindigs. The Ballinasloe Horse Fair is 'old Ireland' with both barrels. In rock n' roll terms, I'm going to Graceland.
"Goodbye Mursheen Durkin, I'm sick and tired of workin'
No more I'll dig the praties, no longer I'll be poor
For sure as my name is Carney, I'll be off to Californey
Instead of digging praties, I'll be digging lumps of gold."
In the market square at Ballinalsoe, a group of traditional musicians are performing in the open air to an appreciative audience. It isn't yet noon and its freezing cold. But these are hardy souls. A few hundred meters away, in a four acre field, between five and ten thousand horses and their owners are gathered to do business. They're standing about a foot deep in horseshit. So my first priority is to acquire a pair of wellingtons.
The Ballinasloe Horse Fair has been a fixture in the Irish calendar since the mid-eighteenth century. (Local legend has it that Napoleon's most famous mount, Marengo, was purchased here in 1799.) But the town's status as a commercial hub dates back much further than that. Ballinasloe is located, not just at a key crossing point on the River Suck, but also in the middle of Esker Riada, the ancient natural highway that crosses Ireland from west to east.
Even the name, Beal Atha na Sluaighe, translates as "the mouth of the ford of the crowds". Today, the festival attracts about 100,000 visitors per year. There are carnival rides and human statues, palm readers and fortune tellers. In fact, if you know where to look, there may even be women willing to do more than tell your fortune. ("They're not exactly Julia Roberts," one local tells me. "But then, their clients are hardly Richard Gere.")
Amongst the stalls at the top of Dunlo Hill, there are men plying a trade almost as old. A conman and a pair of obviously planted accomplices are playing Three-Card Monte on an upturned cardboard box. You would think that there couldn't be a person alive who isn't already familiar with this scam. But a mark soon steps up. He wagers €50 that he can identify the Queen of Hearts. Then, somehow, he is cajoled into quadrupling his initial bet.
Needless to say, the mark and his €200 are quickly parted. He isn't best pleased. While he argues the toss, I wander over to a stall nearby and purchase a pair of wellington boots. When I return, no more than sixty seconds later, the conman, his accomplices, the cardboard box, tablecloth and cards have all vanished into thin air.
It's time to venture down into the fair. Ciaran (not is real name) is a local vet in his early thirties, who has agreed to take me on a tour of the site. He asks not to be identified in this piece. Many of the traders are his clients, he explains. And if he was to avoid saying anything that might offend them, well, he might as well say nothing at all.
We survey the site for the moment. Below us is a sea of piebald, skewbald and chestnut. There are Clydesdales, Connemara ponies and miniatures. To our right, a horse with Tina Turner hair is standing next to a horse with a Rod Stewart mane. (Perhaps they're planning a duet?) I wouldn't call myself expert by any means, but these hardly look like thoroughbreds to me.
Ciaran laughs. "The next Shergar?" he says, referring to the legendary Irish racehorse, kidnapped in 1983, whose remains have never been recovered. "You'd be quicker finding the last Shergar!"
So what exactly is the market for these animals? "Look around you," he says. (The traders are 90% male.) "None of these men can ride horses. They're looking for a rich man in England whose wife likes show jumping or dressage. That's the dream. Every Irish farmer wants to breed a horse and sell it to a posh man in England."
A horse owner standing nearby concurs. He points to his own horses. "See those hairy legs?" he says. "The hairier they are, the more docile they are. If these horses go to England, Mammy and Granny and daughter can all go up on them. They won't jump the castle for you, but they'll bring you home safely."
The middlemen who facilitate these deals are the real power players in Ballinasloe. "Most of the horses here aren't shone," says Ciaran. "They aren't washed. They're not even combed. But if you knew a good horse, you'd pick him out. That's what this place is all about, finding diamonds in the rough."
He points out a couple of agents who are discreetly doing the rounds. They're looking. But I don't see any deals being struck. "Oh no," explains Ciaran. "They won't bid now. Come 2 or 3 o'clock this afternoon, that's when they'll move." "It's all about brinksmanship," the horse owner laughs. "A day in Ballinasloe is as good as a week in university."
Horse trading isn't the only commerce going on. Over by the GAA grounds, there are dogs, ducks, turkeys and geese for sale. I'm tempted to pay €7 for a laying hen, but I have plans to meet a friend for a drink in Galway tonight. Accommodating the hen might prove a little difficult.
With so much livestock corralled into one place, most festival goers require a tipping stick to navigate the site safely. The market in these items (they sell for €2) has been cornered by a group of African traders. They are friendly men, who seem to seem to have a good rapport with the local farmers. One of them tells me is name is Daniel. He is from Ghana and this is his fourth year in Ballinasloe.
Now I did preface our conversation by explaining that I was a journalist. But Daniel must not have understood this. Because as soon as I write his name in my notebook, he takes fright and flees into the crowd. He isn't the only one wary of the notebook. As I pass through stalls selling footwear, clothing, country n' Irish music (it's a genre, honest!) and assorted junk, I hear the word "taxman, taxman, taxman" hissed in my direction.
Not all of the traders are Irish. There are Turkish barbers, Pakistani peddlers and Romany beggars. As the Irish economy has cratered, hundreds of thousands of these immigrants, who flocked here during the boom, have been left with a difficult decision to make: to persevere with their new lives here, or to cut their losses and go home.
I chat to a young Pakistani trader named Ali. He tells me that he is enjoying the atmosphere in Ballinasloe and the presence of so many attractive women. But profits are down on last year. Those aren't his exact words though. His exact words are "I love the craic and the buers. But business is shite." Hmm. I suspect Ali isn't going home anytime soon: Ali is home.
Back in the market square, things are beginning to liven up. A man in a cowboy hat, with an accordion and a clip-on mic, is simultaneously singing and selling CDs from his stall. ("This next one is called Please God, Let There Be Another Boom…") A few tables over, the human statue I saw earlier has packed it in for the day. He's sitting with his feet up, sipping a pint of Guinness – still in full regalia.
I drift toward the fairground, where Ciaran is waiting for me. There is one more corner of the site he and I have yet to visit. We're going to meet the Travellers, or Irish gypsies. This nomadic indigenous people are the festival's most visible participants. Yet the precise nature of their business here is the most impenetrable to scrutiny.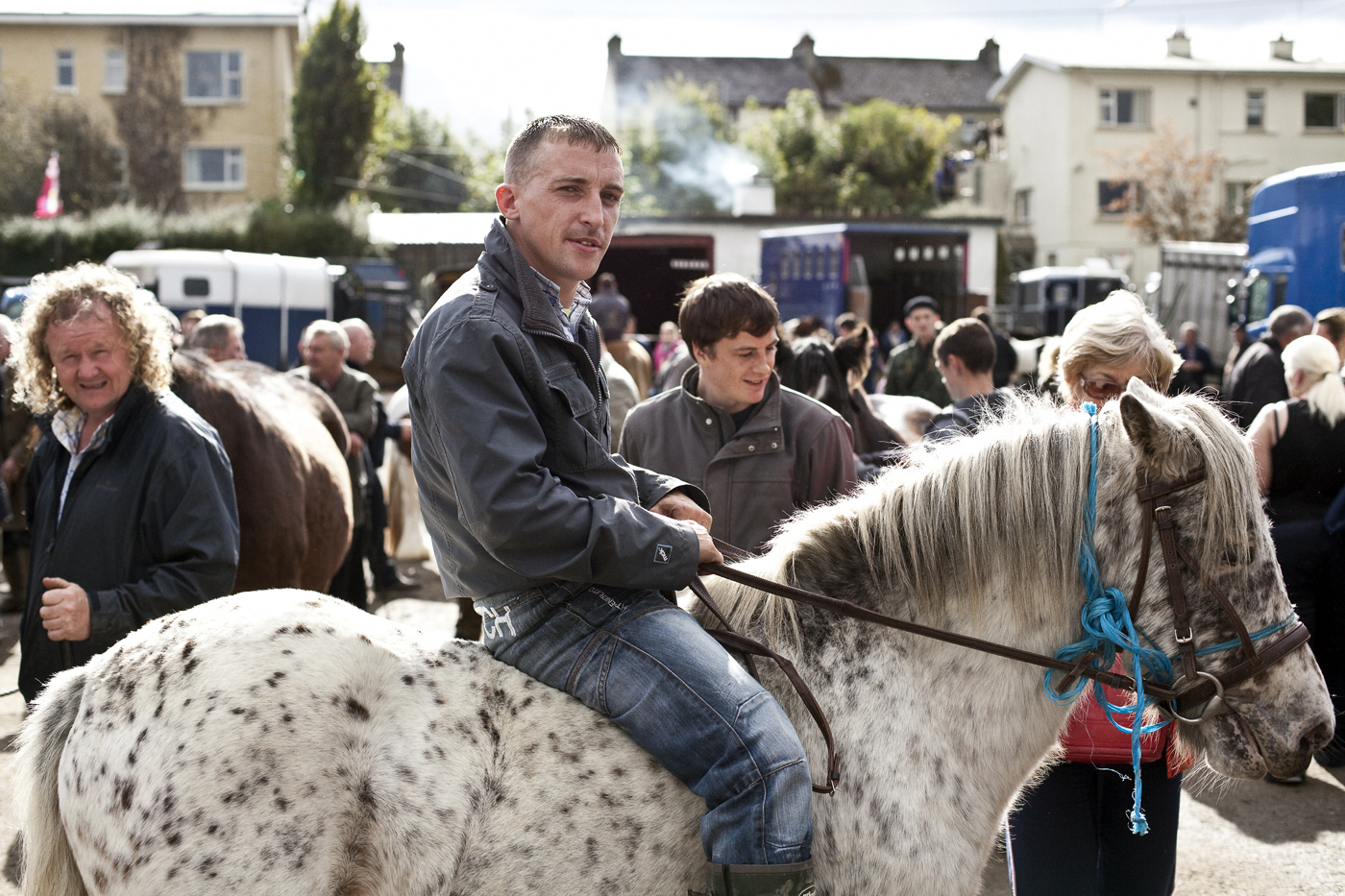 Unlike "country people" (the Traveller terms for a non-Traveller), the Travellers love to ride horses. They race them bareback, or on chariots known as 'sulkies'. To begin with, they raced within a fenced off, designated area. But by afternoon, these races have spilled out into the public thoroughfare. The men race with skill and speed, but they often rely upon the wherewithal of bystanders to avoid serious accident.
Large groups of teenage Traveller girls, meanwhile, also inspire frowns and pursed lips among the country people, for the revealing (and often age-inappropriate) outfits they wear. These outfits do not denote promiscuity. In fact, quite the opposite. Arranged marriages are still the norm in Traveller culture and pre-marital sex, for girls at least, remains taboo.
As distasteful as the comparison is to make, it is unavoidable. These girls are in the shop window today as much as any of their family's livestock. The mystery for observers like Ciaran though is what the point of the Traveller horse trade really is. "No one really knows," he admits. "They're not looking for outside buyers. They only deal amongst themselves. These nags go from Peter to Paul and back again. And for big money too. "
Might they not simply be keeping them for sport? Ciaran isn't convinced. "They're big into sulky racing, sure. They're big into gambling and pride and one upmanship. They get very hot-headed about whether one horse is better than the other. But any outsider looking in would have to say that neither horse is worth a shite."
The Travellers are only too happy to pose for photographs. But they're less receptive to answering strangers' questions. Besides, by now, hands are being slapped and deals are being done. As we leave the site, I notice that a few horses grazing together are spray painted with the letter C. What does that mean, I ask?
"It means they've been sold to a man named Cash," Ciaran explains. "He's one of the biggest buyers around here." I laugh out loud. Cash, I exclaim? The man's name is Cash! My God, was there ever a surname more apt for the Ballinasloe Horse Fair?
Back in town, the streets are busier, the music is louder and the atmosphere boozier. I decide to call it a day. As my car inches its way through the thronged street, it occurs to me that, while the Ballinasloe Horse Fair itself may be slightly outside of the mainstream of Irish culture in 2012, its spirit in many ways is the spirit of our society, for better or for worse.
On the radio, they're picking over Ireland's latest political scandal. Last week, Ireland's junior Health Minister resigned in protest at her senior counterpart's decision to add two locations in his own constituency to a previously agreed list of national primary health care centres. Today, there are allegations that the senior minister in question has ties to the owner of one of the new proposed sites. On the face of it at least, this seems like exactly the sort of localism and 'stroke politics' that contributed to the mess Ireland finds itself in today, and which the present government were elected vowing to repudiate.
Yet, already, Time magazine poster boy Enda Kenny has come out to express support for his cabinet ally. It's depressing. But this is Ireland, where there is a time for lamenting and a time for making merry. I fish under the car seat and pull out an old CD. Billy Joe Shaver is one of country music's original outlaws. He may not be Irish, but he is the patron saint of not learning from one's mistakes. "The devil made me do it the first time," he sings, as I sing along. "Second time I did it on my own."
Amen, Billy Joe. Amen.
Photos by Johnny Savage