Published: Irish Independent, 9th August 2014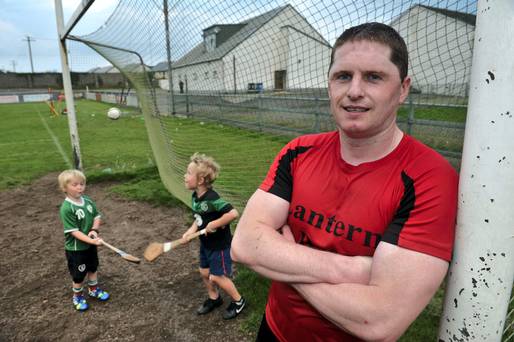 His teammates call him Monkey, because he is a scaffolder by trade. And in the heyday of Ireland's construction boom, there was never any shortage of bars for him to swing from. Chimneys, church spires, gable walls: Christopher McCrudden scaled and scaffolded them all.
"Housing estates were the best," the Ballyhaunis man recalls. "A single estate in Galway might be six or eight months work: putting up, taking down, adapting."
They were carefree times. "Lads were out buying cars, backing horses, drinking pints. We didn't worry about the future because we were making good money every week. It didn't occur to us the work might ever run out."Besides, his day job was only ever a means to an end. Sport was his life's passion. At 15, McCrudden won an All-Ireland U-16 Hurling C title with Mayo, scoring 1-02 in Croke Park and scooping the Western People's Hurling Sport Star of the Year Award.
He won two more All-Ireland C titles for Mayo at minor level, before going on to represent the county at senior level. He even tried out for the Mayo senior football team, although he insists that it was simply to make up the numbers.
"I was going for the same position as Conor Mortimer," he laughs, rolling his eyes. (Mortimer has gone on to become Mayo's all-time top scorer.) "So I'd probably have been as well off at home drinking a mug of tea."
But his most sustained success would come as a club hurler. Ballyhaunis won their first Mayo senior hurling final in 2002. They would go on to win a further eight titles in the next decade, shattering the local hegemony of their near rivals Tooreen in the process.
Granted, Mayo is not quite hurling's premier league. And McCrudden would be the first to admit that his side's success was very much a team effort. Nonetheless, the 31-year-old was a vital and ever present fixture during this period of unprecedented dominance.
Asked to select a personal highlight, he recalls a championship match against Westport a few years back. McCrudden played well. He picked off a few points and, at full time, the team emerged victorious.
A few days later, the local paper splashed a photo of him shaking his fist in triumph in front of a group of ecstatic fans. The caption read "Crowd pleaser: Christy McCrudden." It's a memory he savours to this day. "The crowd pleaser," he repeats, grinning from ear to ear. "That's how I'd like to be known."
IN TRUTH, things had begun to unravel for Christy McCrudden long before the night of October 7th 2012. The implosion of the Irish economy four years earlier had halted all major construction projects. He clung onto his job for a further two years, albeit on a three-day week, before finally being made redundant in 2010.
He found new work with another company, but that only lasted a year. By the summer of 2011, for the first time in his adult life, he was out of work and short on cash. At about the same time, a relationship with his long-term girlfriend also came to an end.
Short and skinny as a teenager, McCrudden had taken up weightlifting in his twenties. As work dwindled, those daily gym sessions had gone from a habit to a full blown obsession.
"I was stone mad into lifting weights," he admits. "I didn't pay enough attention to the relationship. I did my best to get her back, but it didn't work. When you meet someone, and you're with them for four years, you think 'This is the one'. But in the end, I had to man up and move on."
He kept busy in the gym, where he was now benching 125kg. He also lent a hand training the Ballyhaunis U-14 hurling team. His best friend, full back Jason Powers, was one of a number of his senior teammates to emigrate, finding construction work in Australia. But the club's success at county level continued uninterrupted.
The 2012 county final between Ballyhaunis hurlers and their arch rivals Tooreen was yet another thriller. McCrudden scored three points as his side ran out narrow winners, 1-14 to 0-16. It was their ninth title in 11 seasons. As was customary, the team drove through the town afterwards, honking their car horns in celebration.
Their wives and girlfriends joined them for a meal in Billabong, a local restaurant. Then they hit the town for a night on the tiles. At about 1am, Christy McCrudden and a Polish woman he had been seeing for a short time, left the pub to return home.
McCrudden estimates he had drunk at least seven or eight pints at this stage. The pair ate takeaway pizza and chips at her kitchen table. What happened next is not entirely clear.
Hurling team manager Pete Higgins (father of Mayo dual star Keith) says "Our best guess is that Christy left the bedroom in the middle of the night to go to the bathroom. He took a wrong turn, fell down the stairs and banged his head. He made his way back to bed but he was obviously bleeding internally."
By morning, McCrudden's bodily functions had shut down. The panicked woman called Christy's sister Sheena as well as his teammate Tadhg Buckley. When they arrived, they found his head badly swollen, with two black eyes and blood coming out of his ears. He was taken by ambulance to Castlebar Hospital, induced into a coma en route, then airlifted from Castlebar to Beaumont Hospital in Dublin.
"I was at work when one of our selectors called with the news," recalls manager Pete Higgins. "The whole team was in shock, because Christy was a very popular character. We organised a special mass in the clubhouse that evening. Pretty much everyone in the entire town was there. But the prognosis at that stage was very, very bad."
McCrudden's best friend Jason Powers flew home from Australia to be at his bedside. Christy's brother Steven returned from the UK. No one was expecting a miracle. Doctors told Steven McCrudden that they needed to remove the frontal lobe of Christy's brain until the swelling abated. But they needed Steven's written consent first in order to proceed. Understandably, the elder McCrudden brother balked at this request. "What would you do if you were in my shoes?" he demanded of the specialist. The specialist replied that, if the procedure was carried out, Christy had a 10pc chance 
of survival. Without it, he would die. 
Steven McCrudden signed the piece of paper. The operation went ahead.
Twelve hours passed. Then twenty-four. Then thirty-six. The whole town held its breath. Finally, the patient began to stabilise. Doctors told his family that McCrudden's chances of recovery had now risen from 10 to 50pc. But even if he did survive, he might yet spend the rest of his life brain damaged and/or in a wheelchair.
After eight days in an induced coma, the swelling reduced sufficiently for doctors to replace his frontal lobe. They stitched him up from ear to ear and fastened his scalp back together with clips. By now, Jason Powers had been forced to return to Australia for work. He didn't yet know if his friend would ever regain consciousness.
But Christy's sister Sheena and ex-girlfriend both maintained a constant vigil and, when he finally came around, he greeted them both by name. He also recognised photographs of his teammates that his sister had stuck up around his bed. For the first time, the auguries were good.
After two and a half months in hospital, McCrudden was allowed home for Christmas. It should have been a joyous break. But the Lord giveth and the Lord taketh away. His first public appearance was the funeral of a teammate and former work colleague, Jason Morley, who died in his sleep of suspected Sudden Adult Death Syndrome aged 37.
McCrudden was distraught. "I'd known him all my life. We'd played senior football together for 10 years. We'd worked in the same lorry for eight-and-a-half. He'd always looked out for me." After the funeral, McCrudden returned to Dublin for a few weeks physical therapy at the National Rehabilitation Hospital in Dun Laoghaire.
He'd lost three and a half stone since the accident. Now he went about building himself up again. By March 2013, he was back home and – incredibly – back in (non-contact) training with his hurling teammates. In his personal life, things were looking up too as he was reunited with his ex-girlfriend. But the warning signs were already in evidence. A tranquil convalescence wasn't on the cards.
WHEN HE LEFT HOSPITAL, Christy McCrudden had been forced to acknowledge two painful home truths. He would probably never work as a scaffolder again. And he would certainly never play contact sport again. The first came as a devastating blow. The second, ultimately, proved more than he could bear. "People say sport isn't everything," he scoffs. "I tell them, 'it is to me'."
Resentment boiled over during a hurling training session. Although he was allowed to exercise with his former teammates, McCrudden was not permitted to take part in the games of backs and forwards that closed each workout. On one occasion, when informed it was time for him to tog in early, he broke a hurley stick off his own leg in frustration.
And though the club initially allowed him continue to use their gym facilities, that was thrown into doubt once CCTV footage showed him lifting weights heavier than doctors had authorised him to do given his condition. He soon became deeply depressed.
"In a small town, football and hurling are your first two options. Drink is the third." He began heading to the pub at lunchtime on weekends, something he had never previously done. "I'd be steamed by the early evening and walking up the town. People were talking, saying 'Has he no respect for himself?'"
Half seven on a Saturday evening was generally throw-in time. But McCrudden wasn't there to see it. "That's when I'd go awful quiet. Someone in the pub would say 'What's wrong with you, Christy?' Someone else would go, 'Leave him alone, the match is on'."
Sometimes, if Ballyhaunis were victorious, his former teammates would arrive into the pub to celebrate. "They'd say, 'come over here, Christy'. Have a drink with us.' But I couldn't. I'd sneak out the back door, to go to another pub. One night, when I got home, I hit a glass panel in the bathroom so hard I cut up my hand."
He saw a counsellor. She asked if his thoughts had ever turned to self harm. His answer was less than reassuring. "I said, 'I'm a good scaffolder. I know how to tie knots. Strong knots'." He was suicidal, in other words? "Yes, I had tablets left over from Dun Laoghaire. I figured I'd drink a bottle of whisky or brandy with them. I genuinely wished I was dead."
The Gaelic Players Association (GPA) stepped in to pay his counselling bills. But the rest of his medical expenses he bore himself, another factor he still resents. His relationship with his girlfriend broke up for the final time. "She had to leave me. She'd put up with so much shite. I was talking about killing myself, it wasn't fair on her." There was only one thing for it, he decided. He had to get back playing competitive sport.
BY THE SOUNDS OF IT, Christy McCrudden on the sidelines could be a pain in the arse for management to deal with? Pete Higgins pauses before formulating a response. "Are those Christy's words," he asks, "or your own?" I'm extrapolating, I tell him, based on what Christy has told me. There is another pause. "Well," says Higgins diplomatically. "If Christy had told you that, Christy would not have been lying."
Was he surprised at all, though, that McCrudden set his heart on such an unlikely sporting comeback? "Absolutely not," says Higgins. "Sport is Christy's life. He was anxious to play right from the moment he came out of hospital. But the club just couldn't allow that. Not without written authorisation from his doctors."
A year after his accident, McCrudden received letters from doctors who had treated him in Castlebar and Dun Laoghaire, both saying they considered him fully recovered from his injuries. But the club's legal advice was that only authorisation from the doctors who had operated on him in Beaumont Hospital would suffice.
This wasn't so easy to come by. A yearlong game of cat and mouse between the player and his club almost came to a head before a league match against Belmullet. McCrudden had made the near two hour trip to Erris, and togged out in the dressing room before the game, convinced a number of late dropouts would force management to hand him a start.
That was never a possibility. But in his pre-match team talk, selector Darren Conlon singled McCrudden out for praise, calling him the epitome of all that was good about the GAA. He told his players that representing their club was an honour they should never take for granted, because here was their friend who would give anything to play, but couldn't. The remarks went over well. A potentially ugly confrontation was averted.
At his wit's end, McCrudden finally travelled to Dublin, walked into the Beaumont Hospital and asked to see the doctor who had operated on him. When told the doctor wasn't available, he told the receptionist he would wait. And wait he did, checking into a nearby hotel and returning daily. He even dressed up in drag to take part in the women's mini-marathon, raising €350 for the hospital.
Eventually the doctor was able to 
allocate him an appointment and run the relevant tests. When McCrudden got the letter he needed, he made 19 copies of it and sent one to every officer in the club. It was official. The Monkey was back.
For his comeback game against Westport in the Genfit League in May 2014, Pete Higgins handed McCrudden the captaincy. He scored three points in an easy 0-18 to 0-07 victory. Afterwards, he had some advice for his younger teammates. "Stay away from drink," he warned them. "And for God's sake, be careful around stairs!"
ON THE WARM JULY EVENING I watch him in training, there isn't much in the way of a crowd to please. Two small boys puck around on the sideline. A curious dog stops by briefly, before moseying along. But, typically, McCrudden tears into this training knockabout as though contesting an All-Ireland Final.
He marauds around the centre of the field, winning balls, offloading them, screaming for passes and attempting a couple of speculative long range points.
He is a goal-driven character and, right now, his biggest target is to land a tenth county championship with Ballyhaunis this autumn. After that, who knows?
His best friend Jonathan Powers has promised him well paid work, a beach and barbecue lifestyle and (of course) regular club hurling if he can make his way out to Melbourne.
He still has hopes of repairing his 
relationship but, failing that, he might just try his luck Down Under.
"I was told after two or three weeks in Australia, I won't even think about Ballyhaunis. I said, if the lads win a county title without me, I'm not sure that'd be the case.
I don't know what it would be like, winning titles with a bunch of lads I've never met before in Melbourne.
But I know what it's like winning with lads I've known all my life. And to my mind, there's no comparison.
"But if I am to go, I'd like to go out 
in style."
August 15th, 2014.