Published: Irish Independent, 25 May 2013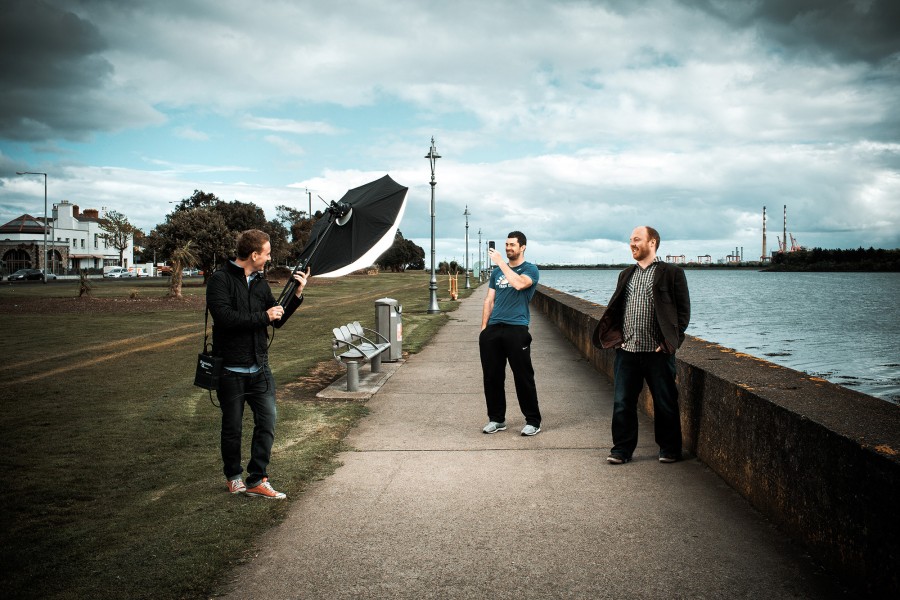 ACCORDING TO HOMER SIMPSON, there are only two types of men who can get away with wearing Hawaiian shirts: gay guys and big fat party animals. Well, I definitely fall into one of those categories. And my friends would argue the jury is still out on the other.
So what the hell? When I'm asked to pose as Oscar Madison for an Odd Couple-themed photo-shoot, I don't require all that much persuading. Besides, I'm only the writer here. I'd do this thing in blackface if they told me to.
Playing Felix to my Oscar today, however, is a man without quite the same latitude to fly by the seat of his immaculately tailored suit pants. Rob Kearney is a three time Heineken Cup winner, two time British and Irish Lion, a Grand Slam winner with Ireland and (for one day only) my new best friend for life.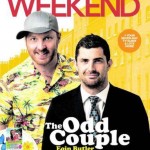 As a sportsman and role model, with a slate of lucrative brand endorsements to protect, the reigning European rugby player of the year has to be extremely careful about the image he projects. The Odd Couple concept is fine. But Oscar's fake cigar (even if I'm the one pretending to smoke it) is a definite no-no.
While we're waiting about, I ask about his typical week. Monday, he tells me, is weight training followed by a pitch session. Tuesday ditto. Wednesday is a recovery day. "It's all very geared towards working at the start of the week," he explains. "Then curtailing the workload as the weekend approaches."
Yeah, I take a lot of recovery days myself. How does he spend his?
"Pilates," he answers. "The gym. A little bit of skill work. A little bit of ball work. Plus whatever chores or errands need attending to outside of rugby. I get them done on a Wednesday so that, in the Thursday and Friday's sessions, I'm totally focused on the weekend's game."
Hmm. Does he knos there's a TV channel that shows old episodes of Friends 24/7? Evidently not. Surely though, even squeaky clean sports heroes must have some less wholesome habits? In his recent autobiography, A.C. Milan's veteran playmaker Andrea Pirlo admits to having spent four times more hours playing football on the Playstation than he ever did on the pitch.
Has the Leinster fullback any similar secret vices? "No. The soccer guys play a lot more matches than we do. So they train a lot less. The traps they sometimes fall into, the Playstation or the old bit of gambling, don't really apply to us. I'm a big man for an early night. The lads in the team give me a lot of stick, but I'm always in bed before ten."
He seems like an amiable enough, albeit supremely focused, individual. But is he really new best friend material? While we pose for the camera, we laugh and horse around a bit. The photographer interrupts. He wants me to smile, he explains. But he needs Rob to look very serious. At this point, Kearney's assistant interjects. "I hear Stuart Hogg is going to start the first test for the Lions," he quips.
That seems to do the trick.
SOMEONE MUST HAVE spotted the Ireland international arriving at the photographer's studio earlier. Because, as we leave, he's approached by a small boy waiting outside for an autograph. Kearney pops open the boot of his car and produces a brand new rugby ball. He signs it, presents it to the kid and they pose for a photograph together. The boy's day is made.
It's funny, I tell Kearney. When I was a younger, rugby was a fringe sport (in the west of Ireland at least), popular only with juvenile delinquents and kids who went to boarding school. I doubt too many of my classmates could have named a single rugby player. Hell, I still have trouble understanding some of the rules today.
But in the past decade, rugby has almost surpassed even soccer and Gaelic football in terms of its nationwide popularity. "People like getting behind things that are fashionable and successful," Kearney reckons. "And we're lucky, over the last six or seven years, that teams from this country have been winning big trophies almost every year. So I suppose that kind of success is infectious."
With success has come some enviable perks for the sport's biggest names. Our man-date today has been organised by Audi, one of Kearney's stable of corporate sponsors. Do his Leinster teammates get jealous seeing him turn up to training with a brand new car every three or four months? "No, no," he insists. "I work in a very un-bitter environment. Guys are happy to see each other succeed."
So only behind his back then, I tease? "God, I hope not!" he laughs.
He mentions his friend (and soon to be ex-teammate) Jonathan Sexton, who recently signed a lucrative contract with French side Racing Metro. "Johnny is reportedly one of the most handsomely paid players in the world now," he says. "And I'm really happy about that. When you see guys work really hard, you want to see them rewarded for it."
The rough plan for today is that Kearney and I are supposed to hang out together, bonding and doing regular guy stuff. His first choice would have been for us to spend some time in the gym. However, due to a conflicting sponsorship arrangement there, that's a non-starter. I'm devastated, but have to put a brave face on.
The photographer next suggests we go to the supermarket and see what kind of food a professional sportsperson puts in their shopping basket. But that idea is struck down just as quickly. I'm tempted to suggest we just head to the zoo. But given Kearney's association with the Lions, he probably can't be photographed standing next to a giraffe.
Our bromance is already on the rocks. In the end, we settle for a drive along the Dublin coast. At 27 years of age, Kearney is approaching the peak of his professional career. I ask the former Cooley Kickhams Gaelic footballer if he would ever be tempted to follow Sexton and seek his fortune abroad? Kearney points out that he remains under contract at Leinster for another two seasons.
But what about after that, I press? "France is an awesome country," he says. "If I was ever to leave Leinster, that's definitely where I'd go. But it's very dependent on where I am potentially in terms of family. Also what state my body is in and where the club is at. If you're at a really successful club, that's going to be difficult to turn your back on: no matter how much money you're offered."
Since his split from British soap actress Susie Amy some time ago, Kearney is reported to be single. And his name often appears in lists of Ireland's most eligible bachelors. So I have to ask. When he refers to possible family considerations in two years time, does that mean that he sees himself having potentially settled down by then?
"Who knows?" he laughs. "It's hard to tell. Although, it's probably unlikely."
Nothing on the cards at the minute then?
"Nothing to report, no."
I suppose, sure, why would he bother settling down? He must be enjoying single life?
"I don't know about that," he replies.
But just between the two of us, he must have lots of women throwing themselves at him? "You get the odd provocative message on Twitter and stuff," Kearney admits. "But I'm wise enough to know that if I didn't do this for a living, those messages wouldn't be coming."
He sounds very chaste altogether. But that's as much as he's going to give away it seems. "I'm all about my rugby at the moment," he insists. "I realise it's not going to last forever. I've seen how fast the last six or seven years have gone. So my focus is on what I can achieve on the field in the years I have left. Anything peripheral to that, you just put on hold."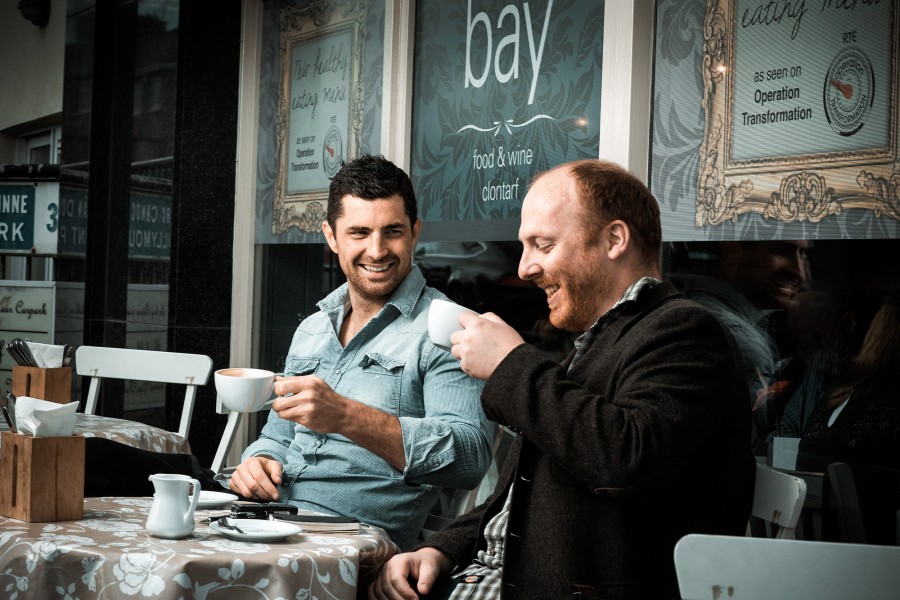 PAN FRIED DUCK LIVER SALAD? Kearney shakes his head. ("Anything fried is out," he says.) Crayfish, samphire and smoked salmon pate? Ditto. ("Pate is very fatty.") Dukkah crust lamb fillet? His eye runs down the list of ingredients. "Figs, pistachios, sundried tomatoes, rocket. That's all fine," he says. "But crème fraiche?"
As Tony Soprano would say: fuggedaboutit!
It's funny. We tend to think of our top sportsmen as cosseted little princes, whose parking tickets are quashed, and every conceivable whim indulged. What's easy to forget is how the relentless discipline to which these guys must submit themselves can inhibit their ability even to enjoy something as simple as having lunch.
In the end, Kearney settles for a slim latte. I order an Americano. He tells me they have a new dietician in Leinster. The team are working really hard to pay attention to what they eat. It's all about protein during the day. In the evening, they gave to limit the carbohydrates. "Bread is a no-no, which is difficult. Potatoes only around lunchtimes. You have to put some planning into it."
What if all fitness and dietry considerations went the window? What would he gorge himself on? "Probably the high end fats, the low end sugars," he replies.
Would he ever, on a Saturday night and for recreational purposes, partake of alcoholic liquor? Say to the point where his mental or physical facilities were temporarily impaired? "Occasionally, after a game," he smiles. "But only in moderation."
So he hardly frequents (rugby's equivalent to Copperface Jacks) Krystle Nightclub then?
"Never," he insists.
When was the last time he was there?
He backtracks slightly. "Well, I was there with the Irish team after our final Six Nations game back in February. But because of the life we lead, it's rare you'd find us out and about."
While we're talking, the proprietor of the cafe comes asks Kearney if he'd mind posing for a picture. The life of a professional sportsman, I observe, once the proprietor has gone, does seems like a rather strange one. Kearney considers that point. "Yes, I suppose it is," he says. "We're told where to be, what to eat, what to wear. There are straight to the airport, chartered flights."
"We're spoon fed," he smirks. "We're like six year olds."
AFTER LUNCH, we drive out to Dollymount Strand and sit in one of the concrete shelters. I ask him what he thinks he'd be doing with his life if he wasn't a professional rugby player. "That question frightens the life out of me," Kearney admits. His brother has an office job and who works, he says, and far harder than he does. He reckons he'd be doing something like that most likely.
I tell him I worked in an office myself for a very short time. It was weird. You were always getting emails from people you don't know telling you how excited they were about their role in the Accounts department (or wherever). I was never sure if you were supposed to reply to those emails, or what you were supposed to say? I mean, I didn't even work in the Accounts Department.
"An office job is what most people do," Kearney nod. "But personally, I think that when I retire, the transition from this massive bubble I'm living in, to the real world, is going to be a very difficult one."
I tell him that, the night before this interview, I put a call out on Twitter asking if anyone had any questions for Rob Kearney. Amid a deluge of responses from women offering to have his babies, there was a reply from Karen, in Dundalk, demanding to know "if he's stayed true to his Louth roots and still fills his car with green diesel?"
He laughs at that one. "I went away to boarding school, to Clongowes Wood College, at 13," he says. "I was there for six years, so I suppose I lost my Cooley accent. But I very, very much consider myself a Louth man at heart." He does not, he hastens to add, and at no point in the past used green diesel in his car.
He talks about his family: how his father's passion for sport inspired him to pursue a career in rugby, but how his mother always made sure he kept up with his studies. I ask him how he felt seeing his younger brother Dave receive a kick to the head from the boot of Kearney's Ireland and Lions teammate Paul O'Connell in a Munster v Leinster game a month earlier.
Part of him must have be feeling, hang on, that's my little brother there. "Yes, it does," he admits. "But the bottom line is that Paul didn't mean to do it. That's the most important thing."
A few thousand YouTube commenters who would beg to differ. "Was it a little bit clumsy?" he asks. "Perhaps. And as an older brother, of course it was difficult to be there, and to try to wake him up out of his concussion. But you know, these things happen and all of that has been put to bed now."
He says he's looking forward to the Lions tour. After that he's returning to Ireland for a friend's wedding. After that, he'll probably travel for the summer.
Okay, I give up… If Rob Kearney is anything other than an extremely gifted, hard-working and (you'd have to say) on-message professional athlete, I singularly have failed to get to the bottom of it. Hell, this guy is so unfailingly polite, he even fails to point out when I mangle the name of Ireland's greatest rugby player in my final question.
It isn't until I listen back to the recording late that I even notice my mistake. He doesn't correct me. In fact, he repeats it as I've said it. "Yes well, as you say, Leo Cullen is 35 and Brian O'Connell is 34. I'm 27 now. So if I play on as long as those two guys, then I'm only halfway through in my career right now. If that's the case I'll be a very, very happy man."
Photographs by Mark Nixon.
May 29th, 2013.