Published: Irish Independent, 19 April 2014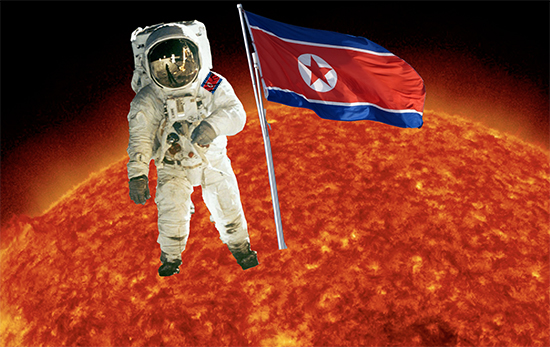 In January of this year, a little known Irish gossip website landed a major scoop that every other news outlet in the world had somehow contrived to miss. In Pyongyang, North Korea's official news agency just announced the hermit kingdom had landed an astronaut on the sun.
Now even by the standards of that crackpot regime, this was an unusually farfetched claim. And the wording of the story should have offered further grounds for scepticism. (The North Korean spacecraft, apparently, had "travelled at night to avoid being engulfed by the sun's rays.") Yet the hoax story quickly went viral, first in Ireland, then Poland, across Eastern Europe and soon around the world. Within hours, the fake announcement was being discussed on Indian TV, American talk radio and just about everywhere in between.
"When it reached Singapore," the story's author Colm Williamson recalls today, "We were hit by a DNS attack. Our web master was screaming down the phone, saying that the server had crashed."
An unemployed former bar manager, the 34-year-old founded the satirical Waterford Whispers News website in 2009, as an Irish answer to The Onion. Initially, Williamson concentrated on regional stories, like "Mossy", a yobbish local street artist whose acts of vandalism were earnestly appraised by Waterford's rolling 24 hour news media.
But as the site's popularity burgeoned, the focus shifted to national and, to a lesser extent international, content. For Williamson, the site's mission is not to disseminate misleading news stories, but rather to produce insightful, humourous commentary on current events.
And if the numbers are anything to go by, he is certainly succeeding.
"Garda Whistle Blower Not Invited Out With The Lads from Work This Weekend" was one much-shared recent headline. Another, written amid outrage over a Gaelic footballer's appearance on an X-rated gay website, claimed "GAA Star Appearing in Straight Porn Movie Declared 'Total Legend.'"
Like The Onion, the jokes are hit and miss. But online satire is a volume business and, in recent months, WWN's hits have been multiplying rapidly. Through March 2014, the website reached 727,107 unique monthly viewers, and links to its stories were ubiquitous on social media, where the WWN Facebook page has racked up almost 100,000 likes.
In early April then, I make the pilgrimage to WWN's global headquarters in Tramore. I arrive armed with a notebook full of questions for the site's creator, yet immediately find myself wildly veering off script. Dude, I first have to ask, is this really an office?
Yes, Williamson good humouredly concedes, his work space, donated by an advertiser in lieu of payment, is indeed very, very tiny. "You're going to write that it looks like a prison cell, aren't you?" he suggests. No, I wouldn't say that. And neither, I suspect, would Amnesty International. It's more like a hot press!
"Our JobBridge intern is shackled in the floorboards," Williamson laughs.
We're joined by the website's other fulltime contributor, a 25-year-old Dubliner who prefers to go by his pseudonym, Julius Hubris. The enigmatic Mr Hubris also refuses to appear in the photographs that accompany this article, and begs me not to disclose his real name. (Tough luck, it's Karl.) Both are working on an enterprise allowance scheme, although Karl usually works remotely from his home in the capital.
Both are also relative novices in the writing game. "I've written plays and short stories," Karl admits. "But none of them were ever produced or published… Probably for good reason."
Their first order of business this morning is to check the Newswhip website, to see which stories are trending in Ireland. ("You can't satirise a story," Williamson explains, "if no one's talking about it.") The pair assemble about five topical news stories per day, supported by a team of part-time writers. So the pressure to generate fresh stories is constant.
On the morning of my visit, the front pages are mostly preoccupied with death of Peaches Geldof, an unspeakable tragedy with little obvious potential for generating laughs. But the lads are diligent about their work and don't reject that possibility out of hand.
"Vultures Gather At Peaches Geldof's house," ventures Karl, albeit half-heartedly. Williamson scrunches his nose. Any nebulous point there is to make about media intrusion on a family's grief here really is dwarfed by the enormous sadness of this particular case. They move on.
Next up is Michael D.'s state visit to Britain, which looks a little more promising. As a copywriter, I would tend to approach satirising the Queen of England in sentences and paragraphs. ("The queen, who worked her way up from princess through sheer hard graft…") But the lads' focus is always on headlines. That's where the clicks will come from.
They hone in on our own president's diminutive stature as a potential source of comedy. Already this morning, their Facebook page has advertised a set of Michael D. Higgins Action Dolls. Since I haven't seen it, Karl dutifully relays the gist of the gag. "Commemorate the State Visit with These Life-Size figurines'" he says. "Or something along those lines."
As they spitball ideas for a possible accompanying story, the punch lines come thick and fast. "Higgins Refused Entry to Ride at Alton Towers…" "Higgins Forgets Wine Bottle Purchased As Dinner Gift…" "Higgins Starts With Cutlery On Inside…" "Higgins Warned By Nervous Public, Don't Mention the 'Ra…"
Upon which cue, the focus shifts abruptly to Martin McGuinness' presence at tonight's Guildhall banquet. At one point, Karl suggests "In Symbolic Gesture, McGuinness Slips Queen The Tongue…"It isn't subtle. But in the context of the fawning blanket radio coverage the visit is receiving in Ireland, it certainly makes me laugh.
Williamson, alas, is less convinced.
For now, he decides to go with an idea that, like the North Korean astronaut story, has lingered in the purgatory of his in-tray for several weeks before publication. The headline is "Joan Burton's Voice to Replace 70% of Standard House Alarms By 2017." And lo and behold, it winds up receiving a whopping 4,400 Facebook likes.
Which Irish public figures, I wonder, are the most reliable fodder for satire? Bono, for some reason, springs to mind. "Bono is a great one," Williamson agrees. "Although I don't personally understand why people dislike him so much."
Journalist John Waters is the second name they both mention. "He gets a hard time," says Williamson. "But he kind of brings it on himself." "We're all human," agrees Karl. "Nobody's perfect. But his views are on record for anyone to read." (Incidentally, they both list 'John Waters to Build Gay-Proof Safe Room in his House' amongst their favourite WWN headlines.)
In the United States, where satire is protected under the First Amendment, the great and good may be ridiculed with impunity by lesser mortals. In Ireland, satirists enjoy no such protection. Indeed a former Taoiseach once took issue with RTE merely for reporting a story about an unflattering portrait of him surreptitiously exhibited in the National Gallery.
Has WWN ever found itself in hot water for anything it has published? Of course, it has. And as was the case when this writer worked for cash strapped Dublin satirical magazines like The Slate and Mongrel in the 2000s, WWN's only safeguard against litigation today is the fact that that – for the time being, at least – it hasn't a pot to piss in.
Williamson mentions one kerfuffle that occurred earlier this month, when Co. Waterford topped a table for alcohol abuse in Ireland. In response to the poll, WWN published an obviously false news story which jokingly claimed that the city's mayor had declared a local holiday to celebrate.
When the mayor took issue with the story, Williamson's response was polite but unapologetic. "Look, I said, it's a joke. There's a disclaimer on the site. Obviously, you can take me to court. But I'm unemployed. In terms of publicity, you'd only be doing me a favour." Unsurprisingly, the matter went no further.
Despite the website's growing national and international notoriety there are no plans to change the Waterford Whispers name. "There's something nice about assuming the identity of a local newspaper," reckons Karl, the Dub. "Reaching out for big topics that should be beyond our reach."
Indeed, Williamson admits, despite their international headline-grabbing exploits, their favourite stories to write have are still often the most low key. Asked to nominate a favourite, he suggests one he published just last month. "Man Buying Car Has No Idea Why He Kicked Tyre Just There."
We all laugh.
At home that night, I log onto the website again. The pair have finally posted a British-Irish state visit story they've managed to agree on. "McGuinness Denies Writing 'Up The 'Ra' In Queen's Jacks," reads the headline and there are 25,000 Facebook likes.
I must confess, I'm a little disappointed. Based on the time I spent with them, I really thought "slips Queen the tongue" was the one to go with. Not that, I imagine, either writer will lose much sleep over it. After all, tomorrow is another (fake news) day.
April 22nd, 2014.