Published: Irish Independent, 4 May 2013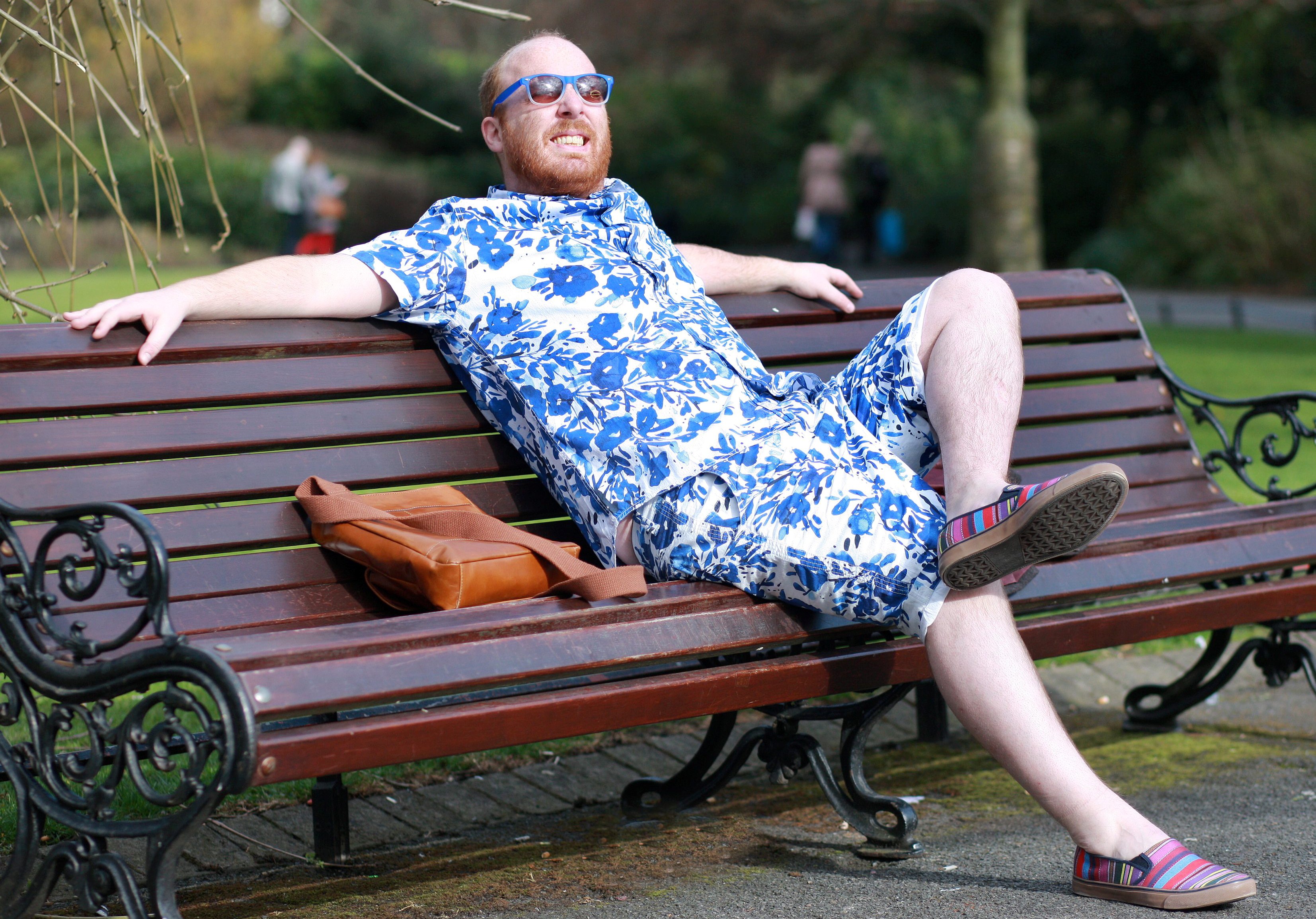 Of all titles in the Bob Dylan songbook, his Ballad of a Thin Man might seem a rather (ahem) odd choice to have stuck in my head right now.
It's Friday evening. It's past 5pm. And the capital's office drones are spilled out on to the city streets, sipping drinks and soaking up the sun. For reasons unclear, this rotund reporter is walking among them: a bald Adonis, decked out in a floral shirt and shorts (from the Mantaray range at Debenhams). This look, I'm told, is set to be the hottest summer fashion craze for men.
Yet the refrain playing on a loop in my head is not a soothing one.
"Something is happening here," it says. "And you don't know what it is. Do you, Mr Butler?" Frankly, I have no idea why I agreed to wear these clothes. I have no idea if they really are set to be hottest summer fashion craze for men. Hell, I'm not even convinced these items belong in the men's section of a department store. Could this entire misadventure be a practical joke at my expense?
The fashion editor insists that florals are in style for men this season. She tells me 'boy wonder' Christopher Kane has eulogised the English rose and emblazoned it on trousers, shirts and T-shirts. That Givenchy and Riccardo Tisci quickly followed suit.
Unfortunately, I have no idea who any of those people are or what any of that means.
When it comes to fashion, I tend to defer to the wisdom of others. Specifically, my grandmother, who buys about 75pc of my jumpers.
But strolling through the capital today, and witnessing the candid reactions of most ordinary Dubliners, I've decided to trust my gut in this case. And my gut is telling me this is the stupidest outfit I have ever worn in my entire life.
Urgh, I look like a Hawaiian pimp or a shower curtain come to life.
Fortunately I have Ronan, the photographer, along to provide moral support. "Yeah, you look pretty stupid all right," he concedes, with very little prodding.
Ronan is shooting photos to accompany this piece. He wants pictures of me hanging out in ordinary Dublin haunts, in order to perpetuate the bogus notion that these are clothes a sane person might possibly consider wearing voluntarily.
Our first stop is Grogan's on South William Street. I selected this bohemian bar, in part, because it's one of my favourite places in Dublin. But mostly because it's somewhere you could walk into with blood gushing from your eyeballs and no one would pay a blind bit of heed.
Unfortunately, Grogan's is full to capacity this evening. So I mosey onward to the more genteel environs of Peter's Pub, a few doors up. I get a few strange looks and double takes from pedestrians along the way. One young man appears to laugh right in my face. However, he's wearing earphones. So I wouldn't discount the possibility that he is listening to a hilarious comedy podcast.
"Hey, Butler!" someone yells.
I keep my eyes fixed firmly on the footpath ahead.
"Are you going to the beach, Eoin?" someone else chips in.
It's funny: if I was stuck for a few quid, I could walk in circles around Dublin all day without running into a familiar face. But throw on a figure-hugging, delph-printed matching shorts and shirt combo and the city resembles a living episode of 'This Is Your Life'. (Do you remember THIS guffawing voice?)
In Peter's Pub, I immediately spot two old acquaintances at a table. I take a seat at the bar and studiously try to avoid making eye contact with them. At first, I think I'm doing rather well on that front. Then it dawns on me they're avoiding my gaze just as determinedly. Oh God, they probably think I've joined a cult or something.
I pretend to drink a pint of Heineken for the camera. If the resulting photos convey any sense that I'm relaxed, or enjoying myself, then I'm a better actor than I thought. Because it's an excruciating experience.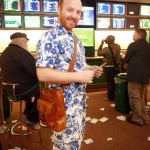 Our next photo location is the Paddy Power bookmakers on Wexford Street. I chose this premises because I've never been inside a bookies shop in my life, so surprise reunions with old friends and enemies seem less likely to occur.
And so it proves. There are about six people present. All male. No acquaintances. One of the men standing next to me reeks of urine. Ordinarily, that would repulse me. But in the circumstances, I find it reassuring. I would say the vibe here right now is non-judgmental.
It's just a pity horse racing is so brutally boring or I'd hang around all day.
At one point, as I prepare to leave, I catch a glimpse of myself in the mirror and wonder if this whole floral smock idea might grow on me over time. After all, when I heard that Christmas jumpers were making a comeback a few years ago, I'd have bet the house against it happening. Might I not find that I am similarly mistaken about this?
Well, I could drag the suspense out for a few minutes, 'X Factor' style, if you like. But the short answer is no. I sincerely doubt it.
Our final port of call is Stephen's Green. It seems like an ideal location to take photographs: ducks, bandstands, flowerbeds.
As it turns out, however, wide-open spaces also provide an exponentially larger number of people an opportunity to point and stare in my direction. Which many citizens duly take the opportunity to do.
I find an occupied bench, sit down and pose dejectedly for the camera. Ronan asks me to stare into the sky. I begin to wonder how I'm going to get home to change when this is over.
The Luas red line service was heavily populated by glue-sniffers and toddlers in lipsticks on the way in. I'm not sure I could survive a return journey.
"Up," says Ronan. "Keep looking up."
I fix my gaze upon a tiny jumbo jet, snailing a path across the bright blue sky. I imagine I'm onboard, journeying to an imaginary land in which I, or any other thirtysomething man in his right mind, would seriously consider attempting something called the 'China boy look'.
When I come to, I'm back sitting on a bench in the real world, where I'm dressed like an idiot and a couple of teenagers are openly sniggering at me.
Will I make it home in one piece dressed like this? Yes, I probably will. But will this ridiculous get-up prove the fashion craze of the summer? I seriously, seriously doubt it.
May 13th, 2013.