Published: Irish Times, February 13 2010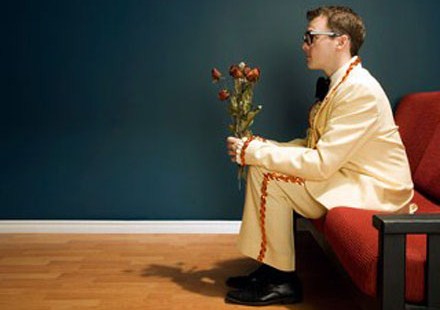 THE LIGHTING IS soft. That's the first thing you notice when you arrive downstairs at the Turk's Head pub in Dublin city centre. If it were any softer, you might pull up a chair by one of those old flower pots and ask it what it's looking for in a potential boyfriend. The organisers of tonight's speed dating event asked participants to assemble at 7.45pm sharp. I arrive at 7.49pm, so flustered I almost sign up for salsa dancing lessons by accident. But nothing actually happens until almost 9pm.
The ladies, by and large, have shown up in pairs. They sit awkwardly at the bar, fixing their hair and stealing furtive glances at the latest arrivals. The guys have almost all come alone. But as with any group of men, thrown together in any circumstances, anywhere in the world, we pick up the conversation almost without missing a beat. Robbie Keane to Celtic, huh? How'll that pan out? Risky move on Spurs' part. He scores goals, the boy scores goals. Speed dating was developed in California in the late 1990s by Rabbi Yaacov Deyo, as a means to help Jewish singles meet. Since whether or not one is attracted to another person is decided almost instantaneously, Rabbi Deyo reasoned, 12 short, face-to-face encounters with members of the opposite sex in a single night might prove more conducive to matrimony than a string of dates, with often incompatible partners.
The other possibility, which the Rabbi may or may not have considered, is that a dozen crushing rejections on a single evening could prove more mortifying (and, in the long term, more traumatic) than the same number of rejections spread out over as many months. But who's to say? I'll take my chances, I suppose.
Tonight's event was pitched at singles in the 25-35 age bracket. The females in attendance seem broadly representative of that demographic. But the male contingent, on the other hand, ranges from guys in their early 30s to what appear to be a couple grizzled veterans of the showband era. No one seems to mind. We stand at the far end of the bar, swingers young and old, buying each other pints and guffawing to beat the band.
The only bum note at this stage comes when I tell an affable plumber from the midlands that I have a couple of friends from the same parish as him. His bonhomie vanishes in an instant. "You better not tell anyone you met me here, right?" he warns. I couldn't if I wanted to – I don't even know his name.
Eventually, our compere for the evening, Hugh Redmond from GetOut.ie, calls us all to attention and explains how things are going to proceed. Each female has been assigned a table. The men will rotate tables, spending three minutes in conversation with each woman.
It's about now that my nerves begin to fray. Only three minutes? Dear God, what can I possibly convey in three minutes that won't send them running for the hills? Looks. Grooming. Hygiene. Personality. Prospects. None are exactly strong suits of mine. No, I'm more like a Don DeLillo novel. You have to read at least five or six hundred pages before you know why the hell you've bothered to begin with. Forget "speed dating", I reckon, I should have signed up for "static dating". Prospective romantic partners should be contractually obliged to stay with me for a year at least, to give me a decent shot at winning them around.
It's a minor wobble, but I get past it. As long as I don't meet anyone I know, I tell myself. I take a seat.
"Well, long time no see, Eoin!" What are the odds? My very first date is a girl I went to college with. Karen and I don't even bother going through the motions. We just exchange gossip about old acquaintances. Such-and-such just got married. Such-and-such is a miserable failure. Such-and-such is doing really well for himself. (Really? Yeah, I hated him, too.)
My next date is Grace who is cool and funny. She seems to have a pretty face, although in this light she could have a broomstick and cauldron back there, for all I can tell. She's an accountant. My father was an accountant too, I tell her, unloading an arsenal of accountant jokes. If I could have any idea just how many accountants I'm about to meet, I'd probably keep some of that powder dry. But that's another matter. She takes them in good spirits and fires back a couple of her own.
After Tracey, there's Sandra – another accountant. Then there's Mary – yet another accountant. Then Irene – payments department. Then there's Patricia – works for Volkswagen. "Crash Test Dummy department?" "No, accounts actually." None of them, though, launch the sort of Lady Bracknell-esque cross examination I had feared having to endure. One girl asks what my ambitions for the future are. I tell her I'm still waiting on a call-up from the Mayo football team. She seems okay with that.
The conversations, by and large, flow free and easy and with just 180 seconds to make your pitch, there aren't too many awkward silences to fill. One girl is drunk, which makes attempting meaningful communication a wasted effort. Another notes approvingly that I don't drink. Actually, I'm in the throes of a pretty nasty vomiting and going-to-the-bathroom-more-frequently-than-I-would-wish bug. But I choose not to correct her misconception.
All in all, I'd have to say that this evening is turning out to be a much more enjoyable experience than I had anticipated.
After seven dates there's a 10 minute interval, during which the women decamp to the toilets to gossip about the men, while all the men decamp to the bar to check the latest soccer scores on their mobile phones.
It's hard to get back into the full swing of things after the break. Churning out the same autobiographical information for the 10th or 11th time becomes a little tedious. I grew up in Mayo. . . went to university in Galway. . . have lived in Dublin for X number of years. . . It's one thing to tune out of a conversation when the other person is talking – quite another when the person speaking is yourself.
Things don't really come back into focus for me until I meet my last date. Rebecca is a doctor in her mid-20s and, even in this light, she's clearly very attractive. She inveigles from me that I'm a journalist, and deduces pretty quickly that I'm probably here on an assignment. It's the end of the night. I don't bother denying it. We hit it off though and, when time is called, repair upstairs together for a drink. She tells me she works in A&E in a Dublin hospital, and proceeds to share all sorts of indiscreet anecdotes about the proctological "mishaps" that seem to befall the citizens of this city on a nightly basis.
Do I feel bad, she asks eventually, that I met all these girls tonight under false pretences? I'm single, I tell her. There were no false pretences. But you're a journalist, she replies, with a friendly shove. They gave us each some sort of a score card this evening when we arrived. At this point, I'm about ready to throw mine out the window. I protest, as suavely as I can, I'm only doing my job.
I'm joking with you, she smiles. Sure, I'm in the same boat. I've got a boyfriend at home. I'm only here to keep a friend company. Really, I ask? She nods. Yeah, she's downstairs talking to one of those Kerry lads. Really? I ask again. Yes, she nods. She isn't joking either. Wow. I've just tasted my own medicine, and I'm not so sure I like it.
The names of all participants have been changed. For events around the country this weekend, see www.getout.ie, www.mysterydates.ie and www.speeddater.ie