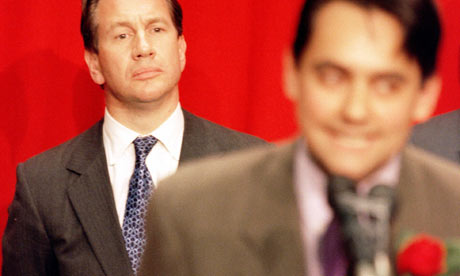 It looks like game over. The most successful political party in the history of the state is virtually an ex-parrot. But it would be rash to go writing Fianna Fail's obituary just yet. Today's polls show party support steady at about 15%. Considering our present predicament, that suggests one-seventh of the electorate would vote Fianna Fail even if the local candidate were standing at their front door with an axe in his hand and a murderous twinkle in his eye.
From here, really, the only way is up. The incoming government has many unpopular decisions to make. And with Enda Kenny at the helm, they're unlikely to win over many skeptical hearts or minds along the way. With an unrivaled grassroots organization at its disposal, and a new generation of leaders (untainted by association with the Ahern/Cowen era) at the helm, there's no reason to assume a retooled Fianna Fail couldn't force it's way back into the reckoning in the medium term.
People have short memories. If we can entertain Sinn Fein under Gerry Adams, why not Fianna Fail under, say, Dara Calleary?
Right now though, the public appetite is for blood. Perhaps unfortunately for Fianna Fail's long term prospects though, the chief culprits in this debacle – Ahern, Cowen, Dempsey, Harney et al – have opted to go gentle into that good night. By denying us the opportunity to repudiate them personally at the ballot box, by denying us the catharsis of seeing them humiliated at the count centre (as Michael Portillo was, so memorably, in 1997), they may actually be delaying the process of national healing.
Say what you like about the Greens. They face outright annihilation at this election, and deservedly so. But, without exception, they are going to meet their fate with their heads held high.
P.S. If you haven't seen it already, you have to read Michael Lewis on Ireland in Vanity Fair.
February 3rd, 2011.