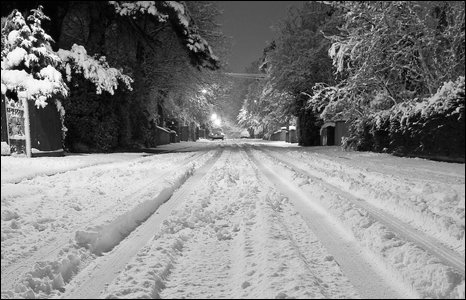 Word of more heavy snowfall in Mayo this afternoon. At this point I believe the ice outside our house could technically be classified as glacier. But to be honest, if I were a kid, I reckon I'd have mixed feelings about all of this. On the one hand, sure, sliding down hillsides in empty fertilizer bags is one of life's richest pleasures. And, I suppose, there was some minor sentimental value attached to that whole White Christmas thing. But from a hardnosed perspective – and I was a pretty hardnosed kid – the timing here could hardly be worse. You get two weeks off school for Christmas no matter what the weather is like. If this cold front had happened to arrive either a month later, or a month sooner, we'd have gotten, what, a good two or three straight weeks off school on top of your Christmas holidays.
That would be about five weeks off school – except with snow and snowball fights and daily acts of goodhumoured hooliganism thrown in for good measure. As Milhouse van Houten once exclaimed, not only would you not not be learning, you'd be forgetting stuff you used to know!
As someone who hated school with the pathological intensity that I did as a boy, that would have been manna from heaven.
January 6th, 2010.