Published: Village magazine, February 2005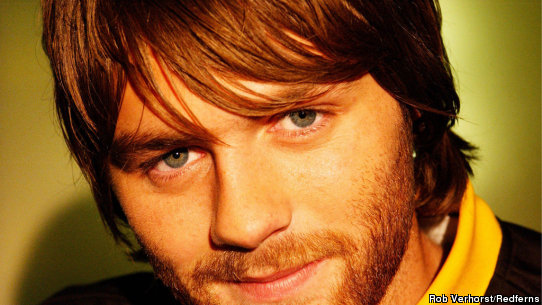 Ever noticed when there's a (usually American) guest on the Late, Late Show who insists on talking about the deep affinity they feel for Ireland and all things Irish? One tends to be a bit sceptical about these people. Are they sincere, you wonder? Or is this just the standard patter they churn out wherever their publicity duties take them? Then the interviewee lets slip that they're looking forward to a "pint" of "Guinness" before they go home. Bam! With this one local reference, it is immediately apparent that, since landing in Dublin airport earlier in the evening, this pampered superstar has immersed him or herself in Irish cuture to the point where they are now actually more Irish than the Irish themselves.
Well, It's kinda the same deal with Brian McFadden's stubble. McFadden is a former member of Westlife. And, for all their success, Westlife are still perceived in some quarters as a little too clean-cut, a little bit "uncool", if you will. So Brian, unfortunately, still finds himself tarred with that same brush.
But what's this? Check out the cover of his controversial debut album Irish Son. Not only is this bad boy renegade not smiling, he's also sporting a few days' stubble growth! Straight off the bat you can tell that, whatever his squeaky clean past, Brian is now living on the very edge. What's he like, you wonder? Is he troubled? Or is he trouble?
Sure, we've all been captivated by the string of dramatic exclusives the tabloids have been bringing us, as each successive twist in Brian McFadden's tumultuous private life is played out. ('What does Kerry think about Delta?' 'What do Delta's parents think of Brian?' 'What does some dodgy looking guy Kerry was with one time really think of Delta?' etc.)
But what we've got to remember is that this media circus isn't what Brian is all about. It's not "real" to him, as he would say. What is real to him is the music, and that's what is in real danger of being overlooked here.
"The record company do put pressure on me to sell as many records as possible" McFadden confirmed in a recent online Q&A with fans. "And they urge me to make artistic sacrifices to do so. But I won't do it. To them it's a business, but to me it's my life." In fact if there's one characteristic that defines McFadden's songwriting, it's that he seems incapable of pulling punches. Take the single Irish Son, for example. It tackles head on the types of issues other artists would run a mile from; tricky issues that, frankly, this writer can identify with.
Like being Irish, being a son… How do you reconcile the two? Growing up in the bad old days when "being gay wasn't cool", even though you weren't actually gay yourself… It wasn't easy. Finding out, years later, that kids you didn't know, in schools didn't attend, were mistreated by the Christian Brothers… Oh Lordy, I feel his pain.
If Brian's emergence as a creative force in his own right has eased the hurt of his departure from Westlife, the wounds remain fresh.
There's no point kidding ourselves. It was weird seeing Kian and Nicky singing Brian's parts when the boys played The Point the other week. The group will undoubtedly miss their old friend – and, yeah, he'll always be a 'Lifer in these eyes. But there is another, more upbeat way of viewing this situation.
Prior to Brian's exit, there were only Westlife albums and concerts to look forward to. Now there are Westlife's albums and concerts and Brian's albums and concerts. Which means twice the amount of good music for us the music-loving public.
(…Now THAT'S sarcasm!)
N.B. This is another article from my time as music columnist for Village magazine. My brief there was essentially to write an alternative music column that would appeal to people who didn't really care about alternative music. Quite a tricky proposition that.
Someone (possibly Larry Ryan) challenged me to write a column ironic in tone from start to finish and get it published. I succeeded, although my enthusiasm for the project clearly waned midway through. The last two paragraphs were copied almost verbatum from Westlife fansites.
August 31st, 2009.