Published: Village Magazine, February 5 2005
*I had a couple of issues with this headline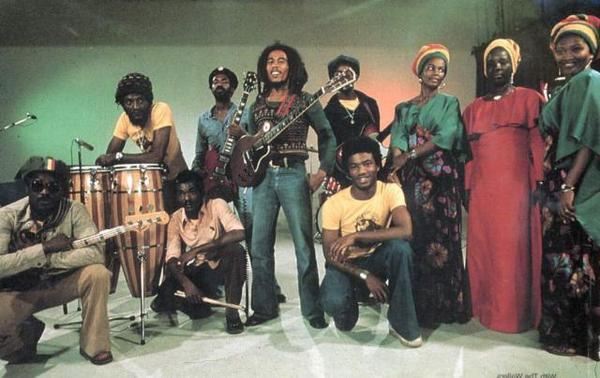 The late Bob Marley, whose 60th birthday is celebrated this month, wasn't just Jamaica's most famous son. He was also the Third World's first superstar and one of music's few truly global icons. And yet the image that prevails of this man is of a dreadlocked stoner, preaching 'one love' through a cloud of ganja smoke – "just a hippy" as the rock journalist Lester Bangs once described him. Such a verdict evinces a woeful underestimation of the man and his achievements. Bob Marley was born the son of a white British army officer and a black teenage housemaid in St Ann's, Jamaica in 1945. When his parents split up he and his mother moved to Trench Town, a squalid suburb of Kingston, so named because it was built over the trench that drained the sewage from old city.
A Rolling Stone journalist who travelled to Kingston in 1976 described "ragged urchins with spidery limbs and swollen bellies swarming through the Casbah swelter… 'Is this Trench Town?' [the writer] asked the cab driver, gawking out the window at endless pathetic claptrap shanties and tin-roofed shacks. 'Nooo, mon' the driver replied. 'Trench Town is a bad place. Dat be in de ghetto.'"
It was in Trench Town in 1962 that Marley formed The Wailers. By 1964 the trio had scored a Jamaican number one with Bob's composition Simmer Down.
The 1969/70 collaborations between the classic Wailers line-up (Bob, Peter Tosh and Bunny Livingstone) and legendary producer Lee 'Scratch' Perry on Perry's Upsetter label represented not just the group's best work to date but, many would argue, the finest work of Marley's entire career. Certainly from a purist's point of view tracks like Duppy Conqueror, Small Axe and the sublime Chances Are are as good it gets.
But if the poverty of Trench Town was one of the defining influences on Marley's life, his conversion around that time to the Rastafarian faith was the other. For while he had conquered the Jamaican charts on his own steam, it was his crusading Rastafarian zeal that inspired him to take his music to the wider world. Rastafarianism is a rather confusing jumble of Orthodox Christianity, Judaism and Hinduism, and its adherents occupy a position in Jamaican society roughly equivalent to Travellers in Ireland.
To outsiders, the fuzziness of the faith's orally transmitted doctrines could be infuriating. Some journalists quizzed Marley on the practicalities of the mooted 'return' to Ethiopia only to find that, when pressed, the stoned singer was liable to 'transcend' their presence entirely! But these people missed the point somewhat.
Any religion can creak under the weight of a little interrogation (remember how Father Dougal wondered about God's likely position on those Catholics who ate meat on Fridays before the ban was lifted?) The essence of Marley's message, though, was about more than the divinity of Haile Selaisse. It was about freedom, self-reliance and self-esteem. It was at heart – to use that awful word – about empowerment.
This was why he tailored some of his later albums for the widest possible consumption and toured relentlessly 'up and down the earth'. He may have owned more than one BMW (joking that the letters stood for "Bob Marley and the Wailers"), but even his critics conceded that he was uninterested in material wealth. "We wan' the unity" he told Bangs. "And de only unity we can get is troo Rasta. And the only way we can get the Rasta message troo is troo reggae.'
If the message was potent, the manner in which he delivered it was hypnotic. Released on DVD this month, Live! at the Rainbow was filmed in London in 1977. It captures a performance that even today requires no explanation, no interpretation and no contextualisation. Marley's dancing may betray hints of his Caucasian ancestry, but for sheer charismatic power he is unmistakably the equal Elvis, Johnny Cash or even Muhammad Ali.
That, quite simply, is how good he really was.
* This article made the cover of Village magazine in February 2005, serendipitously on the same weekend my parents were in Dublin to celebrate my 24th birthday. (It was possibly the first time in my entire life they'd had cause to think of me as anything other than just a useless layabout.) My satisfaction at this was tempered only by the headline that accompanied the article.
Not to be too precious or anything, but Marley was a reggae musician, not a rock star. And rather than "still rocking", he'd actually been dead almost 24 years at that point.
Some of my favourite of tracks:
Chances Are
How Many Times
There She Goes
August 23rd, 2009.