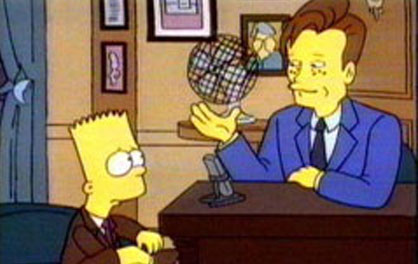 Turned on the television tonight (well, after someone texted me) to see one of my all time comedy heroes (see here, here and here) sitting down for a friendly chin wag with a man who ritually humiliated me on national television when I was ten years (definitely see here.)
There was an element of cognitive dissonance to it, I suppose. It was like walking in to your local to find Stephen Malkmus jamming onstage with Aslan. In fairness to G. Ryan, Conan possibly isn't the easiest of interviewees. He flits between the serious and absurd, often without batting an eyelid. This isn't a problem if you're a viewer, or a guest on his show. You can just laugh along. But I'd say it's a little harder to deal with if you're supposed to be the one asking the question. Worse still, most of the jokes seemed to go over G. Ryan's head completely.
Still, it was far from a "Sein-field"-esque debacle. (I've never actually seen the tape of Pat Kenny's infamous Toy Show interview with Jerry Seinfeld. But by all accounts it's an out and out bloodbath.)
P.S. I'm interviewing Gordon Ramsay in Dublin the week after next. I wonder if it'll go as well as this interview did?
October 23rd, 2009.