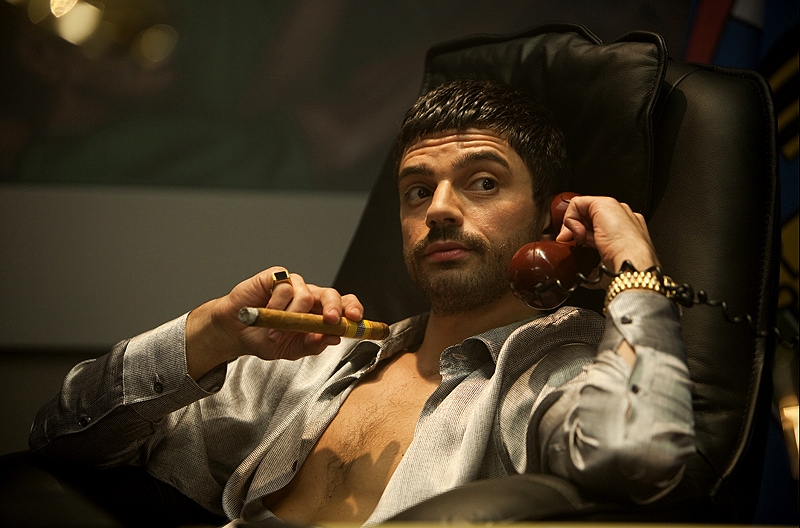 There's an interesting story by Ed Caesar in tomorrow's Sunday Times. It concerns a man named Latif Yahia, who is the subject of a new $20m film called The Devil's Double, starring Dominic Cooper (Mamma Mia!, The History Boys.) Yahia first came to my attention four years ago, when I was on the staff of an independent magazine called Mongrel.
I had come across the story of an Iraqi exile living in Ireland. The guy seemed to have been through hell. He had been taken out of the Iraqi army, in which he served as a captain during the Iran-Iraq war, and forced to work as a body-double for Uday Hussein. He had been tortured and even forced to undergo cosmetic surgery that he might more closely resemble Saddam's psychotic son. Miraculously, he'd escaped Iraq and made a life for himself in Ireland, marrying a local girl and starting a family in Daingean, Co. Offally. Yet despite Latif Yahia having been resident in this country for a decade at that point, (then) Minister for Justice Michael McDowell was refusing to grant him Irish citizenship. The whole thing seemed preposterously unfair.
Months earlier, Mongrel had placed McDowell no. 1 on it's annual "Cunts List." (I had no part in that compiling that list and always opposed publishing it, but did agree with our staff's generally negative view of McDowell.) So the story seemed a perfect fit for the magazine. I decided to interview Latif Yahia, to hear his side. That was when the wheels came off.
I'm not an investigative journalist. The magazine I was working for didn't have any budget to scrutinize this man's claim's. All it took me to figure out that Latif Yahia's story didn't even begin to add up was actually bothering to read his fucking book – I Was the Devil's Double – the one that's now being made into a multimillion dollar film.
I don't want to pre-empt anything that might, or might not, be in Ed's article tomorrow. Yahia is notoriously litigious and, last I heard, the legal people had yet to approve certain aspects of the article. Nor do I intend to overstate my own small part in helping it come to fruition.
But the fact is that, even before the film was made, this man's story had already been taken at face value by virtually every major British and American news outlet including the BBC, Sky, CNN, CBS, Fox and Al-Jazeera. Shortly after I visited Yahia in Offally, he was the subject of an episode of the late Gerry Ryan's Ryan Confidential programme.
(I emailed series producer David Blake Knox at the time to ask if he had attempted to check the veracity of any of Yahia's claims. He replied: "Our goal in this interview is to allow our viewers the opportunity to form their own opinions about his credibility." I took that as a no.)
Ryan wasn't the only offender. Ed Bradley, David Frost and John Simpson all interviewed Yahia too and took him at his word. Watch this clip of him being interviewed by BBC's Hardtalk programme last year and notice how many times presenter Stephen Sackur stumbles upon but ignores anomalies and inconsistencies in Yahia's story.
What's even more damning here is that Hardtalk researchers actually contacted me before that interview went ahead. I passed on what information I had about the Latif Yahia, which was more than enough to raise serious question marks over his credibility. (Sackur refers to my article in part three.) But they chose to ignore the vast majority of what I told them.
In terms of media negligence on Iraq, obviously, this story ranks some way down the food chain. Certainly, there is an insatiable appetite for lurid stories of Uday's brutality, and the fact that those ties in nicely with US/British justification for going to war can't have hurt. But ultimately, you'd have to agree with Ed's conclusion that, for the media, some stories are just too good to fact check.
Here is the text of my original interview with Yahia.
After I published that article, Yahia's first Irish wife (who he'd never mentioned before) go in touch and divulged some more scary details.
[UPDATED: Full text of Ed's article is here. Long story short, the guy is almost certainly a fraud.]
January 22nd, 2011.