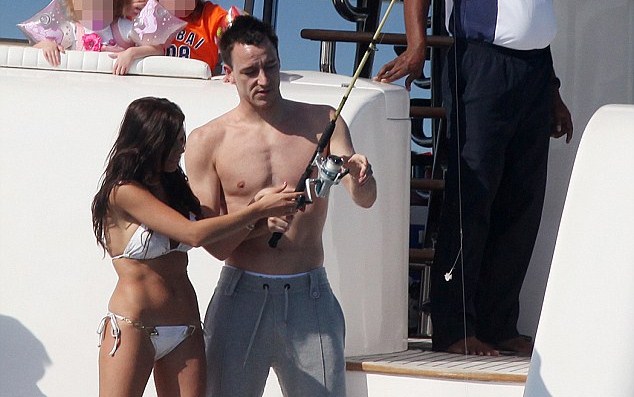 `
Tabloid newspapers have a dubious habit of using speculative commentary by unnamed "sources" to pad out their stories. No matter where the celebrity transgression takes place, it seems, there will always be some Joe Public type on hand to weigh in on the controversy in suspiciously proficient tabloid-ese. Today's News of the World story on John Terry ('It looks fishy, but Toni's fallen for JT whopper') is a really hilarious case in point. Briefly, the womanising Chelsea captain is on a yacht in Dubai. In these (probably staged) paparazzi shots, he is offering his long-suffering wife, with whom he has just been reconciled, some fishing tips. An "astonished onlooker" supposedly comments:
"I don't know what sort of line JT's been spinning but it looks like his missus has swallowed it! Where's the catch?"
Suggestions for comments other astonished onlookers, also casually drifting around the Persian Gulf chit-chatting with tabloid reporters, could have made:
What the halibut is she playing at…? The troubled couple clearly haddock-ray-ving to get back together… This was too good an op-perch-tuna-ty to miss… Poor woman should see a brain-sturgeon… For JT this was a case of Stingray to Heaven… Meanwhile, their vicar was at home thinking Nearer my Cod to Thee etc. etc.
February 15th, 2010.