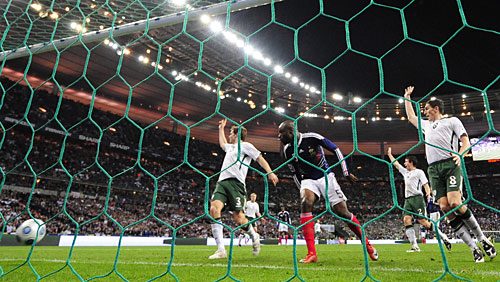 On Saturday, I turned down the chance to participate in a football vs. X Factor debate on Newtalk's Weekend Blend. (Ireland's World Cup qualifier in Croker that evening clashed with the popular television show.) I told the producers that I find the whole X Factor phenomenon so monumentally stupid, I wasn't prepared to waste my breath even slagging it off. Just as well I did too, or I'd probably have been accused of intellectual snobbery by Sarah Carey in the Irish Times today. The second reason, which I didn't mention, was that I don't consider myself a true Irish soccer fan. Not really. I mean, I watch all the matches. I know all the players. But I don't spend weeks on tenderhooks in advance of a big match. I don't sink into a depression when results don't go our way. That was once the case, of course. But after Ireland let slip a 2-0 lead – and with it our chances of World Cup qualification – against Israel in Landsdowne Road in 2005, I allowed my ardor to wane a little bit.
There was heartache enough, I reasoned, in being a Mayo football fan. That couldn't be helped. That was in my DNA. But this… This was an extra dose of misery I would be better off without.
Just when I thought I was out though… etc. etc. Tonight, Giovanni Trapattoni's side were magnificent. And I couldn't help but get caught up the drama. I jumped for every cross, lunged for every tackle and (like the rest of you, I suspect) stared in utter disbelief as a player I had previously considered one of the classiest in the game, sent us packing with one of the most egregious acts of cheating I've seen this side of an Afghan presidential election.
There's no justice for the little guy, it's true. But then the more perceptive among us would have deduced as much long ago. I'm not going to tear (what remains of) my hair out, whinging about something bullshit football result I cannot change. Instead I'll take what small modicum of revenge is mine to take and then get on with my life. Poland/Ukraine 2012 (dramatic, unjust exit from) – here we come!
P.S. For what it's worth, Le Monde says Ireland were "far more deserving of the precious sesame [of qualification for South Africa]…"
November 19th, 2009.