Published: Irish Times, November 15, 2008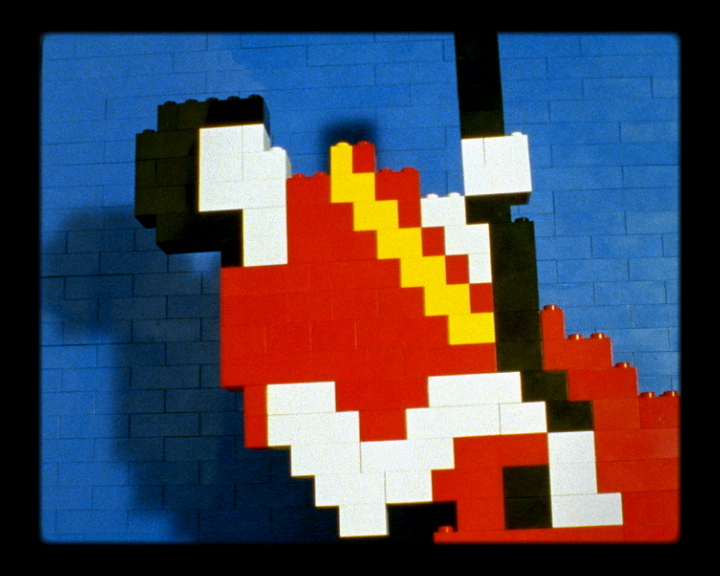 FOR YVONNE DOYLE, it was love at first sight. When the 34-year-old computer programmer from Raheny first locked eyes on fiance Pete Reid at a convention in Glasgow in 2004, the foundations for their subsequent relationship were already set in plastic. Acrylonitrile butadiene styrene, to be precise. "The line we always tell people is that our eyes met over a pile of bricks," she laughs. "But actually it was across a table of robots Pete had just built." The couple (now settled happily in Essex) are among the millions worldwide who share a enduring love for all things Lego.The perennially popular children's toy celebrates its 50th birthday this year. But the patent for its iconic 2×4 stud brick has already expired. This week an EU court ruled that rival companies can continue to manufacture compatible copycat bricks, dismissing a case taken by Lego against Canadian manufacturer Mega Brands, makers of Mega Bloks. The Danish giant, Europe's largest toymaker, has vowed to appeal the decision. But whatever the outcome, it is unlikely to spell the end for the widely acclaimed "Toy of the Century".
The Lego Company was founded by Ole Kirk Christiansen, who was born in Billund, Denmark in 1891. The 13th son of an impoverished family, Christiansen was a carpenter by trade. In the 1930s, he began creating wooden children's toys in his workshop, calling his company Lego, from the Danish leg godt (meaning "play well"). But it wasn't until his son Godtfred purchased a patent for interlocking plastic bricks that the family's rise began in earnest. Simple, colourful and durable, the 2×4 brick was perfected by Lego in 1958 and quickly became the cornerstone of a toy empire.
The genius of the design was that Lego bricks held together firmly, but not too firmly so that a child could not still break them apart. But the toy's real advantage was (and remains) it's amazing utility. Lego enthusiasts recently calculated that six basic bricks can be arranged in a grand total of 915,103,765 unique arrangements.
"It's so versatile," Yvonne Doyle says. "You can follow the instructions if you want. But you also experiment and come up with something that's completely your own."
The toy's impact upon first release – across Europe and further afield – was instantaneous. Within a decade, a Legoland theme park in Denmark had opened its doors to visitors. The success of that venture paved the way for further theme parks in England, Germany and the USA. The much-loved Lego minifigure (or "Lego man", as he's better known), meanwhile, made his debut in 1978.
Today, plants in Denmark and the Czech Republic churn out 600 bricks per second – amounting to an astonishing 20 billion pieces per year (Lego believes that there are already 61 of its bricks for every single person on earth) – and Ole Kirk Christiansen's grandson Kjeld is Denmark's richest citizen. A dizzying array of Lego play sets currently on the market incorporate everything from generic themes (pirates, scuba divers, the Wild West) to tie-ins with lucrative entertainment franchises (Star Wars, Harry Potter, Sponge Bob Square Pants).
But, for many people, the appeal of the toy does not end with childhood. When the 50th anniversary of Lego was celebrated across the world this year, it was adults rather than children who clamoured to the fore. Rival cities jostled to build the world's largest Lego tower, with Vienna last month breaking the previous record set in May. (The Viennese effort stands an impressive 29.49m tall and is comprised of over half a million bricks.) Elsewhere, adults competed to build the widest Lego bridge, the largest Lego statue and the longest Lego train.
FOR YVONNE DOYLE and Pete Reid, Lego has certainly remained a major part of their lives well into adulthood. "We build together most weekends now," says Pete. "The biggest thing I've built by myself is a four-foot-long spaceship. But we've made bigger things than that together and with others."
Spaceships and monsters are clearly Pete's speciality, whereas Yvonne opts for Georgian-style townhouses and model villages. Asked to explain the enduring popularity of Lego, Yvonne credits the company with listening to its customers and developing an array of products to suit every interest and age group. "Definitely the fact that they've evolved over the years has helped," she says. "But the truth is that it was a very, very high-quality toy to begin with."
Another Irish member of the Brickish Association for Afols (Adult Fans of Lego) is 38-year-old James Shields from Drogheda. Like Yvonne, he is an IT professional who drifted out of the hobby in his teens only to re-engage with it with a passion in his 20s. Asked if there are many other adult enthusiasts in this country, he points out that, in contrast to elsewhere in Europe, Lego here is often a solitary vocation.
"It's not a very social activity, so a lot of people wouldn't actually be interacting with other people in the hobby." He says that he is currently in the process of setting up an Irish organisation for adult Lego enthusiasts and points to the internet as the best way to proceed. "[It] has opened up a lot of communities where people share the same interests and Lego is no exception."
Indeed, it was the internet, viral e-mail and YouTube which showcased the explosion of a whole new genre of Lego-inspired art in the middle of this decade. Inspired by Michel Gondry's Lego-themed video for the White Stripes' Fell In Love With a Girl (2002), Lego enthusiasts the world over went online to indulge their oddest whims. The results ranged from the sacred (The Brick Testament, which illustrates over 200 stories from the Old and New Testaments) to the profane (tiny Lego men rolling a giant marijuana joint). Elsewhere Lego men re-enacted everything from Shakespeare to Eddie Izzard stand-up routines and inevitably – this being the internet – pornography.
Famous artworks weren't safe either. Eric Harshbarger earned $800 for his rendering of the Mona Lisa in Lego; artists Darren Neave and John Cake recreated more complex pieces including Tracey Emin's My Bed and Damien Hirst's Shark for their London exhibition. Manchester City fans recreated the club's demolished Maine Road stadium out of Lego. In one of the most imaginative stunts, tiny Lego eco-warriors scaled the replica Kingsnorth Power Station in Legoland Windsor this summer to unveil a mini-banner that read "Stop Climate Change".
With their clunky shape and deadpan facial expression, it seems that there is no subject matter that little Lego men cannot render instantly hilarious.
Polish artist Zbigniew Libera's provocative Lego Concentration Camp (1996) proved there was an exception to that rule. The Lego Corporation allegedly gave the artist free pieces to work with, without properly understanding what he intended to do with them. Inevitably, the artist was accused of attempting to trivialise the Holocaust and Lego was forced to make clear that it did not endorse the artwork.
What's perhaps most incredible in all of this is that the same standard brick design has been common to these myriad uses. A piece of Lego sold in 1963 will still fit together with one of this year's Bionicle-series robot figures. And this is where the trouble starts. All of Lego's original patents have now expired. In 1999 the company succeeded in registering its distinctive block size as a trademark with the EU trademark agency. But in 2006, Canada's Mega Brands successfully challenged that decision and this week that decision was upheld. Lego's argument is that the knobs on the tops of its bricks are "highly distinctive", thus rendering them eligible for a trademark. However, the court has ruled that, unlike the Nike swoosh, say, or the McDonald's golden arches, the holes and studs in a Lego brick do not constitute a trademark. They were not developed in order to distinguish Lego from its competitors, but rather to resolve the technical problem of how to stick two bricks together without glue. The relevant patents now expired, the court ruled, other manufacturers should be allowed to market clone brands.
So does this spell disaster for the toy manufacturer? The company itself doesn't think so. Marko Illinic, managing director of Lego UK, says the company is disappointed with the decision, but that it was not totally unexpected.
"We will appeal," he says, "and we expect to get the right result at the EU Court of Justice." If Lego fans across Ireland and the UK are aware of the judgement, they, too, seem unruffled by it. On the evening it was delivered the only topic of conversation on one Lego forum concerned the availability for purchase of the personalised UK number plate L111 EGO.
IRISH LEGO FANS SEEM equally unperturbed. James Shields welcomes the ruling, saying that it is good to see any monopoly ended. But so far he hasn't been impressed by any of the clone brands. "I haven't found any other manufacturers who have the same . . . quality control that Lego do. If your blocks are out by a fraction of a millimetre then, over the length of a hundred bricks, that can become quite a significant factor. Most Lego fans would steer away from clone brands for that reason."
Yvonne Doyle, too, says that she has never been tempted to pad out any of her work with cheaper bricks. "The quality is never quite as good and they never fit together quite as well. They always use inferior plastic."
Would a more casual hobbyist be tempted by Mega Bloks' cheaper prices? "Probably. Some kids will want Lego for Christmas and the parents might say 'Well, look you can have the Mega Blocks because [they don't] cost as much.'"
The only question left to be answered, then, is whether guests can expect a Lego motif at her forthcoming nuptials. She certainly hints as much. "There'll be no shortage of confetti anyway," is as much as she'll say.
LEGOMAN: CV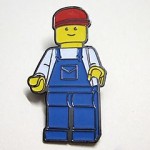 Who is he? Lego Man
In the news because: Has failed in a legal bid to prevent rival toy manufacturers copying his famous bricks
Most appealing characteristic: The undisputed master of deadpan
Least appealing characteristic: Not much goes on behind those tiny beady eyes
Least likely to say: Where's the jacks?
Most likely to say: Sure, I'd forget my head if it wasn't attached
October 21st, 2009.