* blog post may contain strong language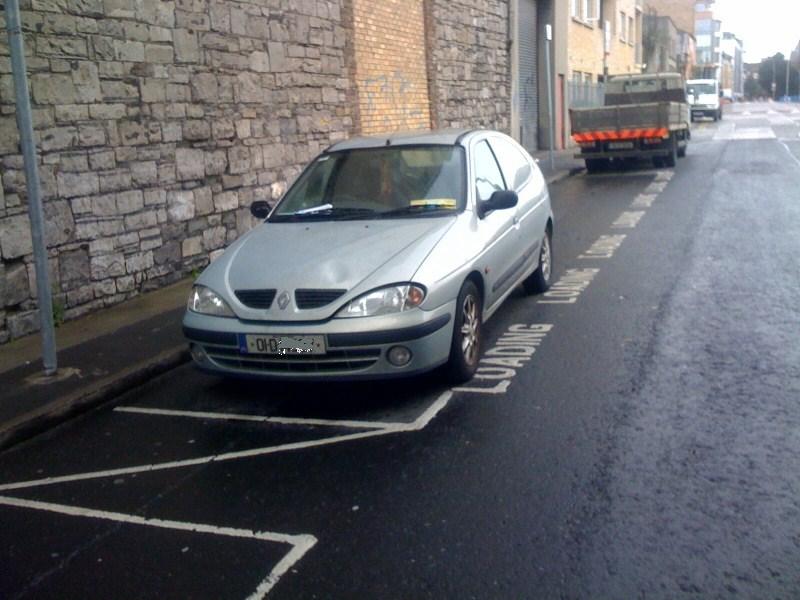 I'm pretty sure I know who clamped me this afternoon. He's an Irish guy in his late forties or early fifties and I believe he spotted me in traffic and followed me to settle a score. This was my third run in with him this month and, at this stage, what he's doing to me seems pretty close to harassment.
Both of the lorries visible in the background of this picture are illegally parked on double yellow lines and have been left unmolested. My car (yeah, I know, the chicks go crazy for it) has been parked in a loading bay, which it is entitled to be, for two minutes longer than the 30 minute limit and has been clamped while I'm visiting my sister and her child. This loading bay is right outside my sister's house. The guy clocked me parking it at 1.02pm and either came back or hung around for half an hour and clamped me at 1.34pm. I'd been two minutes longer than I should have been, during which time I've inconvenienced absolutely no one. No one uses that loading bay. There are no other vehicles parked – legally or illegally – within 200m.
A bit of background. The first time I bumped into this clamper was about a month ago. I was sitting in my car in the loading bay outside the post office just off Trinity Street. I'd just been in on the Tom Dunne Show, and was about to drive to Dundalk for an interview. This clamper came up and tapped on the window.
"You've been there over half an hour", he says. "We clocked you here at 9.13am it's now 9.45am." "Well I'm back now," I shrugged. The unspoken subtext being so you can fuck off. But I was polite and didn't fill in the blanks.
But yer man wanted to have a hat. "I know that car," he says. "You park it around town a fair bit." I agreed that, yes, I do park my car around town from time to time. "We've clamped ya a few times, haven't we?" he says, with a kind of a sly smile on his face. I conceded that, yes, I had been clamped on more than one occasion and that, while it would be nice to sit around and reminisce, I had other engagements.
Well, I might have been a little bit more blunt than that. But, fuck it, I would presume he's aware that his is not the most popular profession in the world.
Anyway, the next time I ran into him was about two weeks ago (see comments). I'd only been parked about ten minutes this time, but apparently the loading bay had ceased to be a loading bay at noon and I was out by about five minutes. He'd actually just fitted the clamp. I'd arrived on the scene just too late to stop him and he took obvious pleasure in that.
Well, as they say, we had a full and frank exchange of views. Some dodgy guy on a bike subsequently came along and offered to take the clamp off my car for fifty quid. In retrospect, I really, really wish I'd taken him up on that offer. It would have been nice to see the money go to the more respectable professional.
Today, what happened was that I was just back from that floating retirement home on the Bay of Biscay (whole other story there) and was heading in to have a quick bit of lunch with my sister and her kid. I think he spotted me on the road and followed me to her apartment. To be honest, it's such an out of the way spot, I've frequently parked it there for 24 hours at a time without a problem.
On this occasion, there was absolutely no way I was paying up. I rang the clampers office, but they said that the only complaint mechanism they had was for me to pay the eighty euros up front and then write a letter of complaint to some jumped-up admin gobshite in their complaints section and beg for my own money back. Well, fuck them and fuck their mothers.
I went over to the Bridewell and told them I was being harassed, that this was extortion and I wasn't paying up. Well, I've dealt with the guards enough times to know what kind of a response I could expect. But the guy did at least manage to spring one dick-ish surprise before refusing to help. He said that, since I was visiting my sister and not delivering goods, I wasn't even entitled to park in the loading bay in the first place.
Well, if that's the law, it's news to me. I pay for commercial tags so I can park in loading bays. Anyway, I told the guy I'd brought my niece a gift and that's I was there to unload. But he just reverted to the standard garda line that there "was absolutely nothing he could do to help me".
Coming from this guy, I actually believed it. Kind of a redundant statement there, Seamus. Ah Jesus, I'm too angry right now to know what I'm going to do. But this definitely means is war.
August 31st, 2009.