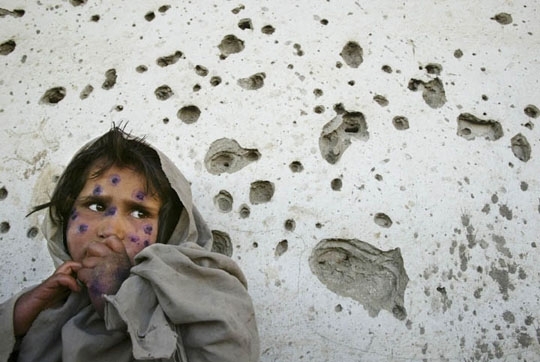 The phrase 'fog of war' has a double meaning. Ostensibly, it refers to the confusion that reigns among combatants on the ground in the heat of battle. Errors are made, lives lost or advantages squandered as a result of commanders miscalculating the strengths and weaknesses of their own position relative to that of the enemy.
But the expression can also refer to the manner in which events in war sometimes escape scrutiny from the outside world: whether through rising plumes of dust and smoke, a lack of proximity to the battlefield, the lethargy or obsequiousness of the media or the indifference of the general public. Just about all of the factors listed above contrived to allow two atrocities by the U.S. army, one in Iraq and the other in Afghanistan, slip by almost unreported until an enormous quantity of new evidence was published by the Wikileaks website this week.
The first, which you've surely heard about by now, took place in Baghdad in 2007, when twelve Iraqi civilians, including two Reuters employees, were shot dead by troops firing from an Apache helicopter.
The second, and to my mind much more shocking, incident took place in a village in the Paktia Province of Afghanistan in February of this year. I'm not going to offer a pithy synopsis. Read Glenn Greenwald's piece – it's fucking shocking. (Thanks to Davin O'Dwyer, incidentally, for bringing it to my notice!)
In both instances, what might (charitably) be termed 'mistakes' by individual American forces were followed up by massive official cover-ups. As Greenwald points out, countless official lies have already been exposed in these wars: from Jessica Lynch's heroic firefight in the early days of the Iraq war, to Pat Tillman's supposed death by Al Qada guns in Afghanistan.
Why, then, does the Pentagon continue to peddle in them? Presumably because, most of the time, they get away with it. Indeed, if the history of America's involvement in Vietnam is anything to go by, it may well prove that it is in the latter years of these conflicts, when the public's attention has drifted elsewhere, that the worst outrages will later be fond to have occurred.
The Vietnam analogy might seem a facile one. But when ordinary Iraqi civilians, in their own country, going about their own daily lives, can become "anti-Iraqi forces" at no more than the say-so of a trigger-happy helicopter pilot and obliterated accordingly – is the analogy really so far-fetched?
April 8th, 2010.