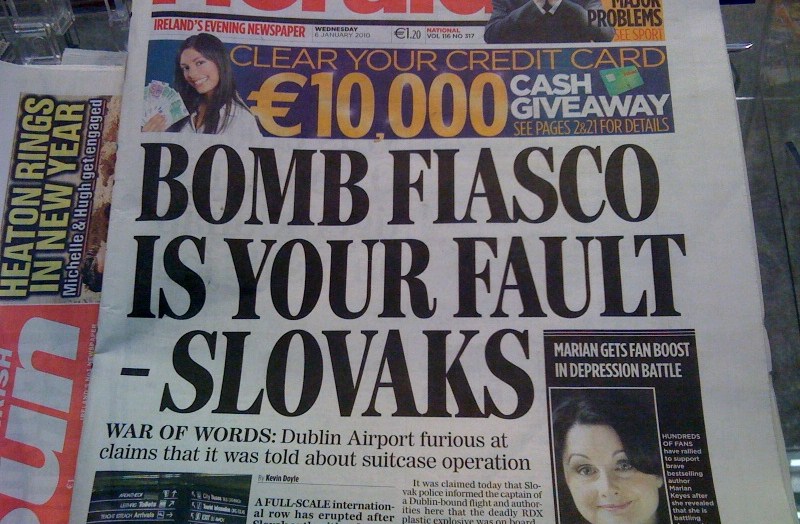 Just to recap. The Slovaks dupe some innocent punter into smuggling explosives into Ireland, potentially endangering, I dunno, some lives. Then they forget to mention anything about it for a few days. Now they're insinuating that the whole imbroglio is somehow our fault. If that's the way you want to play it, Slovakia, fine. No skin off our noses. But know this: you've made a powerful enemy this day.
This isn't Iceland you're messing. Do you even know what happens to countries who mess with Ireland? Didn't Slovenia or someone pull you aside, try to talk some sense into you? They didn't. Well, that's unfortunate. Because you're now going to suffer the consequences of Ireland's wrath. What are we going to do about it? I'll tell you what we're going to do about it. Nothing at first. We've just had about two inches of snow here. The country is in a state of national crisis. But once this whole miniscule amount of snow thing clears up, we're going to launch a no-holds-barred investigation. And once that's completed, we'll publish a motherfucking report. And in that report? Oh you know we're gonna include some stringing criticisms of your handling of this affair. That's right Slovaks, not so smart now, aren't you?
And if you've got a problem with this? Well then we'll probably backtrack and just say it could have been handled better on both sides. And if you've still got a problem? Well, we'll stand you a round of drinks and give you twelve points in next year's Eurovision, just so there isn't any bad feeling. Why? Because that is what happens, Slovakia, when you mess with us.
January 6th, 2010.