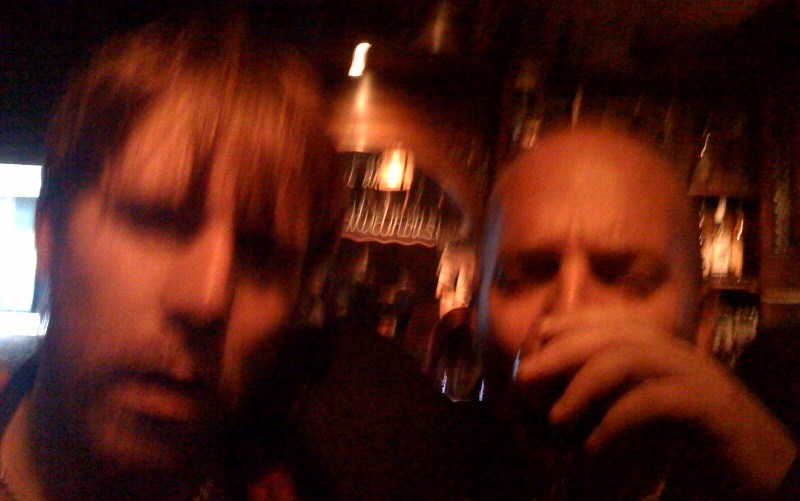 This night last week I was on the lash in Dublin with Eddie, Buzz and Boo from the Hardy Bucks, celebrating RTE's decision to commission a second series.* (And that's before we even know if the first one is any good!) Two days later I was in Dingle, interviewing actor Aidan Gillen about his upcoming series Love/Hate. One of these encounters was wild, raucous and thoroughly enjoyable. The other was stilted and kinda awkward. You'll have to guess. I'm not going to say. According to Martin Maloney, who plays Eddie Durcan, the suits in Montrose were pleased with the Hardy Bucks feature I'd done in the Irish Times. He reckoned that might have been a factor in their decision to recommit. I sincerely doubt that it was, but his theory was flattering enough to me that I'll repeat it here anyway. The next day around noon, I woke up with an extremely sore head and an email from the Guardian asking me to write about Conor Lenihan.
I got my shit together long enough to do that, but by then I'd missed the train. Now regular readers may know that – due to an ongoing vendetta between the clampers and myself – I sold my car to a Nigerian guy for €50 back in March. (Incidentally, he told me the car was broken up for scrap, but I still get bills for tolls on the M50 which I don't pay.) I was left with no choice. I had to borrow my sisters car without her knowing.
Dingle ended up being a 500 mile round trip. I didn't land in the hotel until the early hours of Thursday morning. Now I had intended to watch all four episodes of Love/Hate on my laptop before going to sleep, but they were each an hour long, so I only got through two and a bit before nodding off. If the series ends in nuclear holocaust, I'm going to look like an idiot. I can live with that.
At 10am, Gillen arrived at the hotel in his 1992 BMW to bring me to his house. When he rang to tell me he was outside, I was still in the shower/bath and slipped on a bar of soap landing awkwardly on the tiles of the bathroom floor. When I told him I should have one of those beeper things like my granny has, he laughed heartily at my misfortune. So never let it be said that Tommy Carcetti has no sense of humour. (I got an alarmingly massive bruise in the process by the way, but my friends think it's kinda sick looking and I shouldn't be showing it to people.)
I was too tired to face the drive back to Dublin that afternoon, so I crashed with a very good friend of mine in Limerick. He and his mates were taking part in a table quiz at Young Munster rugby club that night and they were a man short. When we won by an ostentatious margin, some of the Young Munster people suspected us of being professional table quiz sharks. If only they knew.
The next morning while my Conor Lenihan story was racking up 211 comments on the Guardian, I was eating a breakfast in my sister's car outside Texaco in Toomevara.
P.S. The only quiz question I remember now asked which of the following cities is furthest north in latitude: Warsaw, Dublin or Vancouver?
Your answers please!
* N.B. I've since been informed by the producer of the show that a second series has gone into development but hasn't actually been commissioned yet.
September 21st, 2010.