Published: Irish Times, May 1 2009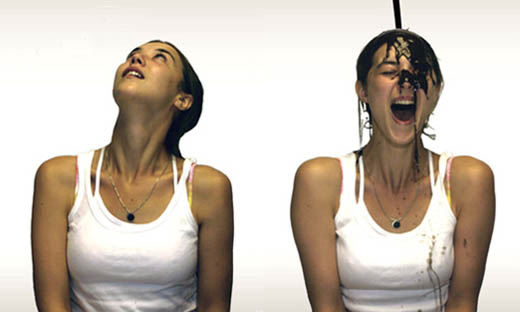 IT'S A GORGEOUS Monday afternoon; one of those rare, life-affirming days in the early summer when the world, however fleetingly, appears vibrant, green and new. But at our table in a bustling Italian restaurant on the banks of the Grand Canal, Lisa Hannigan isn't brimming with the joys of summer just yet. She's anxious that if she orders food, she may accidentally spill something on her blouse. (There is a photo shoot to follow.) She's anxious that if she doesn't eat, the restaurant may want the table back. But for the most part, she's just anxious about where I might be going with my opening question.
There's no point in ducking the issue, I tell her. His name is bound to come up sooner or later. So we may as well get it out of the way to begin with. I want the plain, unvarnished truth here. What really happened between her and Stephen Colbert? The 28-year-old singer breaks into a delighted smile. I'm referring to her recent appearance on the highly rated US television show The Colbert Report. "It was an amazing experience," she swoons. "I was so excited to be asked."
This is Lisa Hannigan's peculiar charm: outwardly shy and awkward, there lurks behind that facade an endearing innocence and almost childlike glee. Growing up in Kilcloon, Co Meath, she was quiet and bookish. As a teenager, she auditioned for parts in musicals but only managed Second Urchin in a school production of My Fair Lady. It wasn't until she met Kildare singer-songwriter Damien Rice, at the age of 18, that her extraordinary vocal talent was revealed.
The pair recorded two successful albums and toured the world together to some acclaim. But their professional partnership ended in March 2007, when Rice abruptly fired Hannigan, midway through a European tour.
"I suppose it was coming for a long time," she says of the break-up with Rice. "I had become pretty outspoken about my frustrations at the direction the band was going in, and I'm sure he was starting to find me a pain."
The ending, when it came, was still a shock. Backstage in Munich before a gig, Rice bluntly informed Hannigan that they would no longer be working together. While the rest of the band went ahead with the show, Hannigan returned to the dressing room alone to be comforted by members of support band The Magic Numbers. The next day she flew to New York where she spent a week walking the streets, slowly coming to terms with what had happened.
Was she hurt? "Of course. We'd been working together since long before there was any record company, long before he'd done anything. So I was loyal." She says she's happy now, though, that it happened when it did. "Not in the way that it did. But I am glad that I got that push." Would she have left of her own volition if Rice hadn't fired her? She shrugs. "Hopefully, I would have left by now. But who knows?" And has she had any contact with Rice since Munich? She shakes her head firmly. "None."
Back in Ireland, the reaction of many when they heard the news was: finally. There'd been talk of her doing a record on her own for years. Now she had no excuses. "It's been weird," she says of the transition to solo artist. "It's been very nerve-wracking." As difficult as standing up onstage for the first time? "More so," she replies. "With Damien, I could stick my thumbs in my waistband and just stand there, like a Thunderbird or something," she laughs. "Now I'm always terrified because, if somebody breaks a string, or someone in the audience yells something out, I'm the one who has to say something."
Hannigan's debut album Sea Sew, released last September, didn't disappoint, earning best album nominations at the Meteors and the Choice Music Prize, and attracting favourable critical notice in the Los Angeles Times and the New York Times. With her own band now accompanying her, and several successful tours under their belt, her erstwhile collaborator has become a rapidly diminishing figure in Hannigan's rear view mirror. But for all of her recent triumphs, there's one particular highlight that stands out.
"Doing The Colbert Report was just the best thing ever," she admits with justifiable pride. It's not just the show's cachet which is impressive (senators, congressmen, admirals and generals are frequent guests). There's also the fact that it isn't actually a music show at all. Unlike its major network rivals, such as The Tonight Show with Jay Leno and Late Night with Conan O'Brien, where Hannigan had already performed to much bigger audiences, Colbert's show is not a regular stop-off for musicians at all. To date, only a handful have ever been invited to appear. And the ones who have – Neil Young, REM and David Byrne among them – tend to be well established artists and personal favourites of the host.
As it happened, Colbert had come across a video that Donal Dineen shot of Hannigan and her band performing her composition I Don't Know in a pub in Dingle. He insisted that his producers book her on the show. At the taping, the host even broke character (he plays a gormless, right-wing blowhard in the vein of Fox News' Bill O'Reilly and Sean Hannity) to urge his fans – the so-called "Colbert Nation" – to buy Hannigan's album. "I'm not sure if I'm supposed to say this," she smiles, "because I know he plays that character and he mightn't want people to know. But he's actually a really, really lovely guy."
She's currently sewing the host a thank you note. (On the show, Colbert teased Hannigan about was the fact that she sewed the cover, lyrics and liner notes for her album. Did she sew her instruments, too? he asked.)
Hannigan has said that she wouldn't be comfortable revealing too much of herself in her songs. I tell her now that I think the song she performed for Colbert reveals more about her than she thinks. I Don't Know is about someone who observes another person on a train or in a restaurant, and invents an entire life story for them. A misanthrope wouldn't care about this other person, I tell her. A gregarious person would engage them in conversation. Only a shy person would wonder but not ask.
"I suppose you're right," she says. "That song is about how we can sometimes construct a whole world out of very little information." I ask if she ever considers calling the girl who played Eliza Doolittle in their school musical and saying, "So, I was on Colbert (or Leno or O'Brien) last night!" She laughs and says that she will do some day, but it's obvious she would never think such a thought, let alone act on it.
She has an Irish tour coming up in July followed by another appearance at the Electric Picnic in September. She also has plans to run the Dublin marathon in the autumn. I ask if she still gets nervous performing on stage. "A little," she concedes. "But there was a point a few years ago when I wasn't nervous at all when I performed, and I remember thinking that it probably wasn't a good thing. Because if you're not nervous, then you're bored. And if you're bored, you might as well not be there."
[Irish Times magazine cover story from back in May, reprinted here to celebrate her Mercury Prize nomination. A couple of weeks after this piece was published, my then girlfriend and I found ourselves in the next booth to Lisa in the Palace Pool Hall on Camden Street in Dublin, very late on a Thursday night. She doesn't strike you as the pool shark type, but there you go. Incidentally, the original headline when it appeared in the magazine was "Hannigan Shenanigans" – most definitely not my choice.]
July 22nd, 2009.