oh shit, he's on the wrong side of the road - get out of the way!*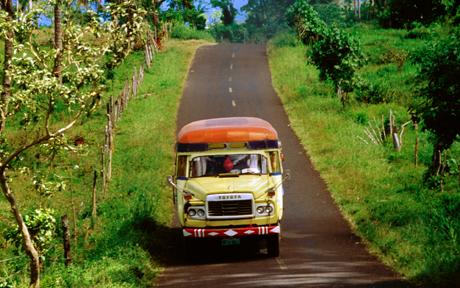 I must say that I'm really fascinated by the road traffic switchover currently underway in Samoa. This is the first time such a move has been attempted in my lifetime, although similar switchovers have apparently been done in the past in Nigeria, Ghana, Yemen and Okinawa.
The rationale behind the decision seems sound enough (cheaper car imports), but the logistics are mindboggling: A two day public holiday, reduction on the speed limit and three day ban on the sale of alcohol. The Congregational Christian Church of Samoa has held prayer sessions for an accident-free changeover, while Samoa's Red Cross carryied out a blood donation campaign in case of a surge of accidents.
So far, everything seems to have gone smoothly. But this Australian expert reckons there may be trouble ahead…
[* Yes, I know Lilt was supposed to be Jamaican. But you try writing these captions!]
September 9th, 2009.