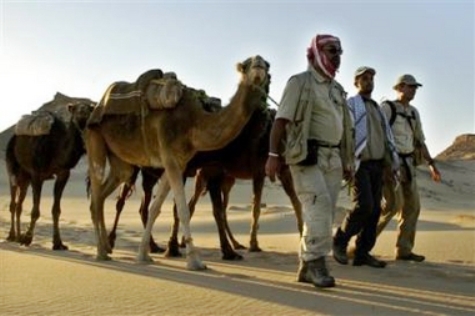 Remember Latif Yahia? Iraqi army captain, worked as Uday Hussein's body double, escaped into exile, took a policeman hostage, punched a judge, torched a refugee camp, married an Irish woman, got into a beef with Michael McDowell and posted some fucking scary messages on this blog… Yeah, that Latif Yahia.
A $20m biopic based on his book I Was Saddam's Son is about to go into production, starring Dominic Cooper (Mama Mia, An Education.) And the film's director has a pretty colourful back story all of his own…
Mamma Mia actor Dominic Cooper is set to take on the lead role in The Devil's Double, the true story of Latif Yahia, a former schoolmate of Uday [Hussein]'s, forced to served as the latter's public stand-in… Director Lee Tamahori (Once Were Warriors, Die Another Day) is due to call the shots on a scheduled January shoot, and Molière actress Ludivine Sagnier looks set to sign on as Cooper's co-star. Michael Thomas, scriptwriter for Backbeat and ancient Matthew Broderick fantasy Ladyhawke, has penned the screenplay, based on the dual tomes by Yahia, I Was Saddam's Son and The Devil's Double.
That's the same Lee Tamahori, incidentally, who hasn't made a film since being arrested for offering an undercover cop oral sex on Santa Monica Boulevard in 2006, whilst dressed in women's clothes. (That this is actually the second instance of crossdressing in the Yahia saga is all you need to know about this utterly bizarre story…)
Meanwhile, last we heard of Dr Yahia himself he'd turned his back on Ireland for a new life and a fairer crack of the whip in Cyprus. How's that working out? Well, according to the Cyprus Mail, he's about to face a human trafficking charge over there:
Suffice to say Latif isn't happy here; he loves the people, but the system – he says – has cheated, humiliated and wronged him. The bureaucracy is stifling – and racist. "Everywhere I go, they say 'You are not Cypriot'. I say, 'So f**ing what? This is Europe!'". No-one seems to be accountable, no-one listens if you try to complain. A court case is pending, accusing him of human trafficking, a charge he strenuously denies. "I was in prison here for eight days," he recalls. "I saw things, I can't believe I am in a European country. [It's like] I'm living in Iraq!"
Plus ça change, plus c'est la même chose. Eh, Dr Yahia?
November 11th, 2009.