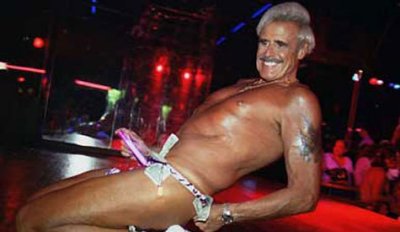 Received an interesting phone call last Friday afternoon. A club owner I know, a good guy, got in touch to let me know that he's started putting on a regular burlesque show. "There's been a real upsurge in the number of male burlesque performers lately," he said. "And, well, you can probably see where I'm going with this…" I told him that, no, I had absolutely no idea where he was going with this. So he spelled it out for me and I listened. Well, lets just say, the phrase 'rolling on the floor laughing' gets bandied about a lot these days. But, for once, I think it genuinely applies here. Bent double in my kitchen, it would probably have appeared, to a nosy neighbour, that I was having a seizure. Luckily, I composed myself long enough to request that he submit the idea in writing for my consideration. Because I reckoned no one would believe me otherwise:
From: [club owner]
to: Eoin Butler
date: Tue, Feb 9, 2010 at 5:15 PM

Hi Eoin,

Thanks again for taking my call last week. Here's a recap on what we were discussing.

We have a monthly burlesque event on here called the… There are quite a few other events of that style that take place, but this is the most consistent and most popular.

It dawned on me then that we could put together a great piece… where a male journalist (your good self)… could undergo some training in one of the Burlesque schools and then give a performance here.

The performance options are limitless. To begin with, it should be pointed out that the performances do not need to entail the removing of clothing. There are many acts who would instead do something more comical or theatrical and still go down very well. You could perform as a drag queen, with a female journalist perhaps performing as a drag king. There are many fun ways we could approach it.

If you have any questions whatsoever, give us a hollar.

Many thanks,
Sadly, I had to decline this exciting offer. I may not believe in God or anything, but I'm still a Catholic boy at heart. And besides, the world just isn't ready. Believe me, the world just isn't ready for what I got going on…
February 10th, 2010.