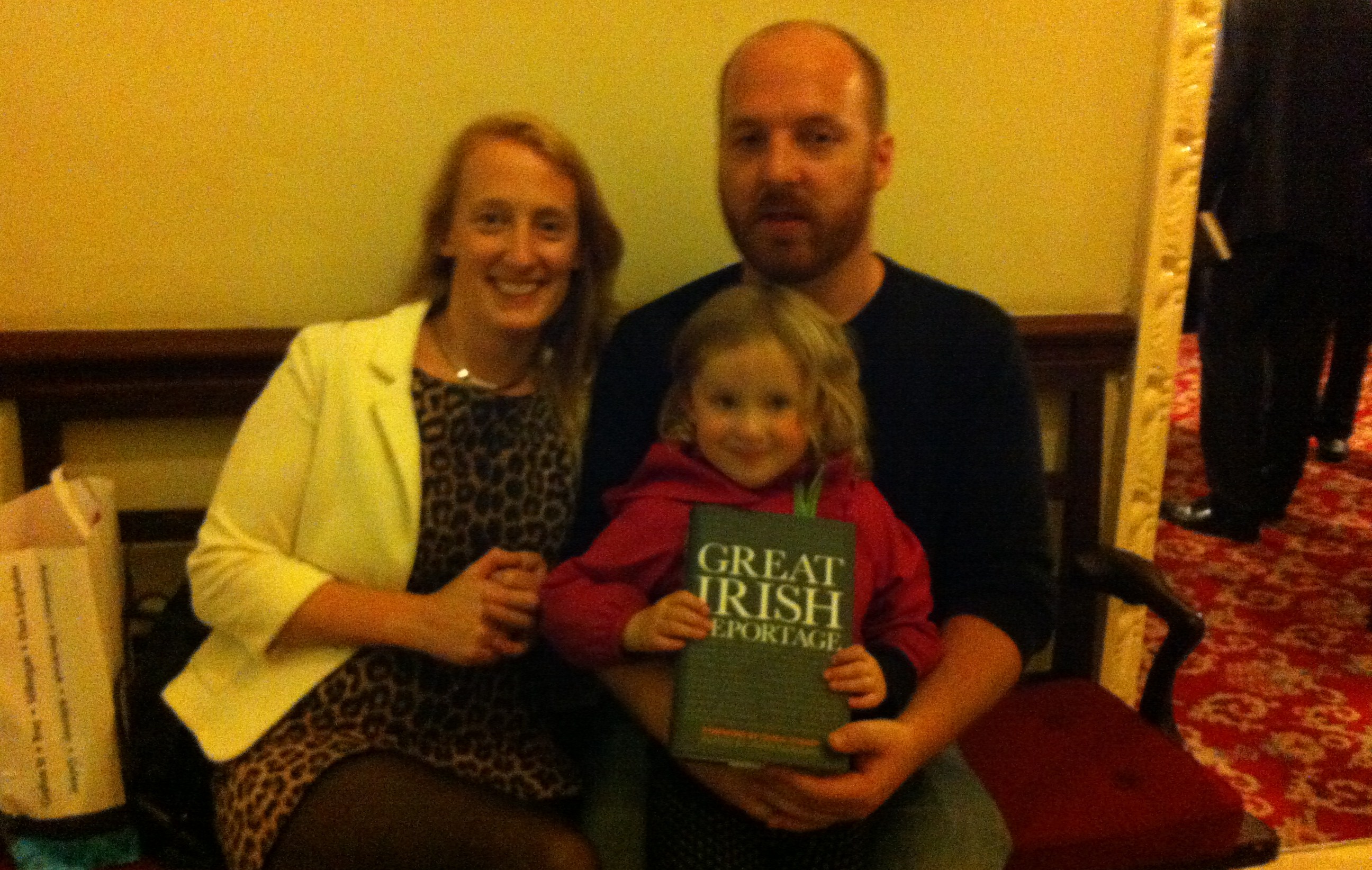 I was flattered to be included in Penguin's collection of Great Irish Reportage, published last week. Not that you'd guess so from the above picture.
I had been trying to appear casual at the launch. As though my writing gets included in anthologies alongside Flann O'Brien, Fintan O'Toole and Conor Cruise O'Brien all the time, and I wasn't particularly phased.
So one of my sisters taking flash photographs kinda risked botching that whole operation.
The piece selected, For God & St. Patrick, originally appeared in Mongrel magazine in September 2007. It's about religious observance in Co. Mayo. If you have a minute, I'd like to relate a little (EDIT: actually a long bit) about how that article came about. I spent the mid-2000s dying a slow death in menial, go-nowhere office jobs I truly fucking hated. It was Sam Bungey and Yousef Eldin at Mongrel who threw me a lifeline.
The magazine couldn't afford to take on a full-time writer. But they came to me with a novel idea. I would become their full-time writer, slash part-time delivery man. As well as filing stories, I would deliver 35,000 copies of the magazine to shops and universities around the country each month.
(It wasn't actually that many. They told our advertisers it was, but it wasn't. I can't remember the exact figure, but it was still a very large number.)
Financially, this must have been a gamble for them. Mongrel was a top class publication, an early outlet for writers like Mark O'Connell, Larry Ryan and Jamie Hannigan, as well as photographers like Linda Brownlee, Rich Gilligan and Ross McDonnell.
But it went out of its way not to make friends or influence people. It was bare bones operation whose budgets were always miniscule, bordering on non-existent. I warned the lads that I'd never driven in the city and didn't even have a valid provisional licence. They didn't mind, so I accepted.
Within a week of my taking up the job, events in my own life intervened. My father died unexpectedly and I left Dublin in the middle of the night, not to return for several weeks.
The December '06 issue of the magazine was ready to ship. Yousef told me not to worry, he'd take care of it. He'd hire someone else to handle the deliveries that month and still pay me a full first month's salary. That must have cost him a tonne of money he couldn't afford. But he never said anything to me about it and I'm not sure I ever even thanked him.
My mother was a national school teacher. And at the time, none of my siblings lived in Mayo. In the months that followed, we made sure at least one of us was at home to keep her company every weekend. The summer months when she would be on her school holidays, however, posed a slight logistical challenge.
My job allowed me a little more leeway than my three sisters' jobs did, so I pitched Mongrel editor Michael Freeman a story about religious observance in Mayo. Truthfully, it was just an excuse to spend time at home with my mother.
All of the events mentioned in that Great Irish Reportage piece, from climbing Croagh Patrick, to attending the Knock Novena, to hillwalking in the Doolough Valley, were just things I could do with her during the summer that I knew she would enjoy.
She's not mentioned in the article, but she was there with me, and the photographer Jonny Savage (who she took to immediately), for almost all of it.
At the height of the Celtic Tiger era, there wasn't exactly a groundswell of demand for articles about mass rocks, ancient superstitions or local famines. And Mike must have suspected I had an ulterior motive in pitching the idea. But he commissioned it anyway, and gave me a lot of valuable feedback while I was writing it, as he always did.
My socks were wet at that book launch Thursday because my runners are leaking water and I can't afford to replace them. So fuck it, I'm under no illusions here. But I know I owe all of those guys a debt of gratitude – and for more than just the opportunities they gave me.
I had worked for another Dublin "alternative" publication before Mongrel. The (Irish) editor of that magazine once invited me to a house party he was throwing on the strict condition that none of my friends were allowed to attend.
He had no reason to believe my friends, who'd never met him, would want to go to his party. I got the message though and, needless to say, I didn't go.
Yousef, Sam and Mike all grew up outside of Ireland. It was their friendship and genuine curiosity that made me realise some things I had taken as given all my life might be of interest to a wider audience.
Sam in particular, spent many, many hours with me, in the office, in the pub, or over Gmail chat, interrogating me about wakes, and corpse houses, and the GAA, and (his personal favourite) why people occasionally called me Eoineen.
Things that were banal and commonplace to me, and virtually everyone else I knew, became exotic and exciting and absurd when suddenly I was able to view them through his eyes. So even though Sam had left Ireland by the time the God & St. Patrick piece was commissioned, he probably more than anyone else influenced my writing it.
So in this tiny window of modest vindication, I'd like very much to thank him.
P.S. Harry Browne informs me I'm the second youngest writer included in that anthology. The youngest by eleven months, he says, is Donald Mahoney. (How he know either of our dates of birth, I'm have no idea.)
Donny is a friend of mine and, as far as I know, he also got his first break as writer with Mongrel. I have a minor cameo in the excellent piece of his included, The Best Supporters in Europe. By coincidence, I was in Poznan at Euro 2012 with Yousef and Samir, and their father Nazih Eldin, when the events in that story took place.
October 4th, 2013.