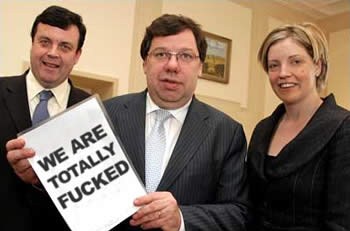 The latest Irish Times/MRBI poll, which shows support for Fianna Fail up three to 24%, is utterly baffling to me. That almost a quarter of the population would consider the bind this country finds itself itself in, observe the quality of leadership we've had for 21 of the last 23 years and think 'Yep, more of the same please…' Well, there's only one possible explanation: The country, or a significant portion of it at least, is suffering from political Stockholm Syndrome. Somewhere between a fifth and a quarter of us are so institutionalised, so inured to this level of contempt from our elected leaders that we would still vote Fianna Fail even if Elmo was in charge. If Viv Nicholson was in finance. Harold Shipman in heath.
Come on, select your own Fianna Fail fantasy front bench – it'll cheer you up!
September 30th, 2010.