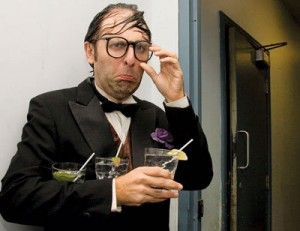 Urrgh… My hangover this morning (afternoon? No, right now is first thing in the morning for me) is directly proportional to how drunk I had to be to get on stage last night. (Last night was the stand-up thing I referred to in a previous post.) All told, it really wasn't that bad. I learned a couple of things. (1) If you curse, people will laugh. (2) If you shout a curse, people will cheer. As it happened, I was very lucky in that my set was bookended by quite possibly the two worst comedians of all time. That definitely made me look good. But Paddy Courtney, who mentored me, told me about this indescribable buzz I'd get from being onstage. And I gotta say, I didn't feel it. For me, it felt more like telling a funny anecdote in the pub, except with a lot more pressure and a lot less spontaneity. I was glad when it was over.
By far the biggest surprise for me, though, was the other girl, Katie, who, like me, was also giving it a go for the first time. Yesterday, when we were getting our comedy masterclass from Paddy, she had nothing. It was like the Leaving Cert or something. I wasn't that well fixed myself, but I didn't care because my friend was even more screwed. Fast forward to last night and she came out with a set of just unmitigated filth. She was absolutely brilliant. So that's the last comedy lesson I learned. (3) If in doubt, the dirtier the better… And me like an eejit, without a cock or a gee in my entire set.
Now I've got about an hour and a half to prep for an interview with James Taylor. All I know about him so far is that he was in that Simpsons episode where Homer goes into space…
May 20th, 2009.