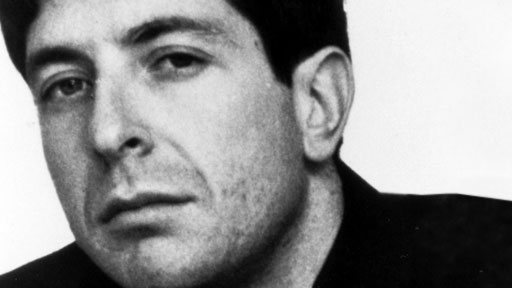 Halleujah, there's hope for us all yet… Just watched this very interesting 1964 documentary about Leonard Cohen. The 29-year-old poet, novelist and (soon-to-be) songwriter captured is at once prodigiously talented, toe-curlingly pretentious and, well, I hate to admit it but… kind of an idiot. Skip forward to the sequence beginning 23min 30sec – in which he introduces his obnoxious, over-privileged circle of friends – and tell me I'm wrong
Narrator: Cohen's circle of real friends is small. One who stayed in the clothing business and makes a great deal of money is Robert Hirschhorn…
Cohen: Hirschhorn is one of the great tightrope acrobats of our century. He flirts with clinches, he dances with prototypes, but he escapes them all… He just dances between them.
(translation: owns a clothes shop)
Narrator: Another is sculptor Mort Rosengarten…
Cohen: Mort is one of the great gentlemen that anybody who knows him knows. He's organically a gentleman and one of my oldest and dearest friends. You only have four or five friends… and lucky if you even have that many.
(not much of a sculptor though or I'd have said so)
Narrator: Then there's the painter Derek May…
Cohen: He is the most irreverent person I know. His humour is based on the idea of upset. That's what he does with ideas. He rocks them like those boxing toys that never fall over.
(nice guy, slight chip on his shoulder)
Short, excruciatingly embarrassing party sequence… everyone is stoned.
Cohen: I think most of the women that my friends and I love are very attractive, sexual people…
(we get laid a looot with hot women)
Cohen: And although only one man may be receiving the favours of a woman, all men in her presence are warm.
(translation: soak it up, suckers, cos I'm taking her home in about 15 seconds…)
December 2nd, 2009.