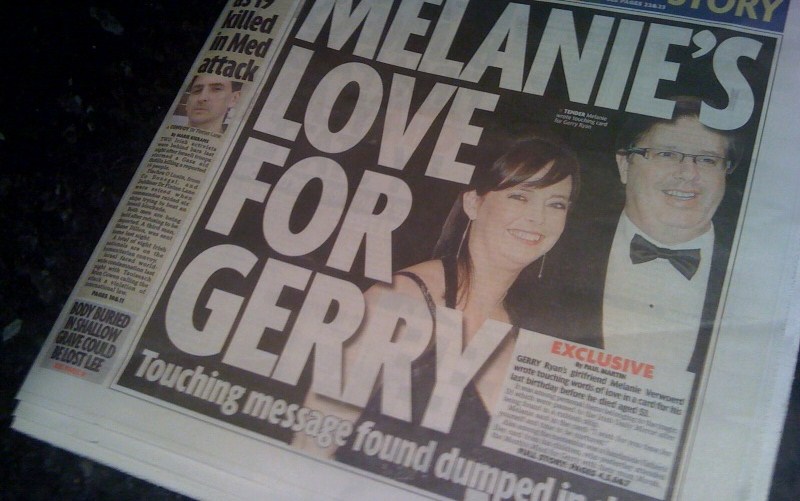 Admittedly, I've seen sleazier tabloid stories in my time. (The Sunday Express' Dunblane massacre survivors hit job is the absolute nadir.) But what's really remarkable about this piece, by Irish Daily Mirror "showbiz" correspondent Paul Martin, is how low the reporter is willing to go for so very little. This was Tuesday's front page news story:
Gerry Ryan's girlfriend Melanie Verwoerd wrote touching words of love in a card for his last birthday before he died aged 53.

It was among personal items belonging to the tragic DJ which were passed to the Irish Daily Mirror after being found in a rubbish dump.
Basically, the Irish Daily Mirror has taken it upon itself to publish, over two pages, a selection of private, hand-written birthday, Valentine's and Father's Day cards belonging to the late Gerry Ryan, which were apparently recovered from a dump. The Father's Day card is signed by his ten year old daughter.
Now I lost my father prematurely. So I know that, a month after his death, Gerry Ryan's children are likely still in a state of complete shock. To imagine, therefore, that publishing private correspondence written to their father in happier times – and presumably not seen by them since – in a national newspaper, will do anything other than add to the trauma they're enduring is as imbecilic as it is irresponsible.
People talk about gutter journalism. This is rubbish tip journalism.
And for what? Sex? Scandal? Controversy? There isn't even a story here. These are the mundane personal effects of a recently deceased middle aged man. There's no defending what the Irish Daily Mirror has done. Honestly, I doubt anyone would even try to. But, as with this vile Ian O'Doherty piece published in Independent back in April, there's hardly been a word of protest about it either.
I often joke with my friends that the Dublin Gardai should have "We'd love to help, but there's really nothing we can do" translated into Latin and sewn into their insignia. Sadly, the same applies to the rest of us too. We're a nation of moaners. But we seem completely incapable of differentiating between the things we are powerless to change (the Irish weather, Thierry Henry being a cheating bastard etc.) and the things we could change if we bothered our arses (corrupt politics, scumbag journalism etc.)
It's our most irritating national characteristic without a shadow of a doubt. But sure what are you going to do?
June 3rd, 2010.