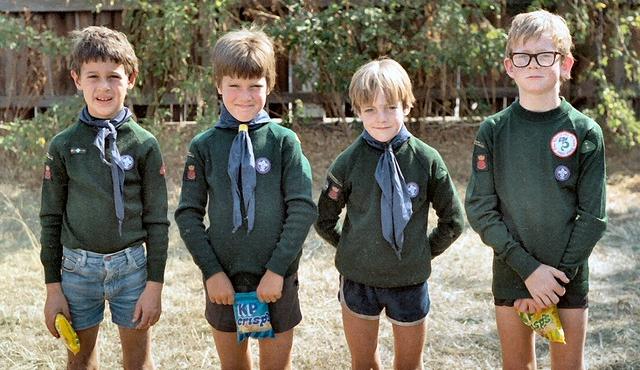 How They Got Away With It, rabble.ie
Scout's Honour, broadsheet.ie
There is more after the jump.

Wrote those tweets on a Saturday night, when I imagined the whole world was asleep. It was my friend Paul Duane who (unbeknownst to me) knocked them into a slideshow in the morning. This is not a subject I'm comfortable talking about. Lots of bad things happened to lots of good kids and I wasn't one of them. So this isn't really my story to tell.
Certainly, the Scout Master mentioned is someone I've never talked about, except to other lads who were there when the events related occurred. But as soon as the story (in which he isn't identified) appeared on Broadsheet.ie, I received a flurry of emails from other kids who knew this Scout Master. Not everyone was happy to be quoted, but the following is broadly representative…
From: ■■■■ ■■■■■
Date: 10 June 2014 16:02
Subject: your twitter slideshow on broadsheet
To: eoinfbutler@gmail.com

Hey (found yer email addy on your website)

we don't know each other but just flicking through that thing on broadsheet and summat came back taht i'd not thought of in well night 30 years. There's no trauma in this so you can read on. I escaped.

I'm from ■■■■■■■■■. My mam's from Ballyhaunis. We were on holidays in Sligo some time in the 80's and a heap of cubs/scouts from Ballyhaunis landed down, among them a cousin of mine, so I may have hung out with this gang a bit.

Day they wrapped up, ■■■■■■ had his trailer tent there and everybody else had fucked off and muggins here like a chump. Sure enough, he tried it on with me.

Alarm bells ringing like fuck in my ears, even that age. the mother and the auld fella nearly had it beat into me that you don't allow that shit go on. I made, as they say in the Sun at the end of a sting operation, my excuses and left.

By left, I mean ran. I'm not sure I said anything. I probably didn't, but as I say, i was 11 or so.

I'm not sure why I'm writing this. Maybe it's that there's days that the mother gives me guff about what I'm doing with my life blah blah blah and i get ratty.

Maybe next time, more than ever, I should give thanks that whilst I mightn't have been close enough to them to tell them what had happened, I knew what was right and what was wrong.

Anyway – weird, how shit comes back at you! I'll be thankful for the escape and the good parenting, but i'll kick myself that i didn't say anything or give the dirty paedo a kick in the stones.

good luck!
I replied…
From: Eoin Butler
Date: 10 June 2014 16:20
Subject: Re: your twitter slideshow on broadsheet
To: ■■■■ ■■■■■

Hey ■■■■,

Well, you certainly figured out who I was talking about. Thankfully (hopefully?) there weren't too many other candidates.
I asked a couple of questions and he replied. As he tells it, the incident didn't have too traumatic an effect on him. But note the perpetrator's chutzpah and opportunism, note the fold-down bed and the echoes of Jimmy Saville. In those day, perverts really did hide in plain sight…
From: ■■■■ ■■■■■
Date: 10 June 2014 17:51
Subject: Re: your twitter slideshow on broadsheet
To: Eoin Butler

when did it happen? I'm gonna go out on a limb and say 1985. Could've been a year earlier, or a year later, but I'm thinking 85…as a family we had a caravan and we'd basically stay there for a month or six weeks – Rosses Point in Sligo.

How did he approach me? Dunno. My cousin ■■■■■ ■■■■■■ was one of the gang of cubs (i'm nearly sure) so I was helpign out with the packing up. I was fascinated by this collapsible tent on a trailer thing he had…and he offered to show it. Feckin' bed was in the down position (as would be the norm if you wanted to fold this thing over and tow it) and he kinda went to grab/hug me and pulled me towards the bed. Sod that for a game of cowboys, says I…and off I fuck.

[I ask how he knew the perpetrator by name if they weren't from the same town…]

as I say, my mam would have known him (but obviously not the reputation) and like I say, I've a notion that my cousin was there…

[I ask if he ever told anyone what happened…]

I think I said it years later. Brother ■■■■ in ■■■■■■■■■ done for this in the early 90's and then Fr ■■■■■■■■■■ in Jarlaths and I think in the wake of that, I might have mentioned ■■■■■■'s antics. I suppose they *did* have some small effect in that I never mentioned them, but I don't think i was traumatised particularly. I don't recall mentioning it in Jarlaths actually. Funny, that.

Or to put it another way, I am where I am in life, not because some dirty old scrote tried to feel my bottom, but rather because I dossed my way through college!

nything further i can "help" with, don't hesitate to get in touch!
N.B. Photo above sourced from Google Images. No one in it in any way related to this story.
June 19th, 2014.