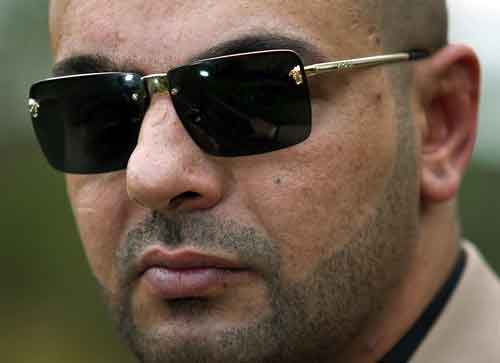 Recently, I received an interesting email concerning my interview with Dr Latif Yahia, a.k.a. "Saddam's son", the controversial, Irish-based Iraqi exile fêted by RTE, BBC, CNN and Fox News. It comes from his ex-wife. "Hi Eoin, just had a read of your blog – very funny!" she writes. "I read your article with 'Dr' Latif Yahia and I'd just like to say fair play to you for seeing right through him. Let me point out a couple of things…" Some background to this story first: Latif Yahia was an Iraqi army captain forced, in the 1980s, to undergo plastic surgery in order to work as a body double for the dictator's psychotic son Uday. Escaping Iraq in the 1990s, he settled in Ireland where, by the time I interviewed him in 2007, he was engaged in a very public citizenship battle with then Minister for Justice Michael McDowell.
Dr. Yahia's life story seemed to have everything – sex, guns, power and intrigue. That he was now waging war against a man who had recently topped Mongrel's annual Cunts List was just a humongous bonus. After some examination, however, it quickly became apparent that few of his claims really appeared to stack up. You can read the full article here.
His ex-wife now makes a series of further allegations against Yahia, claiming that he:
* Has been proven in the Irish courts not to be a doctor of any type.
* Served a week in Mountjoy prison for assaulting an Irish woman [presumably the woman emailing me] and breaking a barring order 45 times.
* Abducted a child [presumably the child he fathered with this woman]
* Handcuffed her for four hours and put a gun in her mouth at one point.
"So his assertions to you that he never broke a law in Ireland" she writes, "are bare-faced lies. He also kept me in court for two years – trying, unsuccessfully, to get custody of my son – through free legal aid. So, contrary to what he told you, he has definitely cost this country an arm and a leg."
In the circumstances, I prefer not to get back in contact with Mr Yahia. But I did manage to dig up a 2002 story from the Irish Mirror which relays his version of events. In a saga that has already featured cameos by Saddam Hussein, the C.I.A., Mossad, Michael McDowell and a glamorous Saudi princess, it comes as no surprise to learn that Yahia blames his marital woes on a kinky sex-infatuated Irish crossdresser.
At one point, this woman was tipped off by a detective in Pearse Street Garda Station that her ex-husband was making threats against her. (He is currently in Cyprus).
"As I have said," she continues, "fair play to you for seeing through this liar. It was very hard for me over the years to see newspapers, TV and radio fawning over him. Nobody thought to investigate his claims and all the while I was living in fear of my life."
Perhaps the most egregious example of that fawning media attention was this March 2007 edition of Ryan Confidential, in which an entire episode was devoted to the Iraqi exile and his life story, without any of his claims even once being challenged by the presenter. The programme had not yet been aired when I was working on my piece, but I was aware that it was in the works:
Next month an entire episode of RTE1's Ryan Confidential will be devoted to his story. I email producer David Blake Knox to ask if the makers of the programme made any attempt to check the veracity of Dr Yahia's claims, beyond the Uday connection which is widely accepted. He replies: "Our goal in this interview is to allow our viewers the opportunity to form their own opinions about his credibility." I take that as a no.
It seems outrageous that thirty minutes of prime time television should have been devoted to Latif Yahia, without any attempt being made to verify that anything he said was actually true. As a small independent magazine, Mongrel had nothing like RTE's resources at our disposal. My "investigation" consisted of nothing more than actually bothering to read Yahia's self-published autobiography. All of the outlandish claims and glaring inconsistencies in his story were contained within its pages.
"Keep up the good work" his ex-wife concludes, "and good luck in your quest for the title Mayoman '09!" Well, if it wasn't already in the bag, then no doubt it is now!
Read the full original article here.
UPDATED: This post has been receiving some pretty scary comments from an IP address in Cyprus. Nice.
UPDATED: Long comment from someone purporting to be Latif Yahia denying that he posted any earlier responses to this topic. I was going to post an edited version of his post on here, but I've since changed my mind. Sufficed to say, this post and the previous post came from exactly the same I.P. address.
This topic is now closed.
July 18th, 2009.