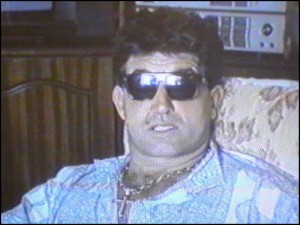 Yesterday, Barack Obama announced the appointment of Dan Rooney as the next US ambassador to Ireland. In his speech, Obama cited Rooney's longstanding support for Irish-American charitable causes. Now, normally, this would be a move-along-nothing-to-see-here story. Except that Dan Rooney's nomination was today sensationally opposed by these two outspoken young gentlemen…
Okay, so the Dan Rooney being badmouthed in the above video is not the same Dan Rooney who will shortly be taking up residence in Phoenix Park. Lame joke, I hold my hand up. But for one magical moment, when the announcement was made, I wistfully imagined it might be. Our Dan Rooney is the former King of the Tinkers, who famously defeated Dennis "Aney" McGinley in a bareknuckle boxing match in Crossmaglen in 1990. But the above video is well worth enjoying.
The men speaking are would-be challengers to Rooney's throne: Johnny Coyle and Patrick Doherty. Their remarks range from the conceited ("I rate myself the best man in the country"); and not-entirely-credible ("We've the name of being blackguards and slags, but we're nice fucking people); to the bizarre ("I'll fight any man, in any place, at any time, for any thing…" Anything? A Crunchie?); and downright suggestive ("I'll fuck Dan Rooney, I'll fuck any man… We'll do it right here, right now… There's a man here for any man…")
In the full length version, which isn't available online, an equally terrifying Ma Coyle restates that her son is indeed the master of all men when it comes to fighting, and accuses Dan Rooney of being nothing but a "queer" and a "shitarse" (a curious insult if ever there was one).
The great man himself is now long since retired, of course, and is believed to have become a born-again Christian. But here's a Bebo page from someone at least purporting to be him.
March 18th, 2009.