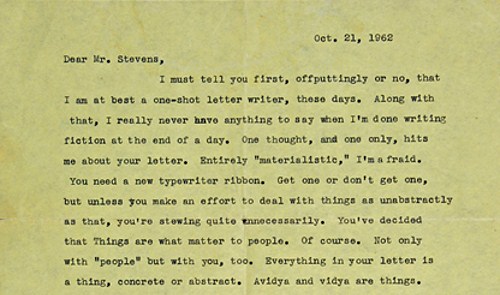 From Letters of Note (via Darragh) this is a letter written, almost half a century ago now, by J.D. Salinger to an angst-ridden young fan:
Oct. 21, 1962

Dear Mr. Stevens,

I must tell you first, offputtingly or no, that I am at best a one-shot letter writer, these days. Along with that, I really never have anything to say when I'm done writing fiction at the end of a day. One thought, and one only, hits me about your letter. Entirely "materialistic," I'm afraid. You need a new typewriter ribbon. Get one or don't get one, but unless you make an effort to deal with things as unabstractly as that, you're stewing quite unnecessarily. You've decided that Things are what matter to people. Of course. Not only with "people" but with you, too. Everything in your letter is a thing, concrete or abstract. Avidya and vidya are things. For me, before anything else, you're a young man who needs a new typewriter ribbon. See that fact, and don't attach more significance to it than it deserves, and then get on with the rest of the day. Good wishes to you.

(Signed, 'JDS')
December 15th, 2009.