Published: Annagh Magazine, December 2011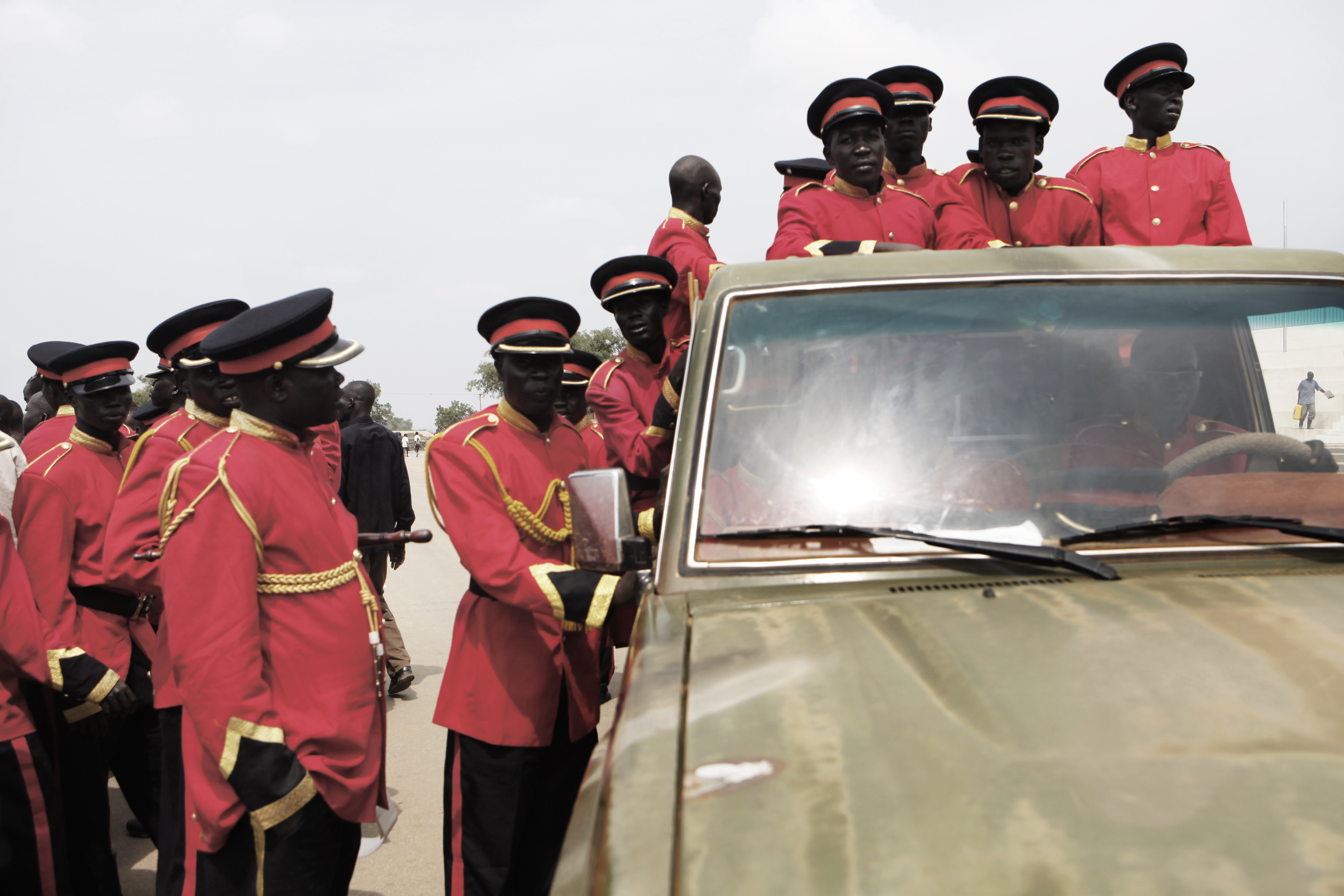 In July 2011, photographer Ross McDonnell and I visited the city of Juba in East Africa to witness independence celebrations for the newly sovereign state of South Sudan. It was a short enough trip. We left the day after I saw Mayo beat Galway in Castlebar. And I was home in time to see Roscommon go down in a wet and windy Connacht final.
But this was no summer holiday. As a journalist, I visited the Gaza Strip during the Israeli blockade in the summer of 2008. But Gaza was a holiday camp compared to this place. South Sudan is one of the poorest, hottest, most remote and dangerous places on earth. A place where there are guns on every street corner. A place where a 15 year old girl is more likely to die in childbirth than she is to have finished primary school. Still, it isn't a bad spot all the same.
Stepping off the plane in Juba was quite a culture shock. Everyone was so tall. The Dinka and Nuer tribes are the tallest on earth. And their skin was so dark. This was something a Nigerian taxi driver back in Dublin had mentioned to me. But I didn't appreciate what he meant until I actually met a few South Sudanese in the flesh.
But by far my most vivid first impression of South Sudan was the smell. It turned out I had accidentally set my bag down outside a malfunctioning toilet. But for a while I figured I'd stumbled upon a terrible secret generations of missionaries were too polite ever to mention: That is, that all of Sub-Saharan Africa smells like wee. Well it doesn't, thanks be to God.
There was a huge baggage scanner in the Arrivals hall, into which passengers were queuing to feed their suitcases. On the far side, these same bags were being dumped to the floor. Since I was under strict instructions (from a homesick Irishman with a thirst) to bring two bottles of Powers Irish whiskey along in my bag, I decided to walk around the whole thing entirely. No one noticed.
The gift shop was selling loose raw eggs and salt. This was, without a shadow of a doubt, the most foreign place I'd been to in my entire life.
Our mission in South Sudan was to track down a renegade Irish priest, turned gunrunner, called Dan Eiffe. I'd read a short piece about him in London's Spectator magazine and was interested in doing a story for the Irish Times. He'd come to Africa in the late 1970s as a Missionary of the Sacred Heart. At first he'd simply distributed aid to the victims of the Sudanese civil war. But over time, he came to identify with the rebels aims and began running guns to them from Uganda.
He later married a local woman, the sister-in-law of the rebel leader Salva Kiir (now president of South Sudan), and had two children with her. I was, I suppose, secretly hoping to meet some Colonel Kurtz-type, who had gone out into the jungle, gone mad and turned native. But the person I met was nothing like that. Dan is a sincere, honourable man whose actions, however drastic, may well have helped to avert genocide in the region.
And of course, like any two Irish men, anywhere in the world, once we sat down and sank a couple of glasses together, it turned out we had acquaintances in common. Two of Dan's sisters had gone to school in Tubbercurry with my aunt Mary Butler from Kilkelly. The three ladies later shared a flat together in Dublin. It is indeed a small world.
Although South Sudan is officially at peace, continuing violence in the countryside made travel overland too dangerous to attempt. (Besides, in a country the size of France, there are less than 50km of paved roads.) So we took to hitching lifts on rickety old aircraft operated by Christian missionaries. These flights were gas altogether. Before we took off, the pilot would come on the intercom saying all the usual stuff. "Good afternoon, ladies and gentlemen, welcome aboard… Now if you'll just join me in a quick Hail Mary."
It wasn't the Hail Marys I minded, so much as the suspicion that maybe the Hail Mary was in lieu of an actual safety check by qualified engineers. So were we really flying on two wings and a prayer? Well, the missionaries never asked us for airfare. So it seemed a bit rude to ask.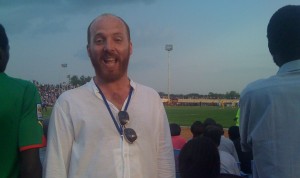 One of the highlights of the trip was the Independence Day football friendly between South Sudan and Kenya. There are no soccer clubs in South Sudan, so the home team was chosen from trials. The Kenyans were highly trained professional athletes. The South Sudanese team, meanwhile, looked like eleven guys who'd just walked out of MacSuirtans. (No disrespect to Macs, you get what I mean!)
On the face of it then, it should have been a total mismatch. But with enormous home support behind them, South Sudan were a goal up within five minutes. On the ten minute mark they went two ahead. If a third goal had gone in, I swear, the stand might have collapsed, so ecstatic were the home crowd. But it couldn't last. After twenty minutes, the home side were knackered. In the end, Kenya ran out easy 6-2 winners.
There were other highlights too: The young men of the SPLA marching band whose enormous red uniforms looked like they were designed to be grown into. The delirious happiness of the ordinary people at midnight, when their homeland officially became the world's 192nd independent nation. (It reminded me a lot of Packie Bonner's famous penalty save in Italia '90, when my mother packed her four small children into the back of the car and drove down the town beeping the car horn!)
There are, of course, some other not so happy memories. There were things I saw in South Sudan that I wish I didn't see. Things that really should not exist in the world in the year 2011: extreme poverty, malnutrition and (as the poet wrote) "guns and sharp swords in the hands of small children." We are going through some tough times at the moment here in Ireland, no doubt about that. But as our thoughts turn towards Christmas, consider this: as long as we have security, a clean water supply and the occasional rasher, have we really all that much to complain about?
[This article appears in the current issue of my local parish magazine, Annagh, hence some of the rather awkwardly shoehorned-in local references. A longer account of my visit to South Sudan will appear in the Irish Times this coming Saturday, December 17th.]
September 8th, 2011.