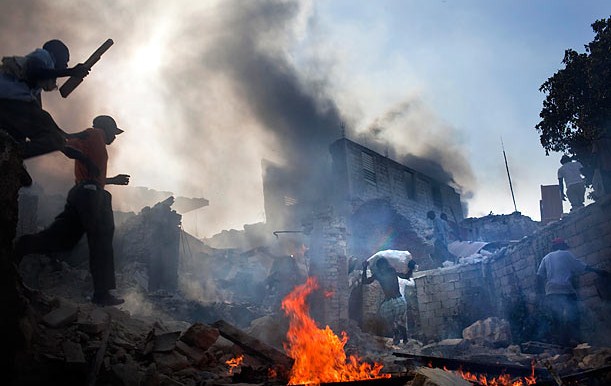 Should wealthy cruise-goers be allowed to party in Haitan waters while bodies are piling up in the streets? To be honest, I really don't see why not. If the journalist was asking asking whether wealthy retirees at Labadee Beach should party or go to the aid of the stricken population, that would be another matter.
But the question seems to be simply whether they should party there, or up anchor and go party somewhere else. Well, what's the difference?
In fact, given that the 4,370-berth Independence of the Seas cruise liner is delivering food aid, and given that most of its rich passengers will likely be guilted into making large donations themselves, their presence on the island may even be a good thing.
This weird convergence of inequality, proximity and morality is something I've wondered about since I was in Rio a few years ago. There the standard gap-year-liberal-middle class-bullshit artist thing to do, while chatting up drunk American girls in the hostel bar, was to remark that it was obscene to see such extremes of wealth and poverty side by side.
The implication being, I suppose, that it was no problem to be obscenely wealthy – which all of us were compared to the average citizen of that city – provided you couldn't see a favela from your own front door. (We only posed for snaps outside them during our year-long, piss up holidays.)
In a globalised world, when one is in a position to help another person, does it matter whether they are next door or on the other side of the world?
[P.S. That's not a rhetorical question. If someone has an answer, I'd be very interested in hearing it. Also I'm not trying to claim any moral high ground either. Since the earthquake in Haiti nine days ago, I've probably spend ten time more on socialising than I donated to the appeal. It's just a question that's been on my mind.]
January 21st, 2010.