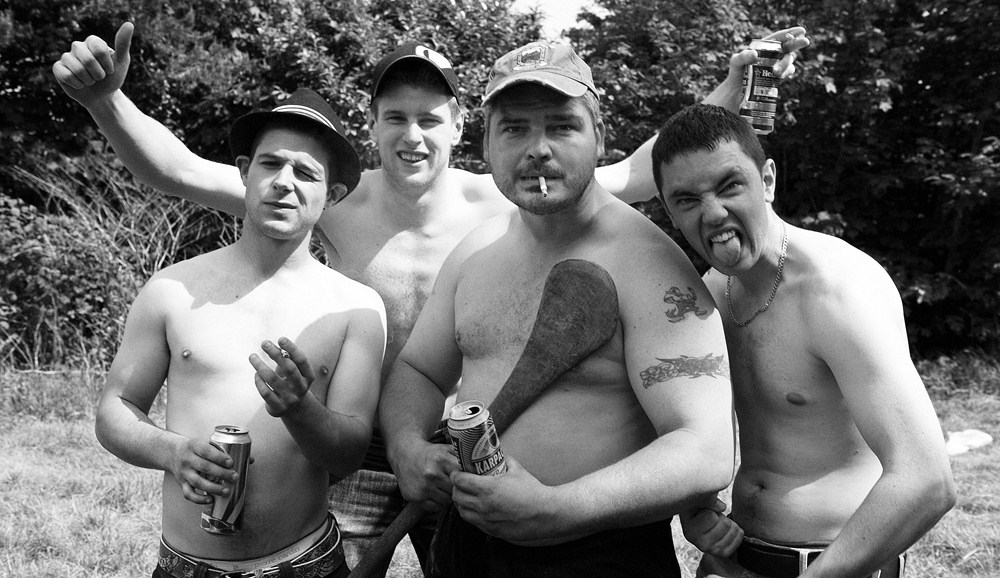 Jaysus, I almost forgot. Last weekend I visited the set of the new Hardy Bucks series in Swinford. Three thirty-minute episodes will air on RTE this autumn. (Look out for me as the last man standing in the 17-hour pint drinking contest. It's the role I was born to play.) I'm also writing a feature about it for the Irish Times, to be published in September. The transition, for the lads, from internet chancers to national television stars is going to be a tricky one. It was fascinating to witness the amateur cast interact with the professional crew. This has clearly been a sharp learning curve for both.
The earlier, well-received YouTube epsides were all improvised. But the RTE Drama Department have insisted everything be scripted in advance this time around. I think that's a pity, because the non-actors seemed more comfortable expressing themselves in their own words.
Pictured above, incidentally, are John O'Mahony (23) from Glanmire, Luke Murphy (22) also from Glanmire and James Brennan (23) from Freemount. They're hardcore fans of the show, posing here with the guy who plays Eddie's paranoid schitzophrenic cousin Lexus. It's terrible I've forgotten his name now. He was deadly crack, even if I finally figured out who he kinda looks like. (Ian Huntley.)
Word was leaked on Friday evening, via Facebook, that the shoot was going ahead in the morning. On the spur of the moment, John, Luke and James decided to get up at 6am the next day, pack a couple of crates of beer in the boot of their car and set out on the four hour trek to Swinford.
Not only did they bring enthusiasm, the boot of their car also kept the stars (and one or two members of the supporting cast!) refreshed throughout the day. We had a ball. And yes, it really was like Pierce Brosnan's wedding all over again!
May 28th, 2010.