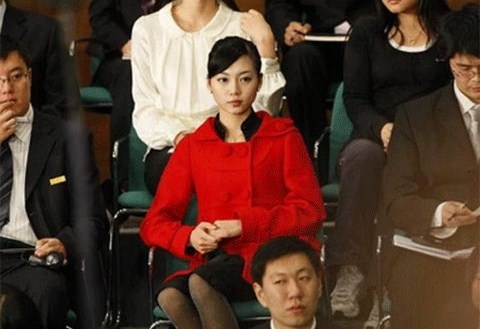 This suspiciously hot girl seated behind Obama when he spoke in Shanghai last week is causing a bit of a sensation in China. By the time he appeared at the podium, she had removed the red jacket – hence the Chinese media dubbing her variously the 'beauty in black beside Obama,' 'Obama girl in black' or 'woman in black behind Obama.' (Clearly, the Ministry for Snappy Tabloid Nicknames having something of an off-day there.)
However, if she was the bait to lure the American president into an elaborate honey trap – which absolutely no one other than myself suspects – then, alas, her cover has been blown. "Mystery woman in black behind Obama at the town hall meeting becomes popular and speaks out," screamed the headline in yesterday's China Hush, which named her as Wang Zifei, a student at Shanghai Jiao Tong University. I'm not going to write a synopsis of the entire saga, but I am going to tell you that there are more photographs of her looking cute and alluring here.
November 29th, 2009.