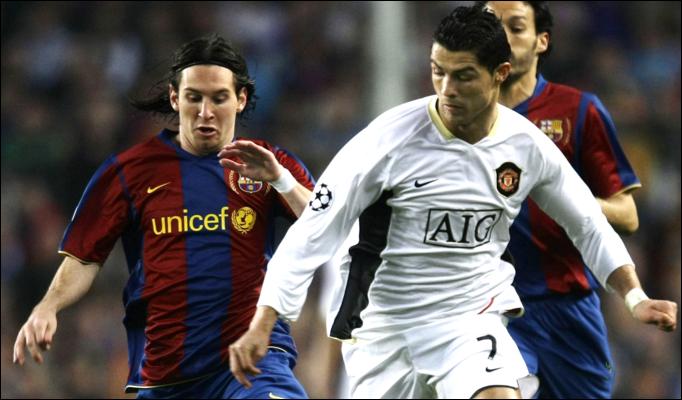 Last weekend, thirty gurning, fat-headed repressed homosexuals groped each other for 80 minutes in Murrayfield to determine whether Leinster or Leceister could call themselves European champions in a sport that 90% of Europeans don't even know exists, let alone participate in. Tonight is the real deal.
Kickoff in the Champions League final is almost upon us and, I gotta admit, I'm running around like a kid on Christmas morning. This year the two best teams, with a dozen or so of the continent's most exciting players – Messi, Ronaldo, Iniesta, Rooney, Henry, Eto'o, Giggs, Xavi, er… John O'Shea – will battle it out to see who lifts the only European trophy that matters.
My heart says it'll be Barca, my head says United. Either way, here's hoping for a thrilling game of football.
P.S. I'd also like to say hello to my erstwhile Champions League pints buddy Peter Corway, a fervent United supporter who, I would guess, is right now running around Toronto urgently trying to find a bar that's showing the saa-cer. Good luck with that, bud!
UPDATED: Sensational performance by Barcelona. As Matt says below, United never showed up, were totally outclassed. Stats said the Catalans had 52% of possession, but it seemed more like 85% to me. Carrick, Anderson never in the game and the smallest man on the pitch, Messi, settled matters with a sensational header. From a neutral perspective, the only disappointment was that United didn't rally in the second half when Tevez and Berbatov came on. They could badly have done with a Keano-esque leader to take the game by the scruff of the neck tonight.
May 27th, 2009.