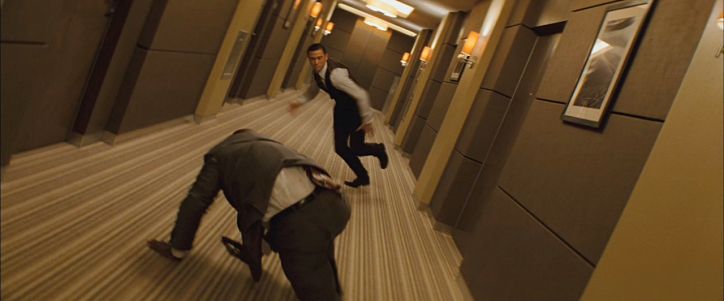 I happened to catch a preview screening of Christopher Nolan's Inception last night. Now I'll admit, I've never really been a fan of the action/sci-fi genre. So asking me for a completely unbiased opinion about the film would be like asking a vegetarian for an honest appraisal of a steak dinner. But even making allowance for any prejudices I may have, this film really is an awful pile of horse manure.A lot of reviewers have praised Nolan for pitching such a smart film to a mass audience. By "smart" though, they can only mean by the standards of your average summer blockbusters. So, yeah, if you found Transformers 2 overly challenging and cerebral, then maybe this won't be the movie for you. But if you got your head around Nightmare on Elm Street, then I'm pretty sure you'll get your head around this.
That last one is an interesting reference point. Because for all his bluster, the only way in which Nolan significantly develops up on the basic premise of that teen horror flick is in the concept of the layering of dreams. In this film, you can fall asleep within a dream and have another dream. And within that dream you can fall asleep again and have another dream, and so on. Time works differently at different depths and… Ah God, it's too tedious to begin even to explain.
Ludicrously, preposterously, laughably overcomplicated in every detail? Yes. Difficult to grasp in it's most basic outline? No.
So the audience is credited with enough intelligence to follow the story. But at the same time, we're expected to be too dazzled by the never-ending succession of crashes, explosions and special effects that clog up the screen to notice the gaping plot holes, ham-fisted dramatic devices and clunking dialogue that are used to hold the whole thing together.
It's a strange dichotomy. On the one hand, you'll more than likely guess the (maybe, maybe not) final plot twist about half way through the film. But on the other hand, you'll watch Joseph Gordon-Levitt spend the best part of an hour floating around an elevator shaft, while his co-stars launch a machine gun raid on an ice fortress, without either knowing or caring exactly why.
If you've seen the ads and it seems like the kind of film you'll like, then there's every chance you won't be disappointed. But as far as I was concerned the whole thing is an epically silly waste of time.
July 15th, 2010.