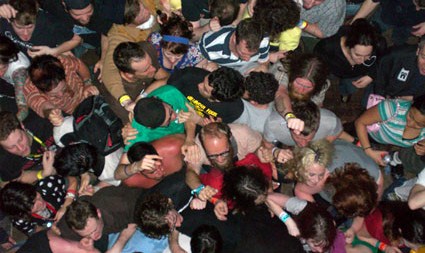 Day began @ 6.30 in the AM when a 30-piece Mariachi band in full regalia performed a surprise gig in my hotel bedroom. Advance warning would have been nice, but the set certainly created some buzz in the adjoining rooms and corridor. The elevator ride to breakfast was soundtracked by Congolese folk collective Papa Doodle Doo, who overcame their fear of enclosed spaces to deliver a sterling set, while the cab ride to see Petrified Aubergine made their SXSW debut in a disused coal shed was hijacked by much hyped Czechoslovakian punk outlaws The Gary Busey Experiment, who slit the driver's throat and made off with the takings.
Special mention too must go to my top tips for 2010 – tween-psychobilly duo Cogent Housekeeper (whose debut album drops in April under the force of gravity.) Yes, Neville Cornflake and his partner in rhyme Derek "The Tractor Lawnmower" Gonzales rocked the fuck out of Austin in a gig which few present at that will live long in the memory of all who made it to their gig in that old abandoned mine shaft.
UPDATED: My find of the day for Friday were four doe-eyed young scamps I chanced upon on the kerb outside Big Larry's Bar & Grill and immediately fell in love with. Asked if they had any CDs for sale, they explained that they weren't musicians and were just waiting on a friend. Nonetheless I'm confident there's a lot more to come from Steve, Chuck, Geraldo and Mary.
March 19th, 2010.