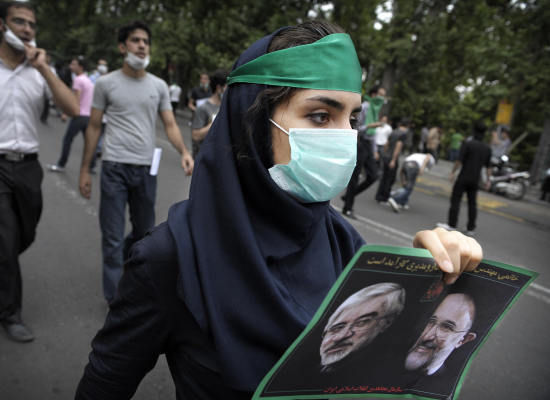 Another extraordinary day in Iran. The courage displayed by the hundreds of thousands of ordinary people who came out out in defiance of the Basijis yesterday has to be admired. Andrew Sullivan on The Daily Dish has dyed his masthead green in solidarity with the supporters of Mir Hossein Mousavi. I really wanted to do the same but, unfortunately, my technical adviser Nialler9 seems to have fucked off to Australia. If it's any consolation in your hour of strife, people of Iran, I'm currently wearing a green t-shirt. Well, it's more bottle bottle green really, so it also looks like I'm coming out in solidarity with the Carlsberg Corporation. Plus, I'm indoors Googling pictures of Iranians girls (for journalistic purposes), so there probably aren't too many people being inspired by the brave stand I'm taking. But nevertheless.
Der Spiegel has a less hot-girl (boo!), more brutal-realities-of-government-repression oriented slideshow of today's protests here. There's also a pretty concise analysis of how the bigger picture is looking here.
Finally, the award for least incisive coverage of the potentially monumental events currently unfolding in Iran (yes, even less incisive than my own) surely goes to The Sun for their report, buried deep on the inside pages after acres and acres of Big Brother and Peter and Jordan coverage, "Barmy leader sparks riots."
Ha!
UPDATED: Christopher Hitchens on events in Iran in the last few days. (He refuses to refer to what happened as an election.)
June 15th, 2009.