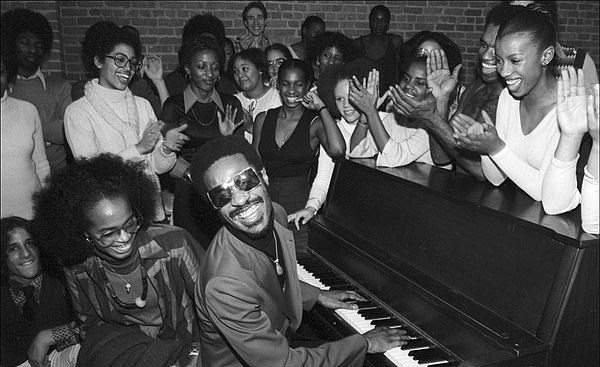 I'd like to be the first to wish Stevie Wonder a happy sixtieth birthday. That's why I'm doing it two months early. (Well, it was either that or get the date right. And that's not the kind of operation I'm running here.) After the jump – chosen, admittedly, off the top of my head – are half a dozen of my all time favourite tracks.
Fingertips #1 & #2 (1963)

From 'The 12 Year Old Genius.' Stevie is on vocals, bongos and harmonica. Marvin Gaye is on drums.
Uptight (1965)

The first stone cold classic. Later pilfered shamelessly by a band whose name doesn't even deserve to be mentioned on the same page.
I Was Made to Love Her (1967)

Perhaps my favourite of them all. The best bit is where he refers to himself in the third person. "You know Stevie ain't gonna leave you, baby…" So cool. He's only seventeen years old.
I Don't Know Why (1968)

Later covered by the Stones the night Brian Jones was found dead.
Living For The City (1973)

If he was a genius at 12, its hard to think of a word to describe what he had blossomed into by 23. Even the endlessly arrogant Kanye West admits it would be sacrilege for any artist to even attempt to emulate Wonder's classic albums of the early Seventies – Talking Book and Innervisions.
Sir Duke / I Wish (1981)

"Music is a world within itself, with a language we all understand…" By the time he recorded Songs in the Key of Life in 1976, Stevie Wonder was at the height of his powers. Of course, it was all downhill from there. But he had nothing left to prove. This version of of his Duke Ellington tribute was recorded live in Tokyo in 1981.
March 6th, 2010.