(second time I did it on my own...)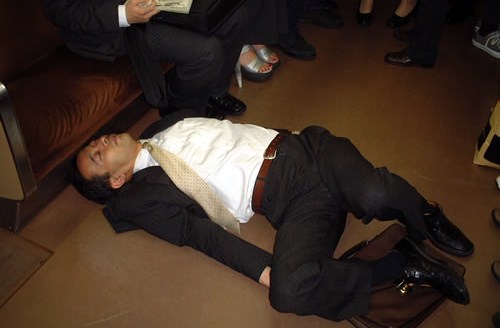 It's isn't always easy to pinpoint the moment a session turns into a bender. The American writer P.J. O'Rourke reckons its when he finds himself carrying a drink ("a real drink, with ice cubes in a cocktail glass") with him wherever he goes – to the bank, the supermarket or even into the shower. For me, it's when I have to close one eye with my hand to read a menu for the third or fourth order without sleep.
It's three o'clock on a Monday afternoon. Paddy is unshaven, unwashed and chatting up a coat stand. Declan is attempting (manfully, but so far unsuccessfully) to ingratiate himself with a group of office workers gathered for their Christmas lunch. I reckon he's hoping one of them will offer him the other end of a cracker to pull. Penfold and his buddies, alas, look more likely to call security.
My phone has been ringing almost constantly for several hours now. I'm seriously considering answering it in a foreign accent. Some good might come of doing that. I'm pretty sure.
That point of no return, whenever and wherever it was, is now a dot in the rear view mirror.
Rewind to last Thursday – or was it the Thursday before? We set out with good intentions. Sure, we stop off for some refreshments on the way. But we make good time, arriving only ten or fifteen minutes late for the service. There are a hell of a lot of fresh faced young women in the congregation. (Which is a surprise.) And the priest devotes almost all his eulogy to warning of the perils of unmarried motherhood. (Which is weird.)
Our dear departed friend Tommy, God rest his soul, was obviously more of a ladies man than any of us had ever suspected. Sneaky bastard – I really never thought he had it in him. Then Paddy notices something. "There's no fucking casket," he whispers (only so loud that half the church hear him.) "We're in the wrong fucking church!"
Actually, we've just crashed a local Children's Sodality Mass.
It's not good. And our roadtrip gets steadily more shambolic from there on in… I won't into details. But a full account would probably read like the lyrics to some deranged Christy Moore song. There are parts you don't want to know. Parts you wouldn't believe. And parts, well, parts I've already forgotten.
This is it though. Our final shout. Our last stand. It's may be cold outside, but that's nothing compared to the reception awaiting each of us when he finally gets home. A nice warm pint of Guinness should send us nicely on our way.
The barman, though, is not in a mood to play ball. And Paddy, God bless him, probably isn't the man to persuade him. He shouts. He points. He mentions the 1916 Rising for some reason. After more protracted negotiations, he returns carrying three pint glasses of MiWadi orange. The lads at the next table jeer. I give Paddy a look.
"Well," he snorts. "Better than coming back empty handed. I mean, how embarrassing would that have been?"
Less embarrassing than this, I'm willing to assume.
Paddy pulls a flyer out of his pocket. It's done up, on one side, to resemble a fifty euro note. He found it in a toilet cubicle in Ennis and he's been staring at it, with a sort of demented fascination, ever since. He touches my arm.
"I tell ya what we do, Butler. Fuck Declan. Me and you, man…"
What?
"We jump in a taxi out to Donnybrook, right? Tell RTE we're gonna pitch them a programme…? Gonna be a fuckin' smash hit… Gonna make us rich, boy…"
"What's that?"
"Winos Say The Funniest Things."
I bury my face in my hands. We don't have time for this.
"Winos are hilarious," he slurs.
I don't think so.
"Why not?"
I just don't think making fun of alcoholics is a good premise for a television programme.
He shakes his head.
"Well, I think it is. Cos you're only, you know, what…"
His train of thought, if he ever had one, is gone now. I try to rouse him, but he just slumps back in the chair. Two tables down, Declan is putting his hand down a woman's blouse. This is bad. We gotta go. We gotta go now. Cogs turn in my brain.
Watch this, I say, plucking the very obviously fake fifty out of Paddy's hand.
"Watch what..?"
He squints and, as he does so, I discreetly replace his fake fifty with a real one from my wallet. Then I turn around to the bar and ask for a packet of Bacon Fries
"There's your change," says the barman, handing me forty nine odd euros.
Paddy's eyes bulge. He can't believe it. He takes a deep gulp from his pint.
"We better get the fuck out of here," he says, grabbing his jacket. "Or we could be in trouble."
Oh, we're already in trouble. Come on buddy, I tell Declan, rousing him by the arm. It's time we got out of here.
"Where we going?" he asks.
Home, I tell him. It's time to face the music…
December 16th, 2009.