Published: Village Magazine, September 2005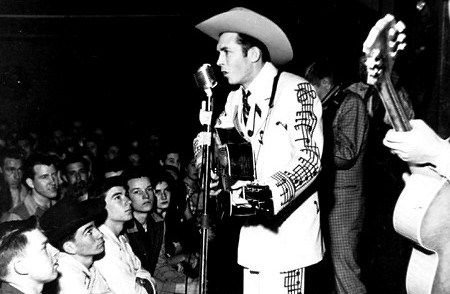 This year does not mark the fiftieth anniversary of the lonesome death of Hank Williams. That was over two years ago, on New Year's Day 2003. Nor is this the centenary of his birth – that milestone won't be reached until September 17th 2023. A glossy, overpriced compilation of his greatest hits is not in stores now. And it doesn't include underwhelming "new" tracks, or feature inane liner-notes penned by the director of some lame biopic. But all the more reason to acquaint yourself with the hellraising country singer and his back catalogue. He is country music's greatest exponent and a seminal figure in the history of popular music. Yet, several collections of his greatest tracks currently retail in shops for as little as four or five euros.
Someone else can explain why it is that recordings by classic artist are often available so cheaply. I suspect it's because record companies know these CDs will continue to sell steadily well into the future and can therefore manufacture them in greater quantities at lesser risk. Whatever the reason, the fact is that there are great bargains to be had in record shops, and the back catalogue of Hank Williams is a better place to start than most.
Hank Williams grew up in Alabama during the Depression and was taught to play the blues by a black street musician named Rufus (Tee Tot) Payne, often shining shoes or selling newspapers to raise the fifteen cents for each lesson. He was a natural though and by eighteen he had secured a regular spot playing what was then known as "hillbilly music" – basically white blues – on a radio station in Montgomery.
Most of the source material for his songs came from his own troubled life, especially his tumultuous marriage to Audrey Mae Sheppard. ("I don't know if it was his drinking that caused her to nag or her nagging that caused him to drink," recalled Drifting Cowboy Don Helms recently. "Either way they just couldn't get along.")
It is sometimes patronisingly remarked of inhabitants of middle America that they say what they mean and mean what they say. Nowhere is that trait better exemplified than in the songs of Hank Williams. Hank tended not to equivocate. His songs had titles like 'My Son Calls Another Man Daddy', 'You're Gonna Change (Or I'm Gonna Leave)' and 'I'm So Lonesome I Could Cry'.
Half a century before the appearance of reality T.V., he was on television pouring his heart out about his real life pain in terms that even the least sophisticated member of his audience could understand.
His songs, therefore, are rarely complex. But persevere with them and you will appreciate that Hank was an artist possessed of a delicacy of touch matched by few before or since. In Chronicles, Bob Dylan wrote that Williams' songs contain "the archetype rules of poetic songwriting… Even his words – all of his syllables are divided up so they make perfect mathematical sense. You can learn a lot about the structure of songwriting by listening to his records."
Leonard Cohen too famously placed him "a hundred floors above me in the tower of song". And when, in the 1990s, artists like Wilco, Bonnie 'Prince' Billy and Lambchop attempted to reclaim country's soul from the bland Nashville establishment they did so in name of Hank Williams.
The writer Rick Bragg, speaking on a recent BBC documentary, probably put it best. Hank's songs were dark, he conceded, "but instead of making you sad, it was the opposite. It was as though he pounded out all that agony and all that grief and that sadness thin enough to where you could stand it. That was his gift."
May 24th, 2010.